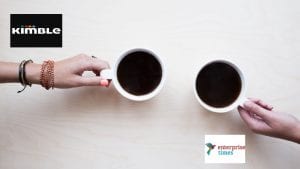 Enterprise Times recently sat down with Sean Hoban, Co-founder and CEO of Kimble Applications. Kimble recently announced a major update, Winter 21 and also hosted its first virtual conference bringing to together customers from across the world. Kimble has been steadily growing; it now has around 300 customers. There are now more than 130 employees and 40 partners in its ecosystem.
Looking back
How has Kimble performed so far in 2020?
"When March came along, we didn't know what to expect. We quickly put a downside plan in place and made sure we were cautious around spend. We've overachieved that plan every month since. What that will mean is we'll end up growing top-line revenues over 20% this year.
"We haven't seen many customers go, what we have seen is customers that have been coming up for renewal, reduce the number of users that they've contracted to because they've downsized. That's not ubiquitous, and some of those are adding them back now. We've seen some customers growing in this climate. We've seen one or two that have been distressed because they've been in areas like, providing conference technology and consulting services. Installing Wi-Fi at conferences is not a particularly good place to be at the moment.
"Where we've had customers that are not coming up for renewal and have been distressed, we've let them reduce. The reason we've done that is we want that customer for a long time. It's always a judgement call because some people just may be being opportunistic"
"From a new sales perspective, it's not let up. What we have seen, is decisions getting deferred. The bigger enterprises have been continuing, they've slowed down the procurement process a little bit. The bigger companies have had more of a need for that digital transformation anyway because they're probably a little bit behind. We've managed to close a couple of large deals, real enterprise scale deals."
Looking ahead
What else will you achieve in 2020?
"We'll have done two releases of the product. We've brought on a new COO/CFO in Steve Sharp, based in Boston. We've doubled down on adoption. It's been pretty much business as usual. It's about growing in a controlled manner, strengthening the team, and being able to react when we come out COVID.
"When we genuinely come out of COVID, I think there's going to be a real acceleration. We've been sharpening up our internal processes to make sure that we are ready to scale as the market drives us."
What do you hope to achieve and in the next 12 months, and 2021
"Continue with our controlled growth. Become recognised as the pivotal application that drives predictability for services firms. What most companies crave at the moment is predictability. People are finding it hard to get predictability. That's where Kimble can really help. In these times, if people can lean on Kimble, it will give them that predictability and allow them to be more successful."
Are you concerned about any macro trends at the moment at all?
"There's a few – COVID, Brexit, and the US election. I'm worried about the American election, just because if we don't get this definitive result in the election, there'll be a lot of indecision in the American market. We have got the election, Thanksgiving and then Christmas. We want people to be getting confidence levels and making decisions.
"Brexit, we just don't know where we're going to be with that at the moment. Our growth in Europe is probably more in Germany than it is in the UK. It is a concern to understand how that's going to play out."
This interview was carried out before the US election, but the concern still stands even in the week of the election and possibly beyond.
On adoption
You recently appointed Lucy Butterton as Customer Adoption Officer for International. Was there a reason behind that?
"Our customers are growing, and we are acquiring bigger customers. Every customer has a customer success manager, they're the face of Kimble to the customer. Lucy, and alongside her Peter (Chief Adoption Officer: Peter Fitzpatrick) have got the real business angle.
"They make sure that our customers are driving the right things for their business. It's about combining that with the right process. Are you getting the right outcome from using Kimble? They put more of a business layer on top of it. When our customers put Kimble in, it's a big, long term investment. We're trying to make sure that we're making Kimble as sticky as it possibly can be in our customers. That's the role of the adoption officer."
Sage Intacct
How is the Sage Intacct relationship progressing? They recently announced Intelligent Timesheets, does that crossover into PSA?
"On the Sage Intacct relationship generally, it's very symbiotic. In the last six months, they've been referring quite a lot of customers to us, and we've been reciprocating that with referrals to them. We've now got about twelve joint customers using Kimble and Sage Intacct with the connector.
"From a selling together perspective, we're getting more and more joined-up. It's always hard when you've got independent sales teams to make sure that you are selling, consistently and coherently together. We are getting better at joining up earlier in the sales cycle and, and selling the whole Sage Intacct, and Kimble combined proposition."
And on the intelligent Time Sheeting overlap with PSA Hoban commented:
"They've always had an element of timesheeting, and there are customers where that is sufficient, and that's fine. But if they want PSA, to get more into resourcing, more into delivery management, then they know they need to come to Kimble.
"Intacct is getting better at understanding what the customer is after and then guiding them to us. Some of that is defensive. If they don't get us involved, then they've got a potential threat from NetSuite or FinancialForce. They have got to protect their core financials as well. I don't see that (Intelligent Timesheets) as an issue for us because they're not doing big chunks of PSA that we do."
On acquisitions
Other companies in the KKR portfolio have done a lot of acquisitions, such as KCS. Will Kimble look to do more acquisitions in 2021?
"We will always look at potential acquisitions. We've looked at a few in the past. What we see in Kimble is a market opportunity that is still big. It is still either green field or brown field so the opportunity for organic growth is big. You've always got to ask yourself the question, can you grow organically, at a good lick? In which case, that's going to be far better value for the company than it is doing an acquisition. Having said that, if there was a good acquisition that took us into potentially another geography, then we would look at it. Or where it took out a competitor.
"The reason some other KKR portfolio companies will do acquisitions is that they can't sustain a growth rate because they're in a more niche area, or a more mature market. Whereas the PSA market is still, maturing as a market. So the opportunity is huge there."
Recent forecasts from analyst firms have seen an increase in CAGR across cloud solutions, do you this as an opportunity?
"Yeah, I think it is, especially in the larger enterprise companies, because the need for business transformation is huge now with remote working. It's put the pressure on them to, revamp their systems. In terms of embedded services organisations, their need is great. The technology companies are doing really well, they're still selling their tech, but they still have to enable their tech. That requires professional services or services. That's where Kimble is really strong, so I see the ESO market as strong as anything else at the moment."
On internationalisation
Kimble currently targets Germany, the UK, North America and Australia. Is Kimble looking at any other countries?
"We've looked at Japan. We've got quite a lot of Japanese customers, Hitachi, Canon, NTT DATA and NEC through Northgate. We work with some of the Salesforce global account managers on those accounts. We've got to pick our moment when to go into Japan, and we've probably got enough to go after at the moment.
"The way a lot the Japanese companies work anyway, is if you can sell into part of the Japanese organisation, at some point, they're going to bring that into Japan. We focus on those big Japanese accounts in North America and Europe. At some point, it may make sense to go back into Japan with them."
Funding
Any fundraising plans? Your last round was in 2018.
"Not immediately. We're cash generative at the moment. We can invest the cash that we generate back into the company. That puts us in a good growth position. If we saw the market picking up, coming out of COVID and the cautiousness going. Then I think there's an opportunity to say, do we want to take on more investment to grow faster but we've got to start to see the signs of the market turning."
On competition
How do you see the competitive market evolving?
"Our traditional competitors are the same, FinancialForce, Mavenlink and NetSuite. Where I see an additional threat coming in is the likes of Workday, ServiceNow, and then on the Microsoft stack. I think there's more coming from there.
"ServiceNow doesn't have a play, but they are playing in a lot of our customers. Their argument is you can build it on our NOW platform because there's quite an intersection with ITSM. Kimble is typically project-based services, but we do managed services organisations as well.
"If you look at a ServiceNow, they are providing a solution to a big chunk of those customers that are using PSA as well. I see them probably becoming more of a threat over time. What we've done recently with Salesforce is we've built some tight integration with Service Cloud. We're bringing the project-based and managed services based, and the support based or incident management based solutions all together into one holistic solution and one 360 degree view of the customer. Which ServiceNow can't do".
On challenges
What are your challenges for 2021?
"It's more on the macro level, understanding when we're going to come out of this, and just really having as many leading indicators as possible so that we can react as quickly as possible. I think there's going to be a big amount of pent up demand. Digital transformation is not going away. People need to do it. It's more about how we can react as the market gains confidence."
What are the challenges faced by your customers at the moment?
"They've been pretty busy and everyone is working from home is not the challenge. I don't think everyone's realised that that's not the challenge. The challenge is about predictability. Do they know what revenues they're going to make? Do they know what margins they're going to make? And do they know when they're going to be able to get cash in? What's keeping them up at night is having that understanding of predictability about those things, and that resource availability. People need to manage all of those things in a lot more detail now than they've ever had to before.
"On resource availability, everyone assumes because people are working from home, and they're not going away on vacation, that they're available to work. Well, maybe they're not, maybe they've got childcare issues, which means they've got to work certain hours of the day. Maybe they do need to be taking some time off and you should be encouraging that time off and making they do. Then you can plan at a more granular level with your resource pool and therefore have more predictability about when you're going to earn revenue when you're going to earn margin and when ultimately when you're going to invoice and get cash in."
The book question
What is the latest business book you read?
"I read Blitzscaling (by Hoffman and Yeh) and Malcolm Gladwell's latest book (Talking to Strangers) about a month ago. My take out? Reading people. He uses the example of recruiting a nanny to look after your child. You interview the nanny. He says that's a completely pointless exercise. What you should be doing is interviewing the parents of the children that that nanny is looked after before, to understand what that nanny is like because somebody can be polished at interviews.
"From my perspective, when we're doing senior hires, it's about doing as many back-channel references as you possibly can. Not just the references that they put forward. Because the references they put forward they know are going to give a good account of that person. Getting an understanding of people is the main takeaway. And doing that by talking to as many of the people that they've worked with, not necessarily the people they put forward as their reference."