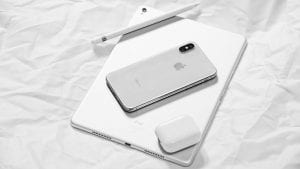 Apple has reported its FY20/Q4 results showing that sales continue to increase, despite the global lockdown and a drop in sales in China. Despite the overall increase in sales, its share price continues to drift off its September high of $137.98. In overnight trading, the share price fell to $109.19 before recovering slightly. With the company facing a major antitrust investigation in its highly lucrative AppStore, there might be more downside to come for shareholders.
In a statement issued with the results, Tim Cook, Apple's CEO said: "Apple capped off a fiscal year defined by innovation in the face of adversity with a September quarter record, led by all-time records for Mac and Services.
"Despite the ongoing impacts of COVID-19, Apple is in the midst of our most prolific product introduction period ever, and the early response to all our new products, led by our first 5G-enabled iPhone lineup, has been tremendously positive. From remote learning to the home office, Apple products have been a window to the world for users as the pandemic continues, and our teams have met the needs of this moment with creativity, passion, and the kinds of big ideas that only Apple can deliver."
The key numbers from Apple's results
The big winner for Apple is services. In FY20/Q4 this was up 16% on FY19/Q4 rising from $12,511 million to $14,548 million. Products, by comparison, fared badly in FY20/Q4 compared to a year earlier. They showed a decline of around 2% to $50,149 million. It means that FY20/Q4 was barely 1% higher than FY19/Q4 at $64,698 million.
This difference in products and services also showed in full-year results. They were up just over 5% hitting $274,515 million.
There was also mixed news for shareholders. Quarterly dividends for both Basic and Diluted shares were down 2 cents and 3 cents respectively. However, yearly dividends finished just over 10% up on the previous year at $3.31 and $3,28 respectively.
Sales in FY20/Q4 were up 1% Y0Y. America (4.7%), Europe (13%) Japan (0.8%) and the rest of Asia Pacific (13%) all showed growth. However, sales in Greater China collapsed by 28% compared to FY19/Q4.
When looking at over the year, sales in both Europe (13.8%) and the rest of Asia Pacific (10%) helped lift Apple, taking FY20 to a 5% increase overall. However, it's core US market managed just a 5.6% increase while China (-7.71%) and Japan (-0.4%) dragged the company back.
iPhone sales collapse, but WFH helps boost other sales
The big surprise was the size of the collapse in iPhone sales. They were down 20.7% in the quarter compared to the previous year. Over the whole of FY20, they were down just 3.2%. The question is, was this because people were waiting for the iPhone 5G? If Apple thinks that was the reason, it wasn't saying. It even declined to offer guidance into sales for the new iPhone 12 for FY21/Q1.
The rest of the portfolio outperformed many of the other technology suppliers during work from home. iPad sales rocketed by 46% compared to the previous year taking FY20 growth for the product to 11.4%.
Mac sales were also up strongly at 29% in the quarter, taking the yearly increase to 11%.
However, it is two other sectors that offer a potential glimpse into where Apple can expect to see continued gains for the future. Wearable, home and accessories were up 20.7% for the quarter and 25% over the year. Services were up 16% for both the quarter and the year.
The rise of wearables shouldn't come as a surprise. Apple has done a very good job of adding features and battery life to its Apple Watch line. The addition of multiple health apps and devices has appealed to people worried about the pandemic.
At the same time, its move into home and accessories are paying off. Apple is investing heavily into new content for its Apple TV+ streaming service as reported by MacRumors a few days ago. It shows its commitment to being a major player in this space.
Enterprise Times: What does this mean
Go back 12 months, and analysts were predicting the end of the PC and laptop market. Enter the global pandemic, lockdowns and work from home, and that picture has changed. Apple's Mac line has weathered the storm well, despite its premium pricing. The question is how long will that continue as the second wave of the pandemic threatens mass layoffs around the world.
The growth of the device market such as iPads, wearables and home gadgets has been spectacular this year. It's hard to think that Apple really expected the FY20/Q4 and yearly numbers it has seen, especially in March when everything looked gloomy. Sales in all these areas are expected to continue, and for Apple, the investment in its Apple TV+ service should pay off handsomely.
But, two clouds are hanging over Apple at the moment. iPhone sales decline is a major worry for the company. It is banking on its iPhone 12 5G model to change that. However, the lack of widespread 5G might hamper that revival, and by the time that problem is solved, the competition will also be well established.
The other issue it has to deal with is antitrust lawsuits, especially over the Apple Store. The more successful it is with its hardware sales, the more developers will want to be on its platform. But will regulators force it to change its pricing policy? At the moment, that is unclear.