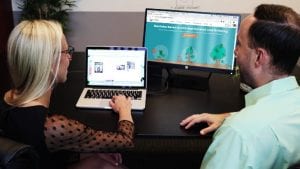 Knoa Software has launched Knoa for SAP Cloud for Customer (C4C). The new User Experience Management (UEM) solution enables SAP customers to better understand the usage of SAP Sales Cloud and SAP Services Cloud solutions. The measurements and visual analytics it provides enables customers to drive adoption and optimize the usage of their SAP solutions.
Bogdan Nica, Vice President of Product and Services, Knoa commented: "SAP Cloud for Customer is the latest addition to the portfolio of SAP products supported out of the box by Knoa's User Experience Management (UEM) solution. We continue to extend our footprint within the SAP landscape as a commitment to our customers going through digital transformation projects, including migrations to the cloud and to the SAP S/4HANA product suite, and in direct response to market demand."
Knoa for SAP Cloud for Customer (C4C) is available for both on-premise and cloud customers. The Knoa SDK also enables customers to extend the analytics platform to other third-party applications that they may have implemented alongside their SAP solution. This is important as it enables them to see their whole deployment and identify issues across their software landscape.
What does it do?
Knoa SAP C4C works by collecting usage data across a wide range of metrics. This is not just in how users are interacting with the software; it also tracks how they improve after training, what practices are working efficiently and which are causing issues, perhaps seemingly unrelated.
Once collated Knoa UEM analyses the data using SAP Business Objects and presents it in graphical format for easy consumption and offers actionable insight into several key questions such as:
Which applications are used efficiently? Which are not?
Am I losing money due to productivity loss?
How can I increase adoption?
When will I see the ROI expected from my enterprise investment?
How can I acquire the concrete facts I need to identify problems and take corrective action?
Why is this important?
All this is achieved without disrupting users. Reports are viewable in different segmentation views, such as department, role or team. It delivers clear visibility of how and when users are using the SAP software, whether it is accessed on-premise or in the cloud. The software also identifies process bottlenecks within the implementation. This might include when approval workflows are delaying other actions. Knoa believes the solution can help optimize several key processes as customers look to maximise their investment in SAP solutions.
Change Management – Are users actually using the SAP solution properly? Are processes working efficiently? Is one team more efficient and productive than another? Answering the questions is simple, but Knoa UEM can provide the answer to why.
Workforce Training – Just because a user is trained does not mean that they have learnt how to use the system properly. Knoa helps identify which users are not adopting the solution quickly and can highlight where users require additional training, often in a more targeted and therefore efficient way.
Business Process Optimization – As SAP Cloud for Customer is implemented, new processes are also introduced. These may look good in theory, but do they work in practice? Again an approval workflow may be causing a critical delay in a process flow. Knoa can help identify these process flaws and enable swift corrective action.
Enterprise Times – What does this mean
This latest solution by Knoa provides enterprises with a solution that can assist with the implementation, adoption and in life efficiency of their SAP solutions. With Cloud software evolving rapidly, it is more important to have such a solution through its life. Knoa UEM is also valuable once the initial adoption hurdle is overcome, and usage optimized.
Knoa enables support teams to identify the emergence of better practices and implement new updates quickly and efficiently. Organisations should not treat Cloud ERP solutions in the same way as historic ERP solutions; instead, the implementation never ends. While phases are complete, the next phase is available as soon as the next update is delivered.