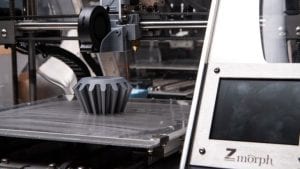 MAKEuk, the Manufacturers Association has published a new report with Infor entitled 'Bouncing Back Smarter: Innovation Monitor 2020'. The report is based on a survey that was last carried out in 2018. It studies the state of digital transformation progress by manufacturers in the UK. However, The report does not say how many respondents were in the survey this year.
The study looks at three key topics, progress towards digitalization, barriers and the benefits that transformation can deliver.  It also includes six case studies of companies that have introduced digital technology to increase competitiveness. The sponsors of the report, Infor, also give their viewpoint.
Are UK Manufacturers transforming?
To measure this, the study looks at Industrial Digital Technologies (IDTs) and their adoption. Adoption of IDTs varies with some surprising results:
Additive manufacturing (3D Printing) – 28% adopted
Robotics and cobotics – 22% adopted
Industrial Internet of Things (IIOT) – 12% adopted
Augmented and Virtual Reality – 7% adopted
Artificial Intelligence and Machine learning – 5% adopted
AI and Machine learning are lower on this list than expected, perhaps indicating that the software is still immature despite the hype. However, more companies are aware of it and considering its use than augmented reality. While these percentages may seem low, UK manufacturing organisations are transforming. In 2018 the EEF (as MAKEuk was) identified four stages of transformation: Pre-conception, Conception, Evolution and Revolution. UK companies are progressing up the scale with only 11% of companies at the first stage of pre-conception compared to 30% in 2018. Not only have more started on their journey, but all other stages showed an increase. The study also looked at the regional differences and by company size.
The study also looked at where IDTs are introduced more broadly across the organisation. Respondents see most adoption in the manufacturing process, product and design. However, with over 20% unaware that IDTs are available in Transport and Logistics, there is still some education for Infor to carry out with regards to its Infor Nexus product. The study did not ask specifically about the supply chain, a key issue post-pandemic.
Benefits of IDTs
The study showed that organisations see the main benefits of IDTs as reduced costs and improved productivity top of the list with 91%. However, better quality of products, flexibility and innovation and improving customer engagement were all above 50%. The case studies gave examples of transformation and their benefits.
Nissan is using Senseye predictive maintenance powered by Artificial intelligence to reduce production downtime by 50%.
Contracts Engineering LTD invested in training, robotics as well as CAD and ERP solutions. With an open culture, the organisation has a lower than average staff turnover and has seen pay increases of over 20% due to success.
Liberty Steel adopted an Infor ERP solution, on the nack of realized benefits the company is rolling the solution out to ten more divisions
Barriers
Barriers to adoption still remain. While the findings make have been influenced by COVID-19, especially the rise of finance from 5th in 2018 to 3rd this year, they remain broadly the same. 2018 position in brackets)
Digital Skills (1)
Data compatibility (2)
Finance (5)
Technical knowledge (3)
Change management culture (4)
Cybersecurity (6)
There is a lack of awareness of the funding schemes available to manufacturers. Of the 11 schemes surveyed, more than 50% of manufacturers were only aware of three of them: R&D Tax Credits, Investment allowances and Knowledge Transfer partnerships. Grants are available but manufacturers are not taking advantage. The authors highlight that the UK Government has a target of 2.4% of GDP to invest in R&D, yet only 28% of manufacturers will invest more in R&D in the next two years, this is a huge problem the authors argue.
While manufacturers see business benefits the adoption of IDTs will also increase resilience at a time when markets are uncertain due to COVID. Many organisations in lockdown are taking the time to assess their technology and with social distancing and home working likely to remain the use of cloud technology across organisations make sense.
Time for change
The report has some interesting findings and with the comparison to 2018 shows that there is progress towards digitalization. The concern flagged by MAKEuk is that it is not fast enough compared to the manufacturers in Japan and Germany. UK Manufacturers need to step up and invest
Stephen Phipson, CEO of Make UK, the manufacturers' organisation said: "In recent months, manufacturers have faced unprecedented challenges with the need for Industrial Digital Technologies never more important. Remote working, whether that be monitoring of equipment or remote production processes, has without a doubt, been the saviour of many companies. Digital programme rollouts have been achieved in a matter of months when such change would normally have taken years to achieve.
"In the coming months, as supply chains return to normal, it is important to build resilience and further accelerate digital adoption to give UK manufacturing that turbocharge to deliver even greater international competitiveness. Digital adoption allows companies to work as effectively and efficiently as possible and it is vital Government steps up to work with industry to make sure Britain's smaller and often most innovative companies get that bespoke help they need to make the most of the technologies available to them."
Andrew Dalziel, vice-president, Industry Solution and Strategy, puts it more succinctly in the report saying: "In today's marketplace, industrial digital technologies simply can't be an afterthought, they are impacting businesses of every kind, size and location. It must be a part of your company's overall strategy."
Enterprise Times: What does this mean.
The report itself closes with five key actions
Manufacturers, particularly SMEs, must accept that digitalisation is for everyone, and make it a strategic priority.
Peer-to-peer best practice must be encouraged.
Bespoke, dedicated support to manufacturing SMEs should be made consistently available across the country.
Fiscal incentives to support digitalisation and research and development spending must be increased.
Regional stakeholders should coordinate their efforts.
This is a report that every leader in a manufacturing business should read. It demonstrates the value of IDTs with some detailed case studies. It shows how some manufacturers are more resilient having invested, increasing profitability, customer satisfaction and employee retention. Probably the key takeout is that there is funding available for manufacturers to help with these investments. More advice on what these are and how to obtain them is needed though. Also, manufacturers themselves need to do more to search for them. Even without funding many of IDT investments can deliver a rapid return on investment.