Legal entity management vendor Athennian has raised CAD $8 million in a Series A funding round led by Arthur Ventures. The company also revealed that it raised a further CAD $2 million in a funding round in Q3 2019. That seed round, according to Crunchbase, included BCF Ventures and Bluesky equities.
In total it has now raised CAD $10.1 million when an earlier angel round is added.
This latest round sees the company emerge from stealth as it looks to accelerate growth for its solution. As well as Arthur Ventures, the round included new investments from Round13 Capital, InterGen Capital, ATB Financial. Some of the existing investors also participated in this latest round including Thin Air Labs, BlueSky Equities, Viewpoint Capital and Strategic Equities. Patrick Meenan, a partner at Arthur Ventures, has also joined the Athennian board as part of the deal.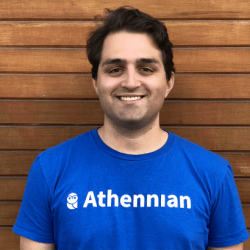 Meenan commented: "Businesses are operating in an increasingly volatile, uncertain and complex environment. As a result, in-house legal teams and paralegals have seen their workloads increase dramatically, driving a need for more automation. Athennian's rapid growth is a testament to their market-leading product. Arthur Ventures is thrilled to lead this financing round."
Who are Athennian
Founded in 2016, Athennian provides a solution which enables companies to manage the entities that companies often create as they expand. Athennian targets its solution at law firms, legal departments and corporate secretarial services. The solution can track the compliance requirements for organisations such as LLCs, BVs, LPs, trusts, ULC in multiple jurisdictions. The system enables the user to set up reminders for registrations, tax filing and other key data, notifying relevant people as they fall due.
Athennian also supports the creation of different document types, including corporate documents such as minutes, consents and agreements, and also various tax documentation.  It also supports the electronic filing for several jurisdictions with the ability to support entities from around 175 countries and even more jurisdictions
This is a mature product that is now on the cusp of growth. For organisations that struggle to deal with the administration of multiple entities, Athenian may provide the answer. The additional funding will certainly help to grow the company from its current size. Athennian will use the funding to further enhance its product and invest in scaling its cloud architecture to support global growth. Surprisingly there is no mention of international growth, though the North American market is large.
Adrian Camara, CEO of Athennian commented: "The legal entity management market has very high barriers to entry that protected on-premise incumbents operating like monopolies for decades. Athennian brings the first, true enterprise cloud platform with consumer-grade user experiences into the category. Our revenue acceleration reflects the hard work our team and customers have undertaken to transition that data and workload into the cloud."
Well-liked already
Athenian already has several happy customers. In a review on Capterra Mark Asfar, Associate, Momentum Business Law, an Ottawa based law firm commented: "Athennian is now our primary corporate entity management software, and over time we are implementing new and greater efficiencies to our workflow by taking advantage of its functions."
Another customer, Andre Garber, Partner at Fasken, said: "We have used Athennian to digitally augment our corporate legal practice. We are now automating traditionally manual work, such as entity formation, stock transactions and corporate records management through Athennian's document assembly, eSignature, and streamlined data management platform." 
Enterprise Times: What does this mean
Entity management is a challenge for many firms. While there are solutions out there, they are often legacy products. Athennian is hoping that its cloud solution can gain traction in the market and win even more business. Sensibly it has already developed migration solutions to migrate the data from legacy solutions. This includes Diligent Entities (Blueprint), GEMS, Secretariat, hCue, Effacts, EnAct, and more. With numerous positive reviews on Capterra, the company appears set for rapid expansion. Certainly a company to watch.
Integrations already exist for Okta, Docusign, Google, Office365 and highQ. There is no indication if it will add any more as part of the product enhancements. If it targets the enterprise market will it integrate to Oracle or SAP, or other ERP solutions?