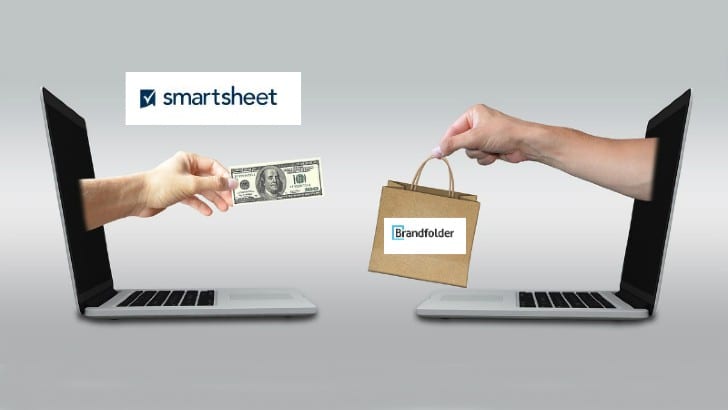 Smartsheet is to acquire Brandfolder, a leading content management solution in a deal worth $155 million. The transaction is a combination of shares and cash and subject to closing conditions. Smartsheet will announce further details about the impact of the acquisition on September 2nd when it announces its Q2 results. Brandfolder is a leader across all segments in the G2 Grid for Digital Asset Management. Once integrated with Smartsheet can provide a comprehensive project information solution for its work management platform.
Brandfolder is a natural extension for the work management platform. Is the price it paid high though? In 2017, revenues were estimated to be around 12 million and ARR growth in 2019, greater than 100%. The multiplier after two years of substantial growth may not be that high. So is it a good deal?
Brandfolder
Headquartered in Denver and founded in 2012 Brandfolder has grown substantially with minimal funding. Its last funding round in 2018 raised $2.5 million, prior to that it raised $5.3 million in 2017 in a round led by Telegraph Partners. It has grown rapidly and customers include Slack, Lyft, ABInBev, MasterCard and Kroger.
Mark Mader, CEO of Smartsheet commented: "Content is becoming an increasingly central component of any enterprise workflow across a broad range of departments, including marketing, legal, finance, and sales. Brandfolder's content capabilities coupled with Smartsheet's powerful workflow and collaboration features will provide teams with a dynamic solution to securely manage, share, and publish their content, empowering cross team and organization collaboration."
Smartsheet will look to replicate the integration that Brandfolder already has with Wrike and Workfront. These enable users of those work management platforms to work directly with content from within their work management platform. It is unclear how quickly the Smartsheet integration will become available. It is also unclear what will happen to Brandfolder. Will it will continue to improve integrations to those products that compete with Smartsheet? What will happen to the current leadership?
Enterprise Times
Luke Beatty, executive chairman and founder of Brandfolder commented: "Brandfolder has evolved how brands access, manage, and deploy their assets through an intuitive platform but as work becomes heavily content centric, teams need a way to manage content alongside work. Together, Smartsheet and Brandfolder will give talented teams a dynamic solution to create and discover great content from inception to execution that builds a brand and impacts the bottom line."
This is a combination that makes sense.  Adding digital asset management capability to project management is a natural extension. How it evolves the product in the coming months will be interesting. Why Brandfolder chose to sell now is unclear at the moment. However, this acquisition will also enable Brandfolder to expand internationally through Smartsheet without having to raise more funds. Is this a good deal by Smartsheet? It would seem so. It's a natural add-on, however, as with any acquisition it now needs to complete the cultural and technical integration successfully.
The question now is whether Workfront, Wrike or other work management solutions will look to buy a competitor of Brandfolder. Obvious options are Bynder or Widen, though the latter, a family-owned business seems unlikely to sell.