SoftOne recently signed up its first partner in the UK as the company looks to sell its ERP and CRM solutions in the country for the first time. Enterprise Times caught up with George Koulogiannis, International Ventures Executive Director at SoftOne S.A. to talk about the company and its ambitions.
SoftOne was founded in 2002 by some ex-employees of another software firm. In 2007 they launched the first cloud-based ERP solution in Greece running on the Azure platform. Over the next few years, they expanded into Bulgaria, Romania and Cyprus. In 2016 the Olympia Group, an international investment company, acquired 33.34% of the company. The founders remain within the firm and are minority shareholders. The company now has more than 300 partners, 47,000 clients, 3,500 cloud installations and more than 280,000 users. Koulogiannis joined in 2019 to head up the international group and expand the company overseas.
In 2018 SoftOne announced an intent to acquire Unisoft SA, it was finalised early in 2019 in what was a hostile takeover. According to Koulogiannis this gave SoftOne a 45-55% share of its target market in Greece and made it a major player in the country. Koulogiannis inferred that expansion in other countries is unlikely to be through acquisition, so how will he expand.
International expansion
Where else, besides the UK is SoftOne looking to expand?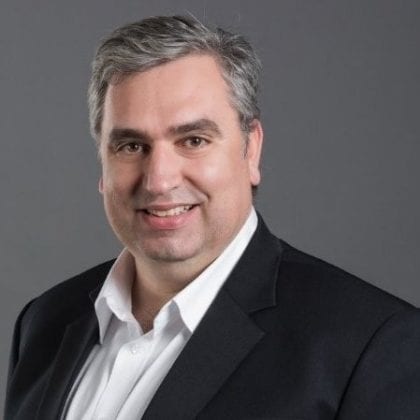 "I'm in pretty advanced talks to expand to Serbia, talking to four partners. Even before the end of the year, I will be in Serbia. On my radar is also Slovenia, Slovakia and the United States. These will follow the next year or so."
Are you looking for additional partners in the UK?
"To be honest with you, I was looking for other partners, but I want to make sure that this initiative will succeed. The advantage of the partner we signed the agreement with (Smart Cloud Software) is that they have experience with similar businesses. They were partners with a US ERP firm that was growing, they are still on the market, but they are not in the UK market anymore. They have the experience of business software, and they can also build a partner network in the UK. This is an advantage for us because we are a company that works almost exclusively through partners.
"We are building partner networks, we're very successful in doing this, and we replicate the model in every country we go to. We penetrate the market through partners while we stay in the background, providing marketing and other support. Because they have this partner network, I want to make sure that this venture will succeed. We're going to utilise the partner network that these companies bring in. That's why I'm stepping back on actively looking for other partners. If one comes and says, 'George, let's discuss that I want to be part of the solution', that's a different story."
Why the UK
With such strength in the Balkans, why did Koulogiannis look to expand into the UK rather than Germany, for example?
"Germany may sound like an opportunity, but Germany is also a country that has a mentality of 'we buy German products', and of course, SAP is strong there. As a company coming from Greece and going to Germany, we didn't have a lot of traction.
"Poland was another opportunity, but Poland has extreme competition. There's a lot of local companies that are doing a great job. They are also expanding their business outside Poland. The first country that Polish companies are going to is Germany, and the second one is Austria. Going to Germany, we would have had to face a lot of competition from German and Polish companies. It was a careful decision not to go there. We saw the UK as an opportunity to penetrate the mid-market where we can give an affordable solution with a lot of functionality. We think there's a very good opportunity to address the mid-market."
Can you define what you mean by mid-market?
"We define it in terms of revenue or in terms of users. From five users up to 150 users. That means we're talking about a company of between 20 to 1000 employees. In terms of revenues, companies that are making anything from 2 million euros up to 150-200 million euros."
What is the product architecture?
"It is one of the very first multi-tenant ERPs on the Azure platform. The core database is Microsoft SQL. Actually it is database agnostic, but there has been a lot of years of experience and optimization with the Microsoft SQL. If you really want to work with Oracle SQL, it will work, but it will not be as optimised as it is with Microsoft SQL. "
How often do customers get new releases?
"Two major updates each year that also have database changes, new fields are added on the database. We release new minor versions every week on Azure. The minor updates don't change the database schema. When the client opens the software, the new version is automatically updated. For the major releases, especially for the on-premise customers, customers have options. They can install the new version or they can do it with a partner, so the upgrade is smoother."
In terms of the product roadmap, what's is SoftOne working on?
"We have a product roadmap for the International Business for every country. On our main product roadmap, we are working on MRP 2 that is going to release around the beginning of next year."
What integrations do you support?
"Power BI and 365 are integral parts of the software. A year ago, a small team of business analysts started working exclusively to create some advanced functionality on Power BI. If a customer wants some extra business intelligence reporting on the software, they can the ready-made function created by us, or they can build their own based on the Power BI. We are also a long-standing partner with Qlik. Qlik View and Qlik Sense were part of the software for a long time"
Koulogiannis went on to explain that while SoftOne does not have many other technology partners its channel partners have developed many integrations. The SoftOne ERP platform is extensible and partners have created integrations to all the major CMS and eSHOP solutions (B2B and B2C eCommerce solutions).
Challenges
What are your challenges?
"Branding is one challenge for sure. How quickly can you build the brand and start creating some traction, and having your partners creating the leads that are going to assist your purpose to be successful? Building a brand and doing it quickly, without spending billions of euros on advertising is a challenge. "
"Finding the right partners is always a challenge. We have discussions with a lot of partners. Sometimes you think that you have the right partner, one that has worked on business software. But they are not able to gain traction. Sometimes you have a partner that's working in networks and hardware, and they become popular, because they want to, and they are extremely successful. Finding the right partners, finding the right chemistry is a challenge. "
Enterprise Times: What does this mean
There are not many software companies emerging from Greece, especially ones as large as SoftOne. Backed as it is by Olympia Group it will be interesting to see what traction is gains in the UK and Serbian markets in the coming months. In the UK it is relying heavily on Smart Cloud Software, that company is localising the solution for the UK market but it will also need to build a partner network for SoftOne quickly if it is to gain traction. It will be interesting to see what progress the company has made over the next few months.