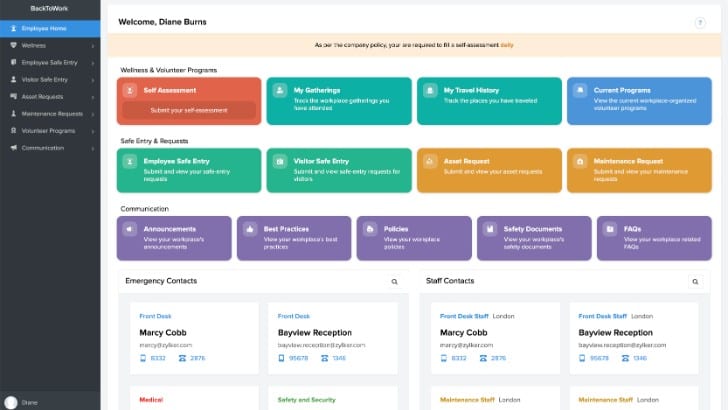 Zoho has announced a new solution to help organisations as they start returning employees to the workplace. Like similar initiatives earlier this year Zoho is offering Zoho BackToWork free of charge initially. It will cost £1.60 per user per month from 2021.
During the COVID-19 crisis, Zoho has consistently offered discounts or free solutions. They include:
Sridhar Iyengar, MD of Europe at Zoho commented: "We've seen tremendous adoption from businesses moving their entire operations quickly onto the Remotely platform. Likewise, we've seen customers applying to ESAP and rebuilding their organisations online using the VRP. Now that organisations are planning to re-open in some parts of the world, we want to help them resurge, this time through BackToWork, an application enabling companies to maintain end-to-end workplace safety."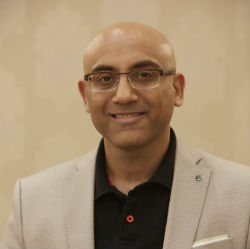 BackToWork was created using Zoho Creator. It has several modules that aim to automate many of the tasks faced by companies returning to the workplace. Zoho Creator is the Zoho low code application generator. Companies can use it to develop their applications, either integrated to other Zoho solutions or standalone.
BackToWork
BackToWork consists of six modules to help organisations automate processes and overcome challenges that social distancing may present. The application will support multiple workplaces for each organisation. These can be single buildings are areas within each building. Each workplace can be set to open or closed so that employees know whether they can work there.
Customers with Zoho Creator can modify the application to personalize any requirements for their business. The solution is currently available in five languages: English, French, Japanese, Chinese, and Arabic. Zoho will shortly release support for more including Spanish, Portuguese, and German. It is usable on a web browser as well as iOS or Android devices. The applications include:
Safe Entry
Employees can browse locations to see which areas are open and apply to work within the location. Once the limit is reached, an employee will be unable to register for access on that day. The solution includes the option to enforce a wellness assessment questionnaire on each day of entry using their phone or computer. It sends an employee a QR Code once the wellness questionnaire is passed.
Using a mobile phone, workers can register their entry into the building by scanning a QR Code in a dedicated kiosk or by a socially distanced front desk staff member. If the building reaches its capacity in terms of employees or visitors, it tells the latest entrant that they cannot enter yet. The application will also restrict entry for a period of time if the employee has had COVID-19.
The module also supports safe entry for visitors. Like employees, they need to complete a wellness self-assessment. Once approved they can be sent a QR Code or reception can approve their entry into the building. It minimizes the amount of physical contact required to allow visitors and employees into the building.
Employee Wellness Assessment
Administrators can set a frequency for wellness assessment completion to daily, every three days, weekly or fortnightly. The assessment rates employees with a figure between -20 and +20. It is up to companies to set a bar that both employees and visitors need to pass for them to have access.
It is not clear what the assessment is based on, but it includes questions to determine whether the employee is, or has been at risk and any COVID-19 history or symptoms. The solution also tracks when and where employees enter workplaces and can also track other locations or events the employee attends.
Maintenance and Assets
As employees work from home, company assets will no longer be confined to the workplace. To a certain extent, the problem is already here for many. This module helps the organisation track assets such as furniture and computers. It allows employees to request both equipment and PPE, manages the approval processes and assists with the allocation and distribution of assets and PPE.
Employees can also raise maintenance requests including cleaning or repairs. The system allows assigned individuals to assign or approve the tasks. It also supports an audit function where the tasks can be checked and registered as completed.
Volunteer programs
Many organisations are setting up volunteer programs in their local community. The module enables the set up of a program, and employees can opt-in as volunteers until the requisite number of people for each task is met. Programs can be set per workplace.
Communication
The communication module provides a central point where a company can hold information relevant to employees. It can include any type of document of announcement for employees to view from their device.
Admin Control Panel
This is a series of dashboards that gives the administrator a view across the business of data entered into BackToWork. For example, it provides a view of the wellness of the organisation and can also provide information from across the other modules.
Is it worthwhile?
Enterprise Times asked Iyengar a few questions about the new release. Does BackToWork have any prerequisite Zoho applications?
"No, it does not have any prerequisites. However, the app itself runs on a Creator account but this happens in the background for new users and they need not worry about setting up a Creator account."
Organisations already using Zoho People can use a built in integration to avoid having to re-key any employee data. Enterprise Times asked Iyengar if it integrates with any other Zoho Apps.
"Since it helps companies return-to-work and make their workplace ready across locations for employees and visitors, there is a need to integrate with Zoho people, which we have done. There is no other need to integrate with any other Zoho apps."
Not every company uses Zoho People. The press release talks about integration to BambooHR and other systems. ET asked Iyengar how the integrations work and whether there is any other cost.
"There is no separate cost involved other than the customers having to pay for the licenses of those services. By default, the list of employees is maintained in BackToWork. However, employees can be imported from Zoho People, BambooHR, Zoho Directory, Active Directory, local spreadsheets and cloud storage such as Google Drive, OneDrive, Dropbox and Box."
The future
This is the first release of BackToWork. The press release also talks about a: "Travel Management module and integrations with popular video conferencing platforms". Enterprise Times asked Iyengar for more details around this. He replied:
"We do not have a set timeline we're communicating right now. What we can say is that all the learnings and business requirements from BackToWork will be useful for making future apps/modules beyond the pandemic."
Zoho should also consider integrating some of the features into other Zoho Applications. It believes in a common platform. Integrating BackToWork and existing apps such as Zoho Desk for support requests, for example. A Zoho Docs integration could enable a user to publish a new document to BackToWork Communication module.
Enterprise Times: What does this mean
This is another example of Zoho thinking ahead about what organisations need when they return to work. The functionality it is delivering applies to many organisations. For those relying on manual processes, they could cut the time spent and improve the safety of employees.
For Zoho, it also enables it to demonstrate the power of its low code platform Zoho Creator. Organisations taking on the solution may also find it is a first step towards considering a wider investment in Zoho applications.