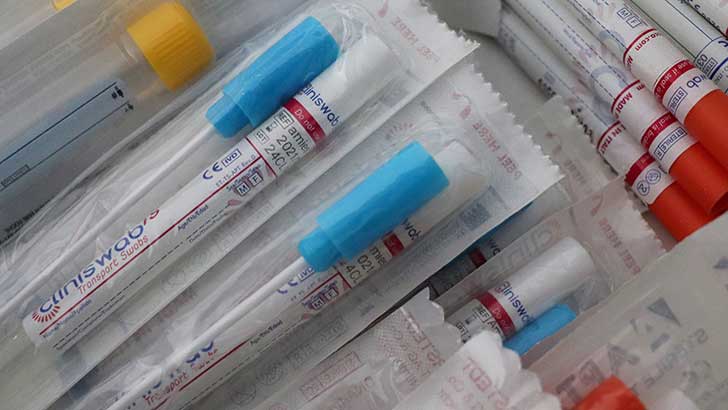 VSTE has announced its solution for getting fans back to sporting events. It has created a 'sports health passport' app called V-COVID. When used with a rapid test product, it will show if a fan is safe to enter an event. It is working with sports rights holder Redstrike, the UK government and the governing bodies of several sports.
Louis-James Davis, CEO, VSTE said: "The 'V-COVID™' digital health passport is a truly unique way in which all football and rugby clubs, major sporting events and sports governing bodies can implement a simple and highly effective universal system to ensure fan safety at sporting events following the gradual phased lifting of restrictions.
"Using the health app in conjunction with an official Government /Department Of Health sanctioned Covid-19 testing kit, a series of authentications and permissions are acknowledged to validate the test results. In doing so, it will not only allow the safe and gradual return of sports fans to sporting events, but it will do so in a safe and controlled way. Most importantly, it will help all clubs, sporting organisations and events to rebuild after this unprecedented event."
What is interesting is that the description of how it will work is similar to the COVI-PASS solution that Circle Pass Enterprises (CPE) announced two months ago. At that time, CPE was building its solutions using the VSTE VCode and VPlatform technologies. That partnership is now seemingly dead, which probably explains the deal between VSTE and Redstrike.
How will VSTE and Redstrike get fans back safely?
The V-COVID digital health passport app would be issued by the body organising an event. Fans will be tested before being allowed into an event. The process, as outlined by VSTE, is as follows:
Fan contacts sports club, national sporting body or event organiser to register and download the V-Health passport onto their mobile device.
Fans provide personal data to the app including name, address, date-of-birth, phone number and doctors details. They will also have to upload proof of ID using government-issued ID such as passport scan or driving licence.
The fan is sent to a pre-defined location to take a government-approved COVID-19 test. Tests will be administered by Latus Health and Infinite Global Possibilities the day before the event.
Tests results are back within 10 minutes and recorded in the V-Health Passport.
Once tested, the fan returns home and self-isolates until the day of the event.
The fan attends the event where the app is scanned, and they are then turned away or allowed in.
There are a lot of questions still to be answered
It all sounds pretty simple, but there are a number of questions to be asked here. The test used is the BioSURE rapid COVID-19 test and has been approved in the UK. How quickly can production ramp-up to cope with a full return to sport? How many test centres will be created, especially when it comes to supporting away fans? What will a test cost? How long will a test last? Are tests transferable across multiple events?
Many of those questions are critical to fans being willing to get involved. It is already expensive to attend major sporting events such as football matches, F1 and Wimbledon. Ticket prices, food, drinks and travel means most fans will find themselves paying £60-£100 per head. At the same time, there is growing concern over the length of time antibodies live for. There is also no test that, at present, can say how long the antibodies in the blood will last.
So what does this mean for the fan? If the test was, say, £10 and would cover the fan for multiple sports and multiple events, that's not too bad. But if they need to be tested for each sport or even each club, and if that test lasts just a few weeks, that cost soon mounts up.
Privacy and data security is another big question here. There are rules in place for what information can be seen by those scanning the pass. However, there is no detail at all on how long data will be retained for. The ICO has said retention of data should be limited. It has set a limit of 21 days for the hospitality industry. It has yet to set a time limit for sports and event organisers who will also have to conduct and publish Privacy Impact Assessments.
Enterprise Times: What does this mean?
Professional and amateur sports alike are losing money. The longer the ban on playing and attending events goes on, the more money they lose. It is not, of course, just sport that is at risk. Concerts, theatre shows and festivals are similarly affected. Delays in getting fans back are putting thousands of jobs at risk.
But before there is a rush back, the process needs to be cost-effective for fans and viable over multiple events. A single government-backed digital health passport would be the gold standard, but that is not going to happen. That means a myriad of different bodies involved in issuing and managing these passports. The question is, how flexible can it be or will people have to download lots of passports and take lots of separate tests?
There is another question over the process. When the UK Government reintroduced rules on travellers from Spain, it was asked about antibody testing before flying. The response was that this was not enough to prevent someone from having to self-isolate upon return. If the technology is not good enough for travel, why is it good enough for sports and other events?
Football is effectively over in terms of UK national leagues. The Champions League is in doubt over COVID-19 re-emergence in Spain. Cricket has gone its own way and is conducting events while F1 will stay in lockdown. So who will be the first sporting event to use the V-COVID app? Rugby? Athletics? Enterprise Times will wait and see.