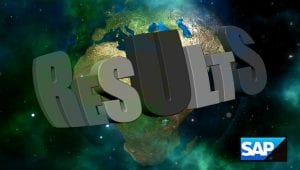 SAP issued its Q2 and half-year results this week. Despite the current pandemic, the results are strong. Whether it will be able to maintain these as the government benefits start to fade away, and the likely redundancies in specific industries begin, is questionable.
Christian Klein, CEO SAP, commented: "Our results reflect the progress we have made as a company since the pandemic hit hard in March. We have adapted to the situation by truly transforming into a virtual organization and allowing our customers to continue with their business. 17,000 customer Go-Live in the past six months alone are showing SAP's resilience in this crisis." – (Source Seeking Alpha)
SAP saw a rise in operating and free cash flow. It is worth noting that had SAP not been well on the path to cloud journey for both its solutions and with its customers, these results would probably have been far worse. Its cloud backlog is up by 21% to €6.65 billion. Half-year results are:
Cloud revenues (IFRS) increased by 21% to €4.055 billion
Total revenue (IFRS) increased by 2% to €13.264 billion
Operating profit increase by 55% to €1.284 billion in Q2, and for the full half-year rose by more than 100% with profits at €2.494 billion
It's not all rosy
SAP reports in four segments, figures below are in constant currency and show some interesting trends.
Applications, Technology & Support segment revenue up 4% to €10.301 million
Services segment revenue down 1% to €1,646 million
Concur up 5% to €807 million
Qualtrics up 54% to €329million
The stunning performance of Qualtrics since its acquisition also led to Klein announcing that it is considering an IPO for the company. While Concur results look good for H1, its Q2 results will raise concern as revenues dropped by 4% to €379 million. That fall is likely to continue. With less travelling by businesses, the license revenues are likely to drop, and business may look for cheaper alternatives with less travel expenses incurred. Despite that backdrop, Concur is still winning new business with the Royal Voluntary Service selecting SAP Concur in Q2.
But S/4HANA continues to drive success
Its flagship cloud ERP continues to drive revenues, and even during the pandemic customers are going live. Klein announced customer wins at Telefónica, Aeon, BNP Paribas, Neptune Energy, Vedanta, Comix and Deutsche Börse. SAP now boasts more than 14,600 companies are using S/4HANA. In the second quarter alone more than 700 customers went live. These included Colgate, Zalando and beeline.
Four strategic pillars for growth
Klein expounded on the four pillars that underpin his strategy for SAP and was able to evidence progress on each.
Focus on existing markets. Wins and go-lives in a large number of customers.
Accelerate growth by expanding into new markets.
Co-innovation with partners and customers to create more opportunities. These include announcements with Siemens, IBM and GEA.
Sustainability and Climate 21 – The aim is to create sustainable, intelligent enterprises. This nuances the intelligent enterprise message from a couple of years ago and is close to Klein judging by his keynote at Sapphire this year.
The juggernaut is moving and while a few months ago it seemed likely that rivals could challenge its dominance in the ERP market, that possibility seems less likely now.
Enterprise Times: What does this mean
An impressive set of results that also demonstrates that not every cloud and software company is having as prosperous a time. SAP is a diversified business supporting virtually event industry segment. As such, it is relatively protected from the current situation. With cloud-ready solutions and a growing appetite amongst companies to adopt that technology, the future looks good. There are question marks over Concur, however, as things are likely to get worse before they get better.
Klein noted: "Concur has been most hard hit. Don't underestimate the transactional element of their revenues. They actually have on a per annum basis something like a couple of hundred million. So they are the second-largest source of transactional revenues after Ariba, and that basically has almost disappeared."
Will transactional values recover? License revenues are likely to drop if redundancies occur and especially if companies no longer need expenses solutions for as many people. Transactional revenues will return, but they are unlikely to return in the same volume as before. Estimates are that between 50-70% of business travel will cease in the short to medium term. This won't, however, have a significant impact on SAP overall revenues, especially with the S/4HANA consistently winning new business.