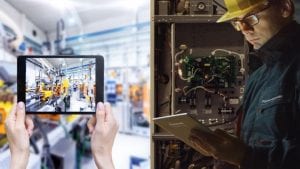 Panasonic Appliances Air Conditioning Europe is to implement IFS Remote Assistance. The news came in a good week for IFS with other significant wins (see below) and some impressive H1 results. Panasonic Appliances Air Conditioning Europe will deploy the virtual reality solution enabling installers, field technicians, engineers and customers to have access to remote product experts. They can then deliver hands-on repair instructions remotely. The will enable the team to deliver far better services support at a lower cost. It will reduce travel costs, eliminate some travel time and help maintain social distancing.
Karl Lowe, Head of European Service at Panasonic Appliances Air-Conditioning Europe: "Our investment in the IFS solution is part of a larger strategy to transform our business mindset from product-centric to service-centric and to develop the maturity of our service organization. With IFS Remote Assistance, we are leveraging state-of-the-art technology to unleash the full potential of our highly skilled workforce, regardless of where they are based. Not only are we able to navigate constraints, we are actually able to improve repair rates and access real-time performance data to help us gauge and improve our service."
The selection
Enterprise Times also asked Lowe about the new solution. Panasonic will deploy the solution to around 50 product experts across Europe. Enterprise Times also asked Lowe what other solutions the company considered. He replied: "We had viewed and tested other providers in some countries, but IFS was chosen based on the IFS's salespersons approach and processualism (people buy from people), and competitiveness as well as future partnership approach to collaboration etc. "
The decision to select the IFS solution sees the company turn away from SAP, which it uses across the organisation. It is another brand name IFS has won from the ERP giant after Carlsberg earlier this month. ET asked Lowe whether the company is looking to use any other IFS Service Management Solutions. He replied: "Standalone at this time."
Does this mean that it will aim to integration IFS Remote Assistance to any other solution? Lowe added: "Yes, we would like to track client feedback for tech support etc.". It is not clear what they intend to integrate to. Does this mean that Panasonic will consider the IFS Field Service Management solution?
The project
For the project itself, Panasonic intends to leverage a mixture of iPhones and Panasonic Tough books for its staff. When asked how the company will phase the project. Lowe commented: "No, we plan to roll out to all clients whether end-users or service companies."
With the new technology in the hands of product experts, they can merge video streams from their own devices with those held by the customer. Their hands appear within the video viewer of the customer. They can then easily show how to repair a piece of equipment.
As Panasonic moves to a servitisation, subscription-based business, it will enable them to support and services significantly more products with existing resource. Its whole workforce, channel and customer base can leverage this new solution. It also enables Panasonic to pool product experts from across the region, ensuring that expertise is readily available. Once deployed, this could provide an incredible case study with multiple benefits, including:
Lower environmental impact
Increased customer satisfaction
Faster time to fix
Increased efficiency
Lower travel costs
Faster training
Ginger Group selects IFS
The announcements from IFS have not stopped this week. It also revealed that the French engineering company Ginger Group had selected IFS Applications ERP. It will roll out the solution across its Group of companies.
This was a competitive win against Sage, Microsoft, SAP, Oracle and others. Capgemini will deploy the solution replacing 20 legacy systems across 28 subsidiaries and 2,000 staff.
Enterprise Times: What does this mean
IFS is making a big impression, winning significant customers with innovative technology solutions as well as its industry-specific ERP solutions. Alain Laing, Managing Director, IFS UK and Ireland, commented: "Across the globe, we are seeing visionary manufacturers invest in technology to enable a servitized business model. We are thrilled to be part of Panasonic's transformation journey and look forward to doing our part to provide the tools they need so they can ensure the safety of its workforce and a great customer experience."
IFS Remote Assistance was developed in the IFS Labs, and with this announcement, it could become a significant revenue earner in its own right. With a successful deployment at Panasonic, others could take note and the solution might be one of the most popular to emerge from the IFS innovation centre.