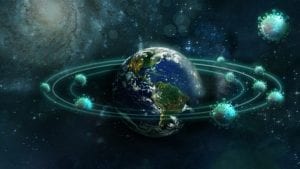 RingDNA has published a research report entitled "Selling Forward: The Future of Sales & Marketing Research Report." The report is based on the findings from a survey of 1,050 sales and marketing leaders from mainly B2B companies. The survey sought to identify the impact of COVID-19 on organisations in two key areas, economic and the nature of work. It also looked at the impact of AI on sales and marketing. The report does not, however, highlight where those respondents are based or what sectors they work in. Other reports such as the Sage SME Tracker shows a clear distinction between different sectors on the impact of COVID-19.
The economic outlook
20% of respondents indicated that they had not taken a hit from the economic fallout of COVID-19. The most significant minority (33.64%) sees a rebound happening in Q4. The rest see a rebound by the end of Q3 2021. What might have nuanced the findings is asking whether the impact of COVID-19 has had a positive impact on revenues; for some businesses, it might have. Broadly speaking, while 80% were negatively impacted, 76.13% are either positive or very positive about the outlook for their business. Only 5.18% had a negative outlook. Again, it would have been interesting to see which industries are pessimistic.
The report also looks at how sales prospecting is evolving post-COVID-19, though whether the world will ever be post COVID-19 is conjecture. There is a mix of approaches, more than 40% are broadening channel outreach, while a significant 20% are narrowing their focus and targeting fewer channels. The report also shares information from a Bridge Group survey that looked at similar issues.
Teams are evolving their selling strategy. The report states: "More than 58% say their team has changed target buyers, industries, or sectors as a result of the economic fallout from the pandemic." While this is interesting, it is more likely that target buyers have changed rather than industries or sectors. What would have been interesting to see is whether more companies are taking an ABM approach. Also, have AE's found access to more senior people easier or harder as a result of home working? This is where a qualitative interview might have provided some more in-depth insights.
Will the nature of work change?
It is becoming increasingly clear that remote working is more productive for the majority of people. More than half of respondents are more productive working from home. Only around 15% feel that they are more productive in the office. Some individuals find it difficult to work remotely. Some for psychological reasons and some because they cannot create an appropriate working environment in their home. This was a point made in a recent interview with Lisa Dodman, chief people officer at Unit4.
The report highlighted that different companies would set their own schedule for a return to the office. Surprisingly, only 22% said they would never have a complete return to in-office working. For the others, 50% believe they will mainly return by the end of the year and 22% in 2021 or later. The survey should have asked whether a complete return to the office would happen as a separate question. If they had done so, one suspects the percentage would have been much higher.
Artificial Intelligence
The report also took a look at the emergence of AI in Sales and marketing. It highlighted the perceived benefits of implementing technology in business. The respondents noted the most important benefit of technology.
Better performance & Sales playbook execution (29.73%)
Cost-cutting & value (12.16%)
Operational efficiency (33.78%)
Faster workflows (8.11%)
Ability to scale without additional headcount (16.22%)
Turning to AI, respondents see that this specific technology will have a positive impact on sales performance, with 74% believed that it could or will improve it. Only 3.68% see it as a job killer. That figure is in line with other findings from elsewhere. AI augments people, but does it replace them? AI is certainly evolving how people work. A point made by Martin Fleming in his HBR article "AI Is Changing Work — and Leaders Need to Adapt". He advocates that leaders need to consider how they re-allocate resources away from jobs that will be automated and introduce training for them and the future workforce.
What was clear from the survey is that many believe AI will improve efficiency and effectiveness. This is a point that drives home the RingDNA competitive advantage. AI underpins its Sales Enablement platform. It seeks to augment humans increasing the efficiency of their interactions in the sales and marketing process.
Enterprise Times: What does this mean
There are omissions and some flaws in this report. Notably, some of the answers to questions are contradictory. It would also have been strengthened by adding some qualitative interviews to bring to life some of the more interesting findings. For example, whether people will ever return to work fully. This is important for Sales and Marketing as it means that the nature of relationship-building may have changed forever. Should an AE constantly travel, for example, if there is no way that they can actually meet anyone regularly. Face to face meetings will become fewer, perhaps once a year rather than once a month.
Regardless, there are some thought-provoking findings in the report, and the size of the survey is noteworthy. What leaders should not take from this is that the answer to many of these questions is not black and white. It depends on circumstances and a single approach may not be the best answer. However, the one clear finding is that reliance on technology will continue to increase. Companies that do not embrace that are likely to lose both efficiency and effectiveness and may struggle to survive.