KeyedIn has released the latest version of its cloud ERP solution for make-to-order manufacturers. Enterprise Times spoke to Matt Muldoon, Chief Product Officer at KeyedIn about the announcement. KeyedIn Manufacturing (KIM) 6.0 contains several noteworthy updates. Where KeyedIn differentiates is at its heart lies a graphical process design engine. It is around this that the main improvement is focused.
Document Movement
Manufacturers are now able to attach documents to different process flows within the organisation. Any document types defined in the configuration are attachable to every step of the process journey. KeyedIn highlighted four scenarios that could leverage this new functionality
Creating an opportunity version estimate from a part's production method
Creating a manual job from an estimate's production method
Create a packing slip from a sales order, (attachments copied over from the Sales order header, line, part, job and work order)
AR Invoice created from packing slip, (attachments copied from Sales Order, Line and part to invoice)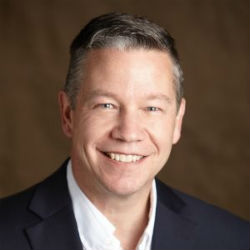 These are just some examples. Muldoon confirms that the solution is flexible and will enable customers to take advantage of these features in many ways. Muldoon also gave two examples where a purchaser might specify packing instructions for their final delivery. Packaging specifications could be attached to sales orders and passed through the system to the relevant shipping team. Additionally, Quality Assurance documents, where required could be connected to products and ready to be printed out if needed for shipping.
Accounting improvements
KeyedIn has improved accounting functionality within the application and also deepened the integration with QuickBooks as part of this release. It has enhanced the AR and AP ageing reports for purchasing managers and others that run from within KeyedIn. They are now able to run a report using an "as of" date.
It uses the payment terms for each customer or supplier. Currency transactions show either detailed information or can summarise the data at an account level. Enterprise Times asked Muldoon why is this important?
"These businesses are of a size, where, the guys that do the quotations tend to be the same people that talk to the customer to chase them. On the AP side, the purchasing manager is the guy who's most worried about that. So the only guy on the back end using QuickBooks is usually the bookkeeper or the owner depending upon the size of the business."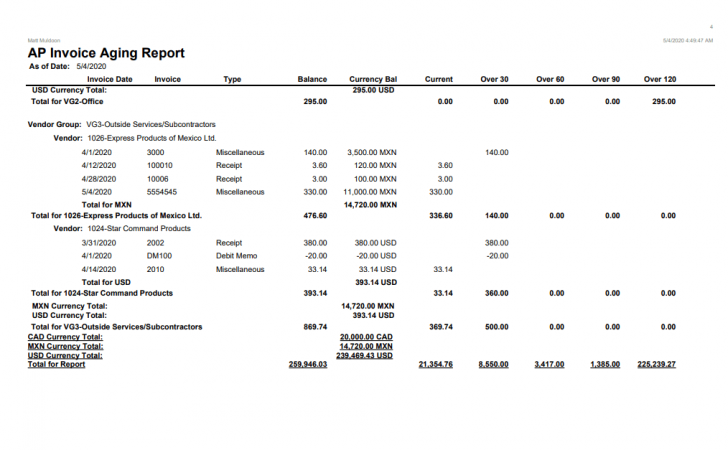 KeyedIn has also added a new Production Accounting Report and a new process for posting production transactions. A Production Accounting Report must be run, and a Review Process carried out to check for correct accounts, balanced transactions and any other data related errors.
The integration improvements with QuickBooks include:
Edit lists are required on batches before they a user can post it.
All batches validate customers, vendors and GL accounts have external IDs if integrated to QuickBooks.
If an ID is missing, the edit list will include a message on the report to indicate what is missing.
Enhanced customer/vendor creation display messages to the user if required fields are not completed
More changes
The update also includes several other minor changes including:
Purchase Order now supports additional charges that are displayed on the purchase order form.
Sales order deposits can now be closed or reopened.
Sales order deposits can be transferred to another sales order.
It is possible to reopen works orders with the ability to edit the Setup Complete, Production Complete and Teardown Complete fields on the work order operation.
Enterprise Times asked Muldoon which improvement will have the most significant impact on customers. Muldoon answered: "Documentation Movement is quite important because our customers are mainly 'make to order' manufacturers.  The more detail they have for the customer order, the shipping documentation and the invoice to give the customer about the spec, the quality, the confirmations, etc., the easier it is to get paid. Also it makes sure that you're not making the wrong thing because you're doing a one-off job of 1000 units or so. You might not do that again. You want to make sure you get it right the first time, so having all the documentation carried through the process is very important."
What's coming up?
While KeyedIn improved the QuickBooks integration, it currently only has one integration to another accounting solution, Sage 50. There is no integration for Sage Accounting or Xero yet. Enterprise Times asked Muldoon when the Xero integration specifically would be available (the integration page says "coming soon"). He replied: "We don't currently have a requirement for it so that integration will happen when a customer asks for it".
Muldoon explained that the solution already supports users with Xero, and other solutions using an export and import function. The APIs are ready to finish the programming work, but unless customers want it, the priority is not that high. The question for KeyedIn is whether they are losing business as a result of not having the integration and an entry on the Xero marketplace.
Enterprise Times then asked Muldoon what they are working on next:
"We're releasing an updated version of the Process Designer. Stronger graphical capabilities, and we had to write flash out of it. So technically we had to change the back end of it. Then we're working on some much stronger functionality in the areas of detailed costing. Customers are starting to split up their costs into a much more granular level. In today's world, they're trying to discover everywhere the cost of sale is impacted by even the smallest change in material or labour costs.
Enterprise Times: What does this mean
This is a solid update from KeyedIn the document movement functionality is a key improvement. As Muldoon notes: "Most other manufacturing ERP systems, especially old on-premise software, is terribly inflexible and inhibit a shop owner's ability to grow and innovate."
Importantly, it removes the need for the physical paper to move around the factory in the traditional way. This has an increasing importance today as one customer noted. Austin Shears, owner at O.T. Fabricating commented: "Simply put, KeyedIn Manufacturing has revolutionized our manufacturing shop. When the COVID-19 lockdowns hit, I was so grateful I could access everything I needed to know about my business from home, my phone or wherever, because KIM is in the cloud. Plus, we were able to modify our processes quickly, as needed, with virtually no disruption."
With the process designer redeveloped, it will be intriguing to see what further functionality KeyedIn builds into its solution. The latest release has rolled out to customers, and they can take advantage of the above functionality.