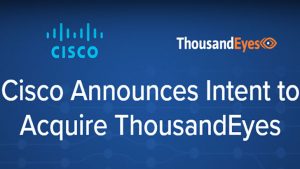 Cisco has announced its intent to acquire network intelligence company, ThousandEyes. A report on the Bloomberg website puts the deal at close to US$1 billion. Cisco and ThousandEyes, however, have declined to comment on the financials around the deal. The transaction is expected to take place before the end of Cisco's Q1 FY'21 (October 26, 2020).
The deal gives Cisco a significant boost when it comes to network monitoring, both inside and outside the network. It plans to embed the ThousandEyes technology inside several of its existing product lines. It will give customers greater visibility into what is happening on their networks, especially around SaaS-based applications. As businesses continue to struggle with remote working, this additional visibility will be welcomed by Cisco customers.
Commenting on the deal, Todd Nightingale, senior vice president and general manager, Cisco Enterprise Networking and Cloud said: "The combination of Cisco and ThousandEyes will enable deeper and broader visibility to pinpoint deficiencies and improve the network and application performance across all networks. This will give customers end-to-end visibility when accessing cloud applications, and Internet Intelligence will improve networking reliability and the overall application experience.
"ThousandEyes has a unique value in that it provides true internet intelligence and application experience intelligence and gives both of these things in such an amazing package. It ties the Cisco Networking portfolio and our AppDynamics portfolio together. It's going to help drive network as a services offerings from Cisco for years to come."
What does ThousandEyes do?
ThousandEyes is a network intelligence company. It monitors corporate networks and the Internet to provide detail on how they are performing. It is often used for application troubleshooting, especially around SaaS-based applications. Network teams can see the performance of any endpoint to the app. It allows them to detect where there are problems with the Internet and, where possible, reroute network traffic.
Mohit Lad, co-founder, CEO, ThousandEyes describes ThousandEyes as: "The whole vision around ThousandEyes was built on this notion that the Internet becomes the central nervous system of user experience. It's a big black box, and it's something that you don't control.
"We built a product essentially giving people a Google Maps view of the Internet. Helping them understand exactly how it's impacting their user experience."
The whole is greater than the parts
It is this ability to dig deeply into the performance of applications that makes ThousandEyes attractive to Cisco. Lad says that they were continually running into Cisco's AppDynamics tool on customer sites. It had customers asking if they could combine the Internet intelligence from ThousandEyes with Cisco's networking portfolio.
Nightingale describes ThousandEyes as the other side of the app monitoring coin. He said: "The reality is that users of AppDynamics, tend to be the cloud operations teams that are deploying applications around the world. They monitor how those applications are performing in their virtual machines, containers and servers around the world. User experience is 100% dependent on that.
"It's also dependent on the delivery of that application through the Internet across private networks. That's the other side of the equation. It's what ThousandEyes provides, and that visibility is possible with ThousandEyes agents running on Cisco Networking equipment. It's going to pull together our app dynamics and our networking portfolio in amazing ways and give our customers exactly what they need."
Nightingale also sees value in embedding ThousandEyes agents into Cisco's Meraki products. The network intelligence from ThousandEyes would provide the Meraki products with additional data. That data could be used to resolve network issues automatically. One area where this has an immediate benefit is in SD-WAN. If ThousandEyes spots disruption to part of the Internet, the SD-WAN could automatically reroute all traffic. This will appeal to network operators in addition to enterprise network teams.
A virtual deal for a remote working time
This is an interesting deal and not just for the technology. As Nightingale said on a conference call: "It was 100% virtual, soup to nuts. It was great to see that the team can operate that way and amazing to see how the ThousandEyes leadership and ThousandEyes technology teams can adapt to that. We got to know each other as we went through the pain of doing it. But I hope never to do it again."
Nightingale didn't elaborate on why virtual worked here and why he wouldn't want to repeat it. One reason might be the problem of doing deals face to face. Video conferencing, for all its benefits over the global lockdown, doesn't give negotiators all the input they would get from face-to-face meetings. Eye contact, emotional intelligence such as body language and cues are all missing.
It will be interesting as the pandemic lockdown continues to see how many other organisations do high-value virtual deals.
Enterprise Times: What does this mean?
It is a good deal for Cisco, and it certainly gains much more than ThousandEyes in terms of product futures. From an analyst perspective, embedding the ThousandEyes technology across the Cisco product family plays well. It will undoubtedly help Cisco push for the top spot in several Gartner Magic Quadrants.
Being top of a Magic Quadrant often results in improved sales. It is something that Cisco will hope happens. In its recently reported Q3/20 results, Cisco announced an 8% decrease in sales year over year. It is also projecting a decline of up to 11.5% year over year for Q4/20. If it can complete this deal before the end of Q1/21, then it should see the benefits shortly thereafter.
For customers from the enterprise to the network operators, there is much to welcome here. ThousandEyes already has a solid footprint in those areas. Cisco will help extend that and drive new sales. For customers that don't want to be using Cisco equipment, Lad said that the product would continue to be available as is.