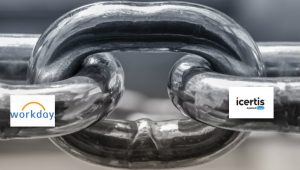 Icertis has achieved Workday Certification status for its Icertis Experience for Workday solution. Icertis first partnered with Workday in 2016 integrating its CLM solution with Workday Procurement. This allows data and workflow to pass between the Workday and the Icertis Contract Management platform. In 2018 it became a Workday Solution Partner. This latest announcement is a significant milestone in the relationship.
There are now more than ten joint customers live on both solutions and they are looking to extend the integration. Peter Boit, chief alliances officer, Icertis said: "We believe our leading contract management platform, when combined with Workday's proven solutions, will enable companies to view their valuable data and contract assets across key finance and human resource functions. Through our partnership with Workday, we can help our clients achieve greater savings and accelerate procurement times so they can focus on moving their businesses forward."
The solution now integrates connects Workday Financial Management, including Workday Procurement, and Workday Human Capital Management (HCM) with the Icertis Contract Management (ICM) platform. Enterprise Times spoke with Peter Boit about the announcement.
Since 2018 Icertis has added an amendment process. Originally the system passed contract details on creation. If contracts are amended then Icertis can now pass the updated information across to Workday. This is achieved using API's.
Evolving partnership
Is there a go-to-market strategy? Boit answered:
"We've done several events together and have been sponsors at that their events. We have also done a number of lead generation activities. We've been in the field with Workday. When they present their whole spend management story, within the CLM capability, we're in every pitch. That is because most clients want to see what are you bringing to the table completely in this solution, just like they would ask the same of other leaders in this space. So they proactively position having a strong CLM offering, and it's through a multi-year certified partner."
What is the next stage for this relationship?
"Going deeper on the understanding of the future capabilities that clients want. Bringing their spend management offering to the table and where they want to have their contract data, whether it's entitlements or obligations, surfaced and readily available to do whatever work process is needed either upstream or downstream. Going deeper into potential joint capabilities within their HCM platform."
It is still early stages for the HCM integration. Boit confirmed that this integration would include such things as
Employee agreements.
NDAs.
Outsourced services agreement.
Boit added: "So a workday customer that uses HCM to also manage contract services can also take advantage of our advanced contract management capabilities. For example, we have the capability to have contract labour use an electronic badge to log in on a particular project on a day and then have that automated data flow all the way back through to Workday and then matched against the actual contracted spend."
This would also be useful in those firms that perform extensive M&A activities as the CLM platform will allow them to better manage those contracts and terms.
Success
One joint customer is Melbourne-based Transurban, a leader in developing, operating and financing urban toll road networks in Australia and North America. Using the joint solution, Transurban is now able to pass supplier information, pricing, payment terms and other contract data to procurement processes in Workday. This eliminates errors, accelerates contract execution and simplifies cost management.
Megan Cavill, procurement operations delivery manager, Transurban noted: "At Transurban, we work to get people where they want to go, as quickly and safely as possible. We research and develop innovative tolling and transport technology that makes travel easier for everyone. The partnership between Icertis and Workday has helped us increase compliance with purchasing policies to reduce maverick contracting and gain visibility into the performance of our suppliers."
This cadence of improving the relationship should mean that more joint customers are likely. New partnerships between vendors are struck every day. Few of them are successful, to the extent that they strengthen and increase business to both over time. ET asked Boit what has made this partnership successful.
"Workday has just been a fantastic partner to work with. One thing that's very important to us and it is core to Icertis values ours are fairness, openness, respect, teamwork and execution. In my almost 60 years of working, they are more and more important every day when it comes to partnerships. Workday has been as value-based, driven and open and great to work with. Fair, in that they tell you exactly the journey you're going to be on through the partnership. So it is a very open process. It is a rigorous process which we appreciate because that ensures quality between both partners that then is the benefit for customers and it makes us both better."
Enterprise Times: What does this mean
This announcement, while thin on content for customers is important. It demonstrates that the relationship between the two companies is still active and improving after four years. One of the secrets behind this is that Workday is selective in whom it partners with. It also looks to increase the value of the partnerships for both sides, and more importantly its customers. While it is slightly surprising about the low number of joint customers this may change in the next few months. The current crisis is driving companies to automate processes at a faster rate. Contract management is one of those things that benefits from a cloud solution. Also, with the introduction of deeper ties to the Workday HCM platform, this may deliver some significant efficiency savings.