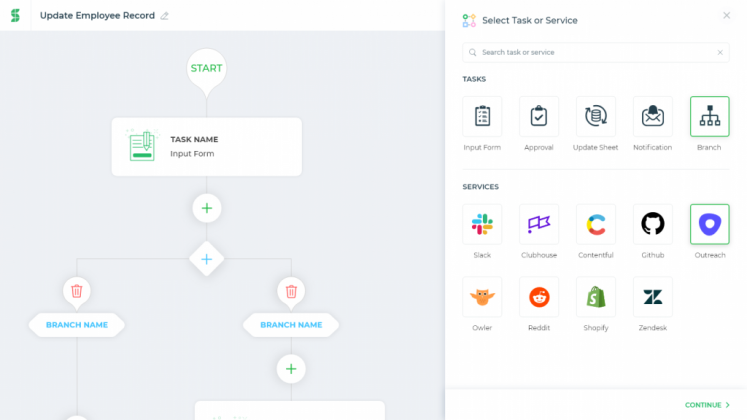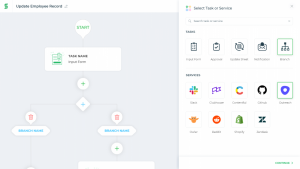 DronaHQ has announced the launch of an enhanced Workflow builder. The news came in a blog by Gayatri Sachdeva, Product Marketer at DronaHQ. The standard Workflow builder enables organisations to design workflows to run approvals, update data, call APIs and more without writing code.
This latest update includes  three new features:
3rd party integration services.
Simplified workflow designer with a point and click interface to build process automation workflows just like flowcharts.
Customizable DronaHQ Push Notifications and Mailing services.
Integrations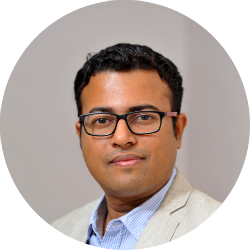 Jinen Dedhia, Co-founder of DronaHQ commented: "This raises the ceiling on no-code capabilities. What earlier needed developer efforts or tech support, now non-tech users can themselves create marvellous process automation apps by just drawing out a flowchart on the workflow designer. This is a power-packed upgrade that we have taken live on the platform.
"Going forward, we aim to make integrations even easier with over 100+ OOB API integrations ready for the users. It is going to get even simpler for our non-tech users to connect their favourite apps without taking help from the dev."
Correction:
DronaHQ has created a new set of out the box 3rd party connectors. This is in addition to the existing integration with Zapier.
(More information to follow)
Those integrations are powered by Zapier. In integrating to Zapier, DronaHQ is gaining access to a vast number of other applications within its workflow builder. It also means that companies no longer need to create or individually mesh API's to the DronaHQ solution. This simplifies and speeds up the integration process for many.
Dedhia concluded: "We are actively adding newer services to our Workflow builder to incorporate all popular applications that customers use. Our aim is to have a rich repository of predefined connectors to enable anyone to quickly integrate with other systems and extend the system's capabilities at ease." 
Workflow builder gives more
The DronaHQ REST API also enables micro-apps to send and delete notification to one or more users. It has extended the workflow designer and it now contains the ability to take the following actions:
Task approval: Allocate a user to approve a given task.
Input and Assign tasks
Update data: Amending existing records and adding new records.
Branching workflows.
Analytics.
Dynamics assignment of tasks based on specific criteria.
Event triggers and follow-up actions can be easily configured in the enhanced Workflow builder. DronaHQ also claims that integration will become as easy as no-code app building. Additionally, the blog makes mention of mailing services, however, no supporting information could be found in the DronaHQ documentation.
Enterprise Times: What does this mean
While it is not a huge update by DronaHQ the integration with Zapier will make a significant difference for many customers. In a single update, DronaHQ has delivered the ability for customers to connect systems in a simple way. It extends the power of DronaHQ substantially. What will matter is what the customers achieve with this. Expect some interesting case studies to come to light shortly.
Leveraging an IPaaS such as Zapier makes simple connections easy. However, those integrations are limited and some customers requiring deeper integration may wish to revert to the APIs which still exist.
Update
Gayatri Sachdeva contacted ENterprise Times with further information about the update. DRonaHQ is still working on the documentation for the release and she explained the following:
Automation: Using Automation, users can schedule triggers to initiate Workflows on DronaHQ or any integrated 3rd party system. Currently, we have three types of triggers – Time based Schedule, Webhook initiated, and Database [Sheet Row is Added or Updated]. 
Email Tasks: Users can send templatized emails straight from their applications. The workflow can again be automated so users can control the events that lead to emails or schedule email-based reminders or more.Think of Zapier or IFTTT-like capabilities. Together, the above-mentioned features allow configuring triggers & actions in your no-code app, database, or connected 3rd party systems.
Code Block: Code block works as a specific entry point in DronaHQ's workflow engine, execute the custom code and the output generated can be further used in a subsequent task. This is particularly handy for use cases like route planning, generating highly specific PDF reports.  
She also explained the update to Connectors buy ET has raised further queries around this and the article will be updated when this is received.