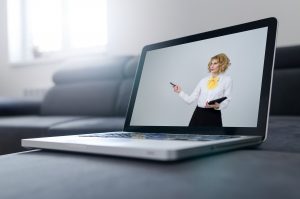 Otter.ai, the online transcription service, has released Live Video Meeting Notes. This latest addition to Otter.ai provides a secure, real-time interactive transcript from a video conference. Users can view the notes during the conference or download them after. The new capability will only be available for organisations who have an Otter for Teams plan ($20 per user/month) and organisations with Zoom Pro (£11.99 /month).
According to  Sam Liang, CEO and founder of Otter.ai: "Virtual meetings have skyrocketed during the COVID-19 outbreak as organizations recognize that high-quality voice meeting notes are a critical tool for employee productivity when collaborating within an office or in any virtual meeting.
"Usage with Zoom meetings has increased by more than 5X in the past few weeks, and we're seeing new sign-ups from remote workers and distance learning. Otter has transcribed more than 25 million meetings, accounting for more than 750 million transcribed meeting minutes to date."
Who is Otter.ai targeting?
As with all meetings, one of the challenges is often taking practical notes at the speed people are talking. Detailed note-taking can distract people from what is being said, which means they miss opportunities to participate. This new capability will allow them to be fully engaged in the video conference and know that they have an accurate record of what was said. For anyone who has struggled to recall actions assigned to them after a call, this will be welcomed.
It will also help those who are struggling with balancing home and work during the current Work From Home situation. It means that they can be sure that they have all the information they need from a call, even if they have to step away for any reason.
Otter.ai is also targeting those delivering homeschooling during the COVID-19 outbreak. It will ensure that all students can get a full transcript of lessons. This will make it easier for them to read through later when completing assignments.
To get people started, Otter.ai is offering two months of free service for anyone who signs up for Otter for Teams using promo code: COVID19OTTER.
What is in this latest update?
The press release lists three things in the Otter.ai Live Video Meeting Notes Zoom integration:
Live transcription: All meeting participants can open the Otter.ai Live Transcript in the LIVE menu at the top of the Zoom window. Log into Otter.ai to highlight, comment, and add photos to the live meeting notes. Meeting hosts require Otter for Teams subscription.
Post-meeting transcription: Otter.ai will automatically download Zoom cloud recordings for transcription. Available to all Otter.ai users.
Headset support: Otter.ai Live Video Meeting Notes can capture both sides of a conversation when using headsets or earbuds.
Enterprise Times: What does this mean?
The use of online transcription services has been on the rise. Many of the companies offering transcription use AI to get a first version from which they can then correct the text. It means that transcription can be expensive, especially if you want a wholly accurate transcript.
As an Otter.ai user, the current quality is highly dependent on the audio quality and accents of those talking. Unless the video conference host works on an everyone muted and hands-up policy to speak, there will be times when the notes get garbled. The pressure on bandwidth means everyone will have experience screen freeze. In most cases, audio continues, but it can create additional audio artefacts.
All of this will be a challenge for Otter to deal with. How it manages that and improves its ability to cope with a large variety of accents will be crucial to the success of this offering.