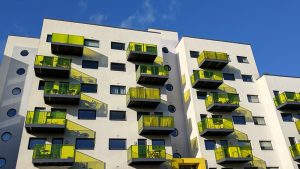 For the UK property market, 2020 has so far been a positive year. According to latest figures from Halifax, house prices increased by 0.3% in February, up 2.8% on the same month in 2019. That means that the average UK house price now stands at just over £240,000. That growth was fuelled by increasing sales (partly helped by healthy employment figures), a competitive mortgage market, and less uncertainty relating to macro-issues following the general election.
There are headwinds that could potentially hamper continued growth as we head into the Spring and beyond. COVID-19 has caused volatility in global stock markets over the last month, and as ripples will be felt in the wider economy in the coming months, property will not be exempt. However, the growth we have seen in the months before the outbreak show that UK residential property remains a market full of opportunity.
If the market is buoyant what about investment
This is not just the case for sellers and developers, but also for investors. Those attracted to residential property are attracted by the prospect of long-term, stable income. The sector retains its status as an invaluable defensive investment in unstable periods. This is the case for retail investors as well as institutional – according to a survey carried out by The Investment Property Forum, two thirds of institutional investors intend to increase their residential holdings over the next year.
How is technology going to influence this?
For those entering the market now as well as those looking to expand their positions, technological innovation is changing the way investments are made. Specifically, technology is improving the decision-making process. It does this by using data science and AI to identify and speedily acquire the most promising investment opportunities. Thus decreasing human bias and increasing efficacy.
The advent of PropTech mirrors similar revolutions occurring in sectors such as financial services (FinTech) and regulatory services (RegTech). Investors are well aware of its potential both to change how investment in property is done and to create significant value in the long run. In Europe, the UK market is very much leading the way. According to a report by Oxford Saïd Business School, by mid-year 2019 British PropTech companies had attracted over $5bn dollars in investment – five times the level seen in Germany.
The growth of PropTech companies and platforms means investors now have a greater number of ways to access the market. These include P2P platforms such as Blend Network, which connects investors with small and medium developers and offers average returns of around 12%. High-net-worth individuals an#d retail investors can benefit from fractional ownership platforms such as British Pearl which allow diversified property investment with minimum investments from GBP100.
The rise of AI in Proptech
In terms of specific innovations coming to the fore, artificial intelligence is playing an increasingly pivotal role by gradually changing the way investments are sought and made. Data science helps improve investment decisions on a very granular level. Understanding supply and demand on a hyper-local level allows investors to pick assets with the right attributes. Down to whether a balcony or garden, parking space or a third bedroom will produce the higher premium in a particular location.
These data-driven, profitability-boosting insights can now also be coupled with technology that enables speedy and efficient asset acquisition. Using AI to sift the wheat from the chaff allows acquirers to due diligence only the relevant minority of properties able to achieve high yields. A semi-automated sourcing process additionally all but eliminates human bias in asset selection.
Technology will also enhance after investment
Technology is also increasingly being embedded within properties themselves, which coupled with smarter and more flexible tenant services is creating a better offer for potential tenants. This in turn helps cut down on property voids, yields greater revenues and decreases tenant churn further increasing the return potential for investors.
A further knock-on effect for tenants is that using data to identify best-of-class investment opportunities allows investments in standing stock to be made at scale. This creates better quality rentals out of existing housing stock and improving the market overall.
Skwire began proving this model with a small portfolio of high-yield properties across the UK built from standing stock for HNW investors. We source best-in-class opportunities using our proprietary sophisticated self-learning AI, trained on more than 150 million data points. This is Coupled with tech-enabled underwriting and property management. It enables us to build diversified high-yield portfolios at scale relevant to both UHNW and institutional investors. We are currently fundraising for our next fund to cater to institutional investors.
Why does this matter?
The UK housing market is in need of development on a national scale; there is simply not enough supply to fill demand. If we are serious about solving this problem, the residential property market needs investment, from big institutional players right down to individuals with personal capital to put to work.
The efficiencies and scalability on offer with the advent of new types of tech-driven investment vehicles can help fill this gap. It will help mobilise the large sums of capital needed to ensure a supply of the types of homes people want to live in.
---
Skwire is tech-first real estate investment, providing the next generation of high-yield residential PRS. Their self-learning sourcing AI and tech-enabled operations allow Skwire to acquire and manage existing housing stock at scale to build institutionally investable portfolios across the UK. Their personalised and flexible rental offering creates lifelong tenant relationships, enhancing returns beyond traditional rental yields.