Three books, each in their very different ways, explore blockchain in a variety of settings, from the commercial to the invented. While Covid-19  is constraining many levels of commercial activity – it need not do the same for broadening the mind.
The three books, each available in various formats including online, are:
Commercializing Blockchain
Money without Boundaries
Consensusland
Commercializing Blockchain (Antony Welfare, Wiley 2019)
Sub-titled 'Strategic Applications in the Real World', Commercializing Blockchain seeks to be a practical guide to blockchain. It illustrates how blockchain can be:
revolutionary technology
used to transform governments, businesses, enterprises and entire communities.
The author, Antony Welfare, draws from his experience with:
global retailers
global technology companies
the UCL Centre for Blockchain technologies
the UK government
the (UK) Retail Blockchain Consortium
and other sources.
This enables him to present real-world case studies on the use and benefits of blockchain. His specific topics include:
financial transactions
tokenisation
identity management
supply chain transparency
global shipping and freight
counterfeiting.
In seeking to provide practical guidance for blockchain transactions in business operations he:
gives practical guidance for blockchain transactions in business operations (without requiring technology/technical expertise)
demonstrates how blockchain can add value and bring increased efficiency to commercial operations
describes the the essential components of blockchain (including traceability, provenance, certification and authentication).
Money without Boundaries (Thomas J Anderson, Wiley 2019)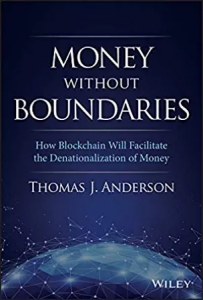 Money Without Boundaries has as its inspiration Fredrich Hayek as well as economists like Milton Friedman and Irving Fisher. The author, Thomas Anderson, begins with a history of money before discussing the rise of cryptocurrencies. He discusses advances in capital markets over the past 50 years, and the convergence of old and new technologies. He concludes with a comparison of decentralised money markets to all other alternatives. His principle argument is that blockchains can act as both filter and glue.
To him, when comparing other currencies, blockchain-managed money markets are more straightforward and transparent. They are, he argues, easier to monitor, to understand and to assess the quality of 'full-faith and credit'.
In Money Without Boundaries he discusses how not only money but also the process of borrowing and lending might evolve to deliver a fully trusted, secure, transparent and open architecture environment. In so doing, he
demonstrates how blockchain technology enables full transparency
explains how blockchain makes it possible for money to become a commodity
examines how a fully market-based, decentralised and self-regulating system could have implications stretching throughout the existing global financial system
shows how everyone might benefit if they have the opportunity to compete on 'full faith in credit'.
Consensusland (Mark Helfman, Lulu Publishing Services, 2018)
In this modern analogue of Gulliver's Travels, a businessman receives the offer of a lifetime from the tiny, island country of Consensusland. The catch is troubling: give up everything you know about business and finance and accept the power of blockchain.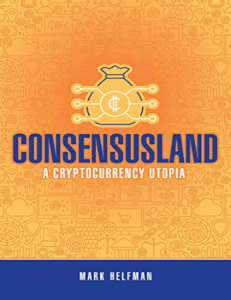 Consensusland is fiction. Its story is about an invented country's implementation and use of adopting a futuristic economic system based on the use of a cryptocurrency, smart phone apps, QR codes, etc. It involves an invitation to a pharmaceutical company where the hope and goal of the various Consensusland officials is to persuade the company of the advantages of relocating to Consensusland.
The novel is short (99 pages). Even so, the way it unfolds describes how a blockchain-based economy might be structured and the transactions which can take place. Adding to the discussion, questions arise as to where are the other businesses activities as well as the playing out of the pharmaceutical company's decision processes.
In effect the author has created an exploration of new methods of commerce conducted through a cryptocurrency, charmingly called the 'Connie'.
Enterprise Times: what does this mean
Being constrained by Covid-19 offers the opportunity to learn. In their different ways, each of these three blockchain books can distract while also preparing for the day when 'normal business resumes'. (For a possible alternative, see here.)
If you are interested in:
Commercializing Blockchain is a book appropriate for developing and deploying blockchains, particularly in areas like retail, supply chain and consumer goods
cryptocurrency, money, monetary theory or understanding how the applied uses of blockchain technology will change your everyday life; Money without Boundaries makes for reading which challenges
an entertaining distraction, combined with sci-fi, then Consensusland is appropriate.