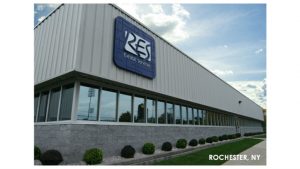 RES Exhibits is a family owned business that is one of the top tradeshow and event organisations in the US. It manufactures unique stands for business and also runs a services business that organizes trade shows. Its challenge was that its legacy implementation of Infor Syteline was inefficient. Over time it had developed customizations and added a significant number of workaround for business processes.
It made the decision to upgrade to the latest version of Infor Syteline, Infor CloudSuite industrial. To achieve this, it selected ICCG as its implementation partner. ICCG is a global Infor gold partner with offices in US, UK and India. It has a deep understanding of Infor products including ICSI.
This was not a simple upgrade. The company wanted to reorganize itself into two divisions, Services and Manufacturing. It also included other significant technology and business changes as part of the project. Those changes included the introduction of functionality new to RES Exhibits ICSI support.
Kevin Hutchinson, Director Strategic IT Projects commented: "Based on their knowledge, experience, and global delivery model, we selected ICCG, a Certified Infor Implementation Partner to take the upgrade project forward. The complete upgrade was completed in just under 5 calendar months – on-time, on-budget as promised. RES looks forward to engaging with ICCG on additional process improvements and add-on implementations."
The changes included
Introduction of project management for each customer engagement. This enables RES to track every process within the project. ICSI supports several project management tools within the application including Kanban boards.
It has implemented the advanced planning and scheduling as a formal process and maps this into ICSI. It is also leveraging the latest functionality from the ICSI HR capabilities, these include:
Record and track applicant information, interview notes, and results
"Hire" an applicant to automatically create an employee record
Record and track employee performance, education, salary, attendance, seniority, and grievances
Report and track accidents and workers' compensation claims
Track Recruiting Programs such as Application Sources, Want-Ad Usage, and Want Ads
Benefits Management
Bar-coded employee badges
Regulatory Requirements (I-9 Documents, EEO Classes, Ethnic ID, Employment Eligibility)
Shiv Kaushik, CEO for ICCG commented: "System upgrades call for good understanding of the customer's existing configuration of their ERP system. The enhanced capabilities in the newer version combined with prior relevant experience to successfully deliver upgrades, involves carrying forward some business specific modifications to the solution and makes the deliverance complete in a timely manner."
Enterprise Times:  What does this mean
The ICCG and RES Exhibits experience shows that upgrades are no longer just about improving technology. The implementation by ICSI has also enabled some significant organizational changes at the company. This was achieved in a relatively short five month time scale. The implementation will help RES Exhibits grow through increased efficiency and further improvements will help it on that growth journey.
For ICCG, this demonstrates an ability to deploy Infor solutions and assist customers through their transformation journeys. As the SVP & GM, Global Alliances and Channels, Infor once noted: "Partners like ICCG are an essential asset for our company and provide a strategic value proposition to our customers by delivering knowledgeable solution resources that are able to help speed time to value and help maximize the impact of the technology investment."