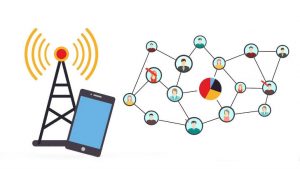 Artificial Intelligence is often the domain of data scientists and organisations are finding it difficult to locate them. Now there seems to be an answer for some organisations. Obviously AI is launching its first product on the market which simplifies predictions on any data set. Its intent is to provide the ability for any company to access insights from their data. Founded in 2018 by Nirman Dave and Tapojit Debnath it has only raised a seed funding round (Source Crunchbase) to date. This initial solution provides a product that many organisations may find useful.
The No-code prediction platform
The solution is one of the simplest data science solutions on the market. A simple import wizard makes it easy to ingested data. The AI cleans the data and then offers two user interfaces. A graphical interface for users to gain simple insights with drag and drop functionality. Alternatively there is a natural language interface which allows users to interrogate the data.
Nirman Dave, Co-founder and CEO, Obviously AI commented: "We realized that business users truly cared about getting decision making insights about their customers, products and its usage. This often meant writing frustrating SQL queries and waiting on web engineers who would try to figure out machine learning algorithms. That's why we have been on a mission to make data science effortless just by asking questions. It's amazing what marketers, salespeople and other non-technical business users can learn when they use our platform."
This simplicity extends to the pricing model. There is a free option that only supports 100,000 data records. Pro which includes a data scientist and up to 5 million rows of data for $499 a month and ProPlus which includes setup and support for $1,499 per month. There is a seven day trial for the paid options but there does not seem to be a minimum term for the agreement.
How does it work
Users first need to load data into the engine. Obviously AI can ingest several data types including CSV files, information from databases such as MySQL, PostgreSQL, BigQuery and RedShift or CRM data such as Salesforce or Hubspot.
Once ingested, the user can preview the data at any time. The data is cleaned by the platform, though no details are given for what this entails. Users are then able to either select a field they wish to predict and are presented with a GUI they can interact with. Alternatively they can use a search bar to ask a question in natural language but currently it appears only English is supported. Questions can either be predictive, such as:
"Which customers are likely to cancel their subscriptions?"
"How much is a customer willing to pay for my product on Wednesdays?"
"Which customers are most likely to commit fraudulent activity in February?"
Or analytical:
"What is the average daily foot traffic for my retail stores?"
"What is my churn percentage this quarter?"
"How old are users paying more than $500?"
The system applies a wide set of algorithms which then surface the best result. Users are also able to view which algorithms the system used and what the accuracy of the prediction is. This includes the factors used in the calculations. Thus delivering explainable AI.
Users are then able to adjust the weighting of different factors and it also supports limited what if scenarios.  This could mean that a business looking to increase sales could adjust promotions to see whether the AI can help to highlight the optimal solution.
Once analysed the results the user can export the output in a CSV file or there is also support for an API connection to another solution. However, this is well short of being prescriptive analytics as it appears to merely feed the data back to the application as a CSV file.
Enterprise Times: What does this mean
Obviously AI is targeted at small and medium sized businesses with no access to data scientists. Departments within larger organisations may also see the value in the solution. However, those wider organisations have probably already invested in predictive solutions. While Obviously AI can provide insights on data sets it also relies on having sufficient data. The user also needs to understand what questions to ask. Users will need to carefully consider these questions as otherwise they could spend a lot of time finding interesting answers but ultimately ones without significant impact.
Now launched, Obviously AI will need to generate some actual case studies from live customers. This will help to demonstrate the value that they are delivering. They may also need to consider more and deeper integrations. This may include answering the question of once the insight is surfaced what is the user going to do with them? There does not appear to be any automation of business processes to actually leverage the insights. However, initial customers are seeing benefits. Dan Parry, PM at Tectonic in London commented: "We were crazy impressed and realized we could do everything we wanted far easier without learning code."
The lack of a minimum term may also attract organisations to try the solution. That may change in the future but it is a sensible approach if Obviously AI needs to gain a customer base quickly.