Betterworks has released new features for its performance management solution: of Calibration and Feedback Summary. The Betterworks solution provide continuous performance management for employees. Its customers include Kray, Schneider Electric and Visma. Calibration is a new module and customers can purchase it as an add-on. The new Feedback Summary is available to existing customers for no additional fee.
Calibration
Calibration is the method by which managers can create a consistent set of standards to measure employees within a business. It enables the fair and objective performance appraisal for each individual. The Betterworks solution uses a 9 box calibration tool that measures performance and potential of an employee using feedback from performance monitoring engagements.
The system is configurable. Businesses are able to determine whether they wish to measure employees on a 3, 6 or 9 box system. They are also able to calibrate where individuals sit on a five star scale. This enables managers to flex the system to provide differentiation between employees when performance is relatively even. It enables them to set improvement goals and demonstrate progress to each individual.
Calibration collates data from a variety of sources:
Employee's goal achievement,
development feedback,
recognition,
manager conversations
The grid score is then calculated and displayed clearly in the nine box grid. Users are able to drill down into performance to understand the reasons behind the relative positioning. Organisations can use the solution for either periodic or continuous performance appraisal. It enables companies to quickly assess employees in an equitable way without huge effort from HR or managers.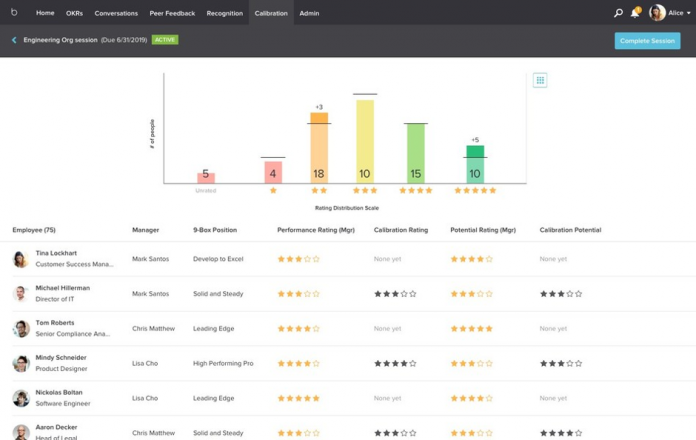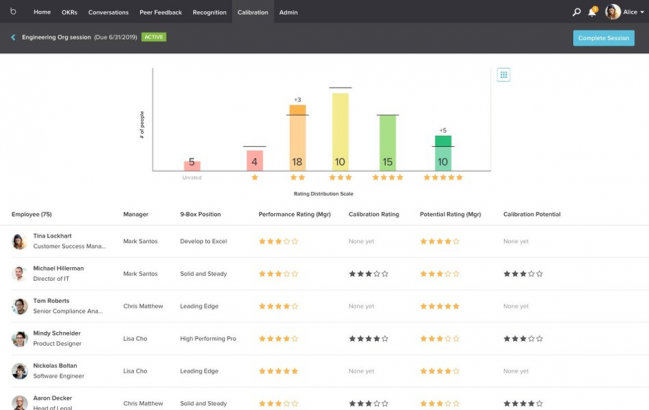 Amy Cappellanti-Wolf, member of Betterworks' board of directors commented: "Historically, calibration required significant time from both managers and HR to prepare for a meeting where box placement may be too heavily influenced by the best debater in the room. Betterworks' new take on Calibration removes the prep headaches and, importantly, levels the playing field for every employee. With Betterworks, everyone has a holistic view of each employee at their fingertips, –all informed from continuous conversations, feedback and goal achievement. This innovative approach removes bias and facilitates data-driven talent assessments and decisions."
Feedback Summary
The new version of Feedback Summary, part of Conversations, delivers a holistic view of feedback for an employee from coworkers and managers. It provides managers with a view of the feedback of employees over a period of time. There are also views for business leaders where they can see overall performance by organization, department and team. They can also drill down to an individual employee.
This enhances the Betterworks solution. It enables organisations to better manage 360 degree evaluations and continuous performance management. It draws data from the scheduled feedback or ad hoc feedback that employees can request from peers.
Enterprise Times what does this mean
This is a small but important update at the start of 2020 from Betterworks. One customer is already seeing the benefits of the new calibration solution. Jeff Andes, vice president of talent management at University of Phoenix commented: "Betterworks Calibration gives us the ability to integrate strategic, forward thinking talent planning processes within our existing business processes. Our leaders will be able to have our talent planning process seamlessly integrated within the performance management activities that they're already doing, making it possible for us to agily calibrate talent throughout the year."
Betterworks is already placed in the leader quadrant for the G2 Grid for Performance Management and this should help cement its presence. The company is also strengthening its leadership team with the recent appointment of Andrea Lagan as Chief Customer Officer. She joins having spent the last two years at FinancialForce and before that had leadership positions at Alfresco and Oracle.