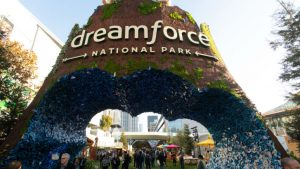 The Dreamforce 19 keynote had everything. From the traditional welcome of an Hawaiin blessing, a focus on philanthropy, a brief interruption by protestors, product updates and some future developments. The closing was a stunning, though brief performance, by Alicia Keys.
Keith Block, Co-CEO Salesforce led off Dreamforce with the statement: "We are doing well and doing good together". Together was a word that was repeated throughout the key note. This is a subtle change in language. It indicates that the doors of Salesforce are more open than ever before. It is no longer just about the family that is Salesforce, its ecosystem and customers. Instead, Block and later Marc Benioff, Co-Founder and Co-CEO, Salesforce recognised that there are other vendors out there that customers use, want and need to integrate to.
Almost gone were the impressive but seemingly endless financial and business statistics of previous years. Instead Block focused on how Salesforce CRM continues to dominate the market. It is still trending upwards with a 17.3% market share (figures provided by IDC). In comparison, most other vendors appeared to be in decline or flat lining at best, over the last few years. The other vendors market share stands at:
Oracle: 5.5%
SAP: 5.3%
Microsoft: 3.5%
Adobe: 3.5%
Block then highlighted how big an the impact the Salesforce Economy will have. He cited a recent IDC Research whitepaper: "New Research Finds The Salesforce Economy Will Create More than $1 Trillion in New Business Revenues and 4.2 Million Jobs between 2019 and 2024" By 2025, the Salesforce economy will provide a staggering 4.2 million jobs and $1.2 trillion of new business revenue by 2025. Salesforce is not just looking to impact economies across the world, it is also looking to impact the world itself.
Sustainable Development Goals
It is no longer enough to just talk about sustainability. Salesforce is making commitments to sustainability that are different from other companies. It has joined the United Nations Global Compact and signed the United Nations Womens Empowerment Principle. It has also committed to the seventeen principles and has set itself some ambitious goals to achieve.
Over the next year it will invest $17 million in reaching 7 sustainable development goals (SDG). This includes using 100% renewable energy by 2022. It is also ensuring that all new buildings meet LEED platinum standard.
Together, not just Ohana
Another symbol of the new openness were the announcements around Trailhead. Salesforce has extended its partnership with Apple to provide Trailhead Go. It also announced closer ties to Amazon. Amazon will leverage Trailhead and provide courses for Amazon technology on the Trailhead learning platform. This interesting development may lead other technology companies to do the same.
Leah McGowen-Hare, VP, Trailhead and Evangelism at Salesforce commented: "We are on a learning journey together but we are also going to build together, we are going to create together and we are going to bring others along with us."
Bringing everything together
Continuing with the theme of together, Benioff explained the next iteration of Customer 360. The aim is to deliver a Single Source of Truth (SSOT), it was an acronym that Benioff often repeated to get the message across. There were three aspects of together highlighted during the keynote.
MuleSoft will connect everything with the Customer 360 Data Manager. This provides a canonical data model under a single universal Salesforce Identity. Users can use a simple drag-and-drop interface to connect Salesforce data sources together. This allows companies to gain a single view of their customer, regardless of whether they have a record in Marketing Cloud, Service Cloud or Sales Cloud or all three. Benioff cited an example of 180,000 customer records, reduced to 88,000 actual unique customer views. It is being demonstrated at Dreamforce. In a statement that many will be happy about, Benioff added: "There is no charge for this".
Salesforce also announced the Salesforce Customer 360 Truth is powered by the Cloud Information Model (CIM). This open source data model is controlled by the Linux Foundation but powered by MuleSoft. Founding members include AWS, Genesys, the Linux Foundation and Salesforce. Other organisations have already joined to support it including Cisco, L'Oreal, Docusign, Google Cloud, ServiceMax, SurveyMonkey, Expedia Group, Twilio, Zoom and John Hancock. That Salesforce has embraced this openness is interesting. However, at present there are no ERP vendors on the list.
The last aspect is the advances that MuleSoft has made to enable the rapid integration of different data sources. This is not the same as The Power of One advocated by Workday. Instead it sees Salesforce connecting the disparate data sources for a holistic view. To enable this, MuleSoft has introduced several new features including:
Flow Designer: Leverages Einstein AI to enable users to connect different data sources with clicks rather than code. The AI suggests the right integration points.
Accelerators: These are prebuilt templates. The launch solutions are MuleSoft Accelerator for Service Cloud and the MuleSoft Accelerator for Commerce Cloud. There are also some vertical industry accelerators for Healthcare and a couple of others. More will follow.
Anypoint API Community Manager: This provides a full cycle API management platform. It includes management, analytics, forums and the ability to share information and APIs.
Anypoint Exchange: Rather than extending the App Exchange this is an API Exchange where users can quickly leverage API's within their organisation.
The next step of this is Tableau. Though nothing was announced this year, it is a possible evolution. Tableau will be able to overlay its market leading analytics solution over the top of all of this connected data. This will provide insights for organisations beyond that delivered by many other applications. While not called out directly by Salesforce, it is the next logical step and brings the whole suite together in a powerful solution.
Augmented not Artificial
Each of the different Salesforce Clouds has seen significant improvements in the use of AI. This is no longer described as Artificial Intelligence, but more accurately Augmented Intelligence. There were some impressive use cases demonstrated.
On Sales Cloud, Einstein Call Coaching analyses conversations to improve training and engagements. Sarah Patterson, SVP Product Marketing at Salesforce stated that through the use of dynamic coaching, companies are seeing 28% more revenue. Einstein can analyse the content of the conversations and identify potential live events which can lead to cross-sell and up-sell opportunities.
Another use case leveraged the tighter integration with Amazon on Service Cloud. Transcribing calls in real-time, Einstein also analyses the call and provides a next best action and surfaces relevant documentation in real-time during the call. This has led to a 31% faster call closure. One customer saved 10 minutes per case with Einstein completing most of the call information for agents.
For Marketing Cloud there was a demonstration of an interactive email that enabled customers to travel through an engagement initiated from within an email to the close of an ecommerce driven sale. Bret Taylor, Chief Product Officer, Salesforce took to the stage and demonstrated next generation of personalisation. The SSOT enables marketing to understand the individuals engagement with the company at a greater depth and surface, suggestions based on purchase history and knowledge at a deeper more sophisticated level.
Is the future scary
Parker Harris, CTO and Co-Founder then introduced Richard Socher, Head of Research and Chief Scientist to announce the future generation of Einstein and Augmented intelligence. As Harris noted: "We want our customers' customer to talk to Einstein directly." The inference is that people will not want to talk to an AI.
However, he then demonstrated how an Einstein powered voice assistant could act as an out of hours call handler. This is far removed from a call attendant and some would observe possibly more efficient than a human, in how it interacted during the live demo. As AI speech improves, and the machine learning engine improves, it might become hard to determine the difference between human and machine.
Qingqing Liu, Principle Mobile Architect then demonstrated how easy it will be to create Einstein voice apps. Lui showed how simple apps can be created using the clicks not code interface that is available across the Salesforce platform. While Salesforce did not paint the picture that humans might be replaced in call centres, there is an argument that in certain industries they will almost certainly be supplemented by AI driven bots. That day is still some distance away, but it is definitely getting closer.
Enterprise Times: What does this mean
This was a packed keynote that touched on product as well as culture in a balance that has been missing in the past. That it finished on time and included a brief set from Alicia Keys kept the attendees buzzing and attentive. There was no big announcement this year and Benioff gave time to the protesters (though not a microphone) that indicated Salesforce were pre-warned about the protest. Not many would do that, though he is perhaps conscious that the decision to sell to the US Customs and Border Protection was not universally welcomed inside the company.
There was also less hype than previous years. The shift from talking about artificial to augmented intelligence is the right move as that is what Einstein is actually delivering. Artificial Intelligence is not here, yet.
Finally, the Single Source of Truth within MuleSoft is providing a solid framework for that. It  means that Salesforce now has a coherent data strategy, on which Tableau is likely to proudly sit. That announcement was held back, one suspects, as not all the integrations have been completed.
The question for Salesforce is where next? Benioff indicated that they would not look to encroach on the ERP and financials space, but there is cross over, especially in HR. There is a strong relationship with Workday, but it was not highlighted during the keynote. Should the two companies merge? Probably not yet, but it could be a possibility in the future.