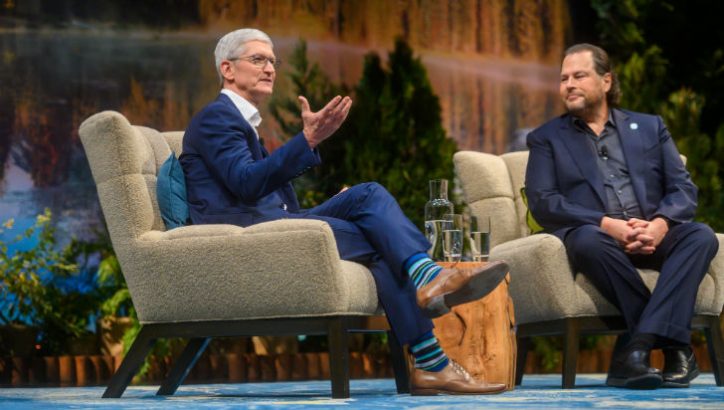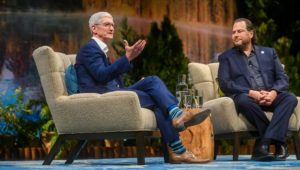 One of the key announcements at Dreamforce was a deepening of the partnership between Apple and Salesforce. The closeness of that relationship was demonstrated by the conversation between Tim Cook, CEO of Apple and Marc Benioff, co-Founder and co-CEO of Salesforce. Benioff is a fan of Apple, having had his first role as an intern at the company in 1984.
The conversation also displayed a synergy between their approach to innovation and the environment. This is something that Benioff sees Apple as a flag bearer of. He noted "We learnt about the value and the spirit of innovation from Apple."
Cook noted the difference between innovation and change stating: "People confuse innovation with change.  Innovation is about making things better, it requires a depth of thought that goes beyond change."
It is a point that not everyone gets. Some do though and Cook cited two examples of customers that have transformed their businesses using the combination of Salesforce and Apple devices. H-E-B is a supermarket chain in Texas that has around 100,000 partners (employees). Cook noted "They are delivering apps throughout the business and using it to transform their business. This is only possible because of the work that Salesforce is doing on the SDK."
He also cited Swedish bed and mattress manufacturer Hästens who used the combination of Salesforce and Apple to "totally change the way their selling process works". He revealed that the company had reduced the configuration time by 90% through using an app. These are just two examples of how companies are helping organisations. Cook said "People are truly using it to transform their businesses."
For Salesforce Apple means mobility.
During the Keynote, Marc Benioff noted that the he saw Apple as helping Salesforce deliver mobility to its customers, and its customer's customers. Evidence that the partnership is still thriving was provided by three announcements at Dreamforce 19.
Salesforce has redesigned and launched the Salesforce Mobile App. The CRM app leverages Einstein and is able to deliver advanced analytics and insights to users. It leverages specific design features available on the Apple iPhone iOS and the iPad iOS, including Siri shortcuts and Face ID. Using Siri integrated to Einstein Voice users are able to take notes, updating and creating records on their CRM. Using augmented intelligence provided by Einstein it will soon also be able to prompt users when they need to take actions. The app is available now from the App Store and it is free. Certain features need unlocking by a Salesforce Admin though.
Also available is a new Mobile SDK with support for the Swift programming language. This enables Salesforce customers to build similar Apps for Apple devices. Salesforce developers are able to build applications quickly using the Swift UI and can then distribute the apps quickly using the package manager.
The new SDK will enable the six million Salesforce developers to take advantage of the latest features of iOS 13 and deploy native Salesforce Apps on iPhone and iPads across their organisation. The package manager also handles the distribution to Apple Store. The new version, Salesforce Mobile SDK 8.0 with support for Dark Mode and Swift UI is available later in 2019, with iPad OS optimisation available in 2020.
The future of Trailhead is here now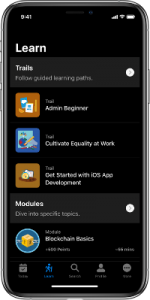 Salesforce has also developed a mobile application specifically to support Trailhead learning. Trailhead GO is an iOS exclusive application (for now) that delivers the free Salesforce learning platform for the modern generation of learners. It is specifically designed for iOS. For example, once a badge is unlocked within Trailhead the app leverages standard iOS functionality to share the achievement with others.
Trailhead Go provides access to more than 700 modules and includes both business and technical skills. The application also supports supports Handoff. This enables users to switch between a mobile device and iPad if the screen display does not suit the learning experience, or vice versa if it is easier to use a mobile device. There is also accessibility support with VoiceOver and Magnifier. The iPadOS version includes support for Split View, to enable multi-tasking and Picture-in-Picture for video courses.
Trailhead GO is available for free on the App Store now. Salesforce indicated during a press briefing that an Android version would follow but did not disclose any dates for this. Given the announcements that also saw a deeper relationship with Amazon, it seems likely that it is already working on this. Trailhead Go will also be continually developed with IOS Dark Mode and Sign in available later in the year.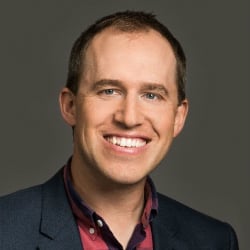 Susan Prescott, Apple's Vice President of Product Marketing for Apps, Markets and Services commented: "Working together, Apple and Salesforce have helped hundreds of businesses and millions of developers transform the way they work. With brand new Salesforce Mobile apps exclusive to iOS and iPadOS, and an enhanced SDK that supports the latest advancements in Swift, Apple together with Salesforce offers customers strong privacy, powerful multitasking and the best user experience in business on iPhone and iPad."
Bret Taylor, President and Chief Product Officer, Salesforce added: "With Trailhead GO, millions more can now skill up for free, anytime and anywhere, to learn in-demand skills and fill the jobs of today and tomorrow."
Enterprise Times: What does this mean
What is interesting about this announcement is that it demonstrates two major companies developing a partnership that has now been in place several years. Partnerships ebb and flow in terms of the strength of the relationship. Microsoft and Salesforce is one example of this, though it seems that this year Salesforce is reinvigorating all its partnerships at the expense of none.
The tight relationship with Apple sees two best in class organisations looking to leverage their strength in the Fortune 500 to deliver customer experiences that will be hard to beat.