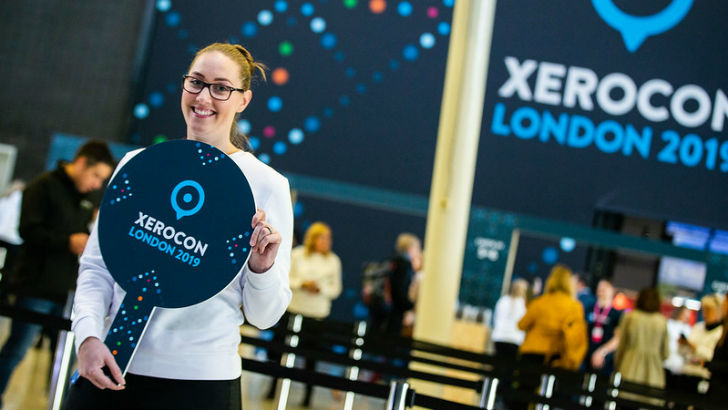 At its annual UK event, Xerocon London last week, Xero made several important product announcements. That it chose to make these in London demonstrates the significance of the UK market where it has grown its market share in recent years. The announcements were focused on integrations, payments and product enhancements for users as well as accountants. Xerocon London was the largest yet in the country hosting more than 3,000 attendees on the first day alone, for partners, accountants and bookkeepers.
Integrations
Xero announced improved CRM integrations to its accounting solution. Users can now sync customer contacts between Xero and one of three CRM solutions: Hubspot's free CRM, Google Contacts and Outlook Contacts from within Microsoft Office 365. Data replicated includes email and address information for both customers and suppliers. This means that users no longer need update Xero prior to raising an invoice.
Users can also now extract their Xero contacts data to import as a list into Mailchimp to support marketing campaigns. Nick Houldsworth, Executive General Manager of Ecosystem at Xero commented: "We didn't want to simply build another integration. We looked at the most common friction and pain points in everyday small business workflows and we were able to create customer-focused solutions that will have a positive impact on how small businesses operate everyday. This is just the beginning of creating simple, seamless and smarter workflows between Xero and the apps small businesses use day in and out."
Xero continues to build out integrations and improve the ease of use across its ecosystem. Another example of this was the introduction of single sign on that was announced in September and will be phased in.
Payments made easier
Xero also announced new features to improve the methods by which small UK businesses can make payments. Xero has introduced a new integration with TransferWise. This uses the TransferWise API. It enables small businesses to pay and reconcile bill payments using Pay with TransferWise. It will work with any bank and without leaving the Xero application.
Stuart Gregory, MD TransferWise for Business, commented: "Pay with TransferWise is setting a new standard for SME payments, empowering the business owner to manage their money far more efficiently with real-time, accurate information. The UK's entrepreneurs can now spend less time on financial admin and more on growing their businesses, safe in the knowledge their bills are taken care of."
Additionally, Xero has made it easier to configure payments for card and direct debit payments. Users can use Stripe to set up credit card, debit card or Apple pay and GoCardless to set up direct debits. Users are also now able to offer payment in instalments for invoices in GoCardless for Xero. This change was made as a result of user requests.
Companies working internationally can now receive recurring payments using Direct Debits through GoCardless. Payments are a collected in a single bank account and currency exchange is powered by TransferWise,
Craig Walker, Executive General Manager of Payments and Billing Solutions at Xero commented: "By partnering with the world's best payments providers, from Stripe to GoCardless and TransferWise, we've been able to develop smarter and seamless ways for small businesses to go from idea to payment as quickly as possible. These features will significantly reduce the time and stress small business owners experience each day chasing late payments or make bill payments. This ensures that everyone gets paid faster and the small business economy can grow at an even faster pace."
Xero unveils new user features at Xerocon London
Xero announced four new features for users. The first, Business Snapshot will be available in pilot during early 2020. It delivers a visualisation of key metrics for the business including: income, expenses, gross and net-profit, receivables and payable days, cash and balance sheet in a single view. The intention is to provide business leaders with a simple view of their cash flow situations. It is also a starting point for discussions with their advisor.
Users are now able to create detailed quotes for projects. Estimates can include both expenses and time. The quotes can then be sent to the customer. Once commenced projects are tracked against the estimated time and expenses enabling users to better track profitability.
The system will now automatically calculate fuel and mileage expenses. Users merely need to enter the number of miles travelled and Xero will calculate the amount based on the rate per mile. This makes life simpler for users and also enables faster payment.
Xero has connected its payroll function directly to HMRC. The system now provides HMRC with the information on car and van benefits. Once set up Xero does the appropriate deductions and taxes are filed through the RTI (Real Time Information) mechanism. This means that employers no longer need to complete the P11D for employees. It means benefit deductions are automatically calculated and applied within Xero Payroll.
Anna Curzon, Chief Product Officer, Xero commented: "We have been working hard over the past year to develop new ways to give small businesses smarter, simple and seamless workflows that help them better understand their business and make crucial decisions about the future of their operations. With these new features, small businesses and their advisors can have deeper discussions about what's working, what isn't, and focus on how they can continue to grow and thrive."
Features for Accountants
Finally Xero unveiled new features for accountants, bookkeepers and partners. Xero has added Xero Tax to the Xero platform as part of the Xero partner subscription. This cloud-based solution enables Accountants to prepare annual tax and sales tax returns for clients. It also introduces Xero HQ VAT giving accountants oversight of their client compliance for Making Tax Digital (MTD).
Accountants are also able to see a business snapshot of each of their clients quickly. This is the same view that their clients see. It enables them to advise businesses on how they are performing. Xero has also improved the integration to Hubdoc, the company it bought last year and adds new features around project profitability. Now accountants can better advise clients to assist them grow their business.
Curzon added: "Our accounting partners are at the core of everything we do at Xero. No single solution will suit every practice, but everyone can build their own set of tools from Xero's solutions and ecosystem partners, with Xero as the single source of truth. We are investing heavily in developing the tools, and building our ecosystem partnerships to help every practice — from sole advisors to top-tier multinational firms — spend more time growing their small business clients."
Enterprise Times: What does this mean
Xero is making its accounting solution stronger every year. Last year it described its solution as an ERP for small business. However it is still some way short of that. What it is doing though is enabling accountants and advisors to help businesses become more successful.
What will be interesting to hear is how many Xero clients are still in business after first implementing the software. will it be above the national average? According to the Office for National Statistics (ONS), 9% of small businesses fail in the first year. That figure rises to 60% after five years. The reasons for the failure vary. Xero should soon have enough data to indicate whether it is better than that average. The improvements it has made with these announcements should also improve efficiency and enable businesses to thrive.