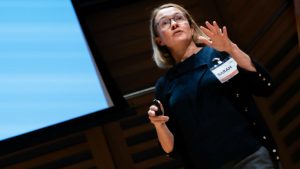 Enterprise Times sat down with Sarah Edwards MD International of Kimble Applications at Kimble Connect. Kimble is growing quickly, It now has 259 customers and more than 70,000 users spread across the globe. 60% of those users are in the international region (outside the US). It now has a headcount of more than 170 of which 55% fall under Edwards in the international region which currently consists of three main countries: UK, Germany and Australia.
What has Kimble done this year?
"We have grown around 50% overall this year. We are now established in Australia, we have about seven clients in Germany and we won some significant deals in the UK with the likes of FDM and it looks like we will have another good fourth quarter."
What about next year?
"We are still in planning at the moment but I would expect a similar level of growth. What we are also seeing is an increase in our customer spending. We have 2 to 3 large opportunities that will close this year and a couple more that will close next year. A year ago they were a lot smaller opportunities. Opportunities are now in excess of 2,000 plus users.
"In the UK we are very well established. We are seeing a lot bigger opportunities and also some new markets like construction. Internationally, Germany is a good growth sector for us. We are looking to recruit heavily there next year. We also have Australia, we opened our Melbourne office this year. Those will be our core markets."
According to Edwards Kimble mostly sells direct and sometimes jointly with partners, such as Salesforce and Sage Intacct, where it is brought into deals. It does not currently have a channel ecosystem but this is something that it will probably need to consider soon.
Will you move into other countries?
"No not next year."
Having said that Kimble has now completed several language packs for its PSA solution including German, French, Spanish and Portuguese. This might give an indication of where they will launch next!
Sage has just announced Sage Intacct for the UK Market, what difference will this make?
"I think it will help us. We do get into situations where people want PSA and Finance. It will enable us to stand up to the competition where you have the likes of NetSuite and FinancialForce with their own finance solution. That is what we do in the US. It will enable us to win more opportunities where people want finance and PSA."
Is it that simple?
While this sounds simple, growth at 50% every year, it isn't. There are some aspects that play into Kimble's hands such as the launch of Sage Intacct in the UK and Australia, but there are challenges. ET asked Edwards what those challenges are:
"People! We are growing really rapidly. We need to grow our teams to deliver Kimble successfully."
This may mean that Kimble looks at channel partners to help it sell, but it will have to start from scratch on this. It may, however, have some likely partners within its own customer base.
Challenges bring opportunities
As well as challenges there are also opportunities and ET asked Edwards about Kimble's target market:
"It is evolving. We are moving into much bigger organisations because we have successfully sold to FDM and others. We are moving into larger and more complex organisations. Things like integrations become a lot more important such as integrating other solutions such as CPQ and ITSM. We are starting to see other markets emerging. I think we will start to push the boundaries of pure services organisations."
Edwards explained that Kimble has two opportunities in construction. If it was to close one of those, they would consider it a possible focus.
What are the common integrations for Kimble in the UK?
"It depends on the size of the customer. For a lot of smaller customers it is still finance. For the larger customers it is CPQ and service integration is becoming more important. Also HR, that's the people integration we are doing more of."
Diversity and leadership
There is much talk about diversity in organisations and especially the gender balance in technology organisations. ET asked for Edwards opinions on the subject.
What are we doing about getting more women into senior leadership positions?
"We are driving more diversity. There are some fantastic women in Kimble. We need to help them step. When Nithya and I spoke at the Technology Services World conference three people from the audience came up and said it was really refreshing to see two ladies giving the presentation. It makes we think we should do more of that."
The point we discussed is that organisations should worry less about women on leadership panels. They should have more women presenting as they have knowledge and expertise.
What was the latest business book you read?
"I just read: Turn The Ship Around!  By David Marquet. He was in the US Navy. It was all about leadership styles. There was a good quote where he said people who are followers go at half the speed. It was about how do you empower people and how do you change your management style. Getting people to make their own decisions."
Enterprise Times: What does this mean
This is an interesting year for Kimble as it looks to continue its growth. As it adds more verticals by necessity it will need to create more integrations. Its best practice approach may also come under change pressure from another set of users. Edwards' primary challenge of hiring people may see the company look to acquisition as it looks to service the growth.
It already employs several contractors in a mix replicating many of its customers business processes. It needs to maintain the balance between employees and contractors in order to sustain that growth. One option is to start a channel program. Another is to acquire a relevant consultancy practice to boost its numbers, although that carries risks.
Kimble is one of the Momentum leaders in the recent G2 trending Grid for trending PSA and also in the leader quadrant for every segment for the G2 live Grid for PSA. It already scores well as a high performer but needs to continue its growth to increase its market presence score.