Former President and CEO of Sage Intacct Rob Reid opened the Sage Advantage keynote, welcoming the largest audience in its history. He introduced Marc Linden, EVP & GM Medium Segment Cloud Native Solutions who last week was promoted to run both Sage Intacct and Sage People, the cloud native solutions in the Sage portfolio. The cameo by Reid demonstrated the passing of the baton to Linden giving him responsibility for Sage Intacct. Reid is not going away though, he has a more senior and strategic role within Sage as it looks to transform itself to a best in class cloud software company.
The big news from Advantage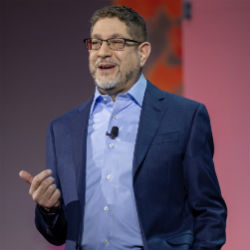 Linden gave little doubt about the theme of the keynote opening up by saying: "AI is the next big change that we will all have to adapt to". He added : "AI is already here, already impacting our lives and improving how we spend our time". He cited Netflix, Amazon, Siri and Alexa as examples of how AI is also assisting consumers. Intacct believes it is now able to bring the power of AI to the office of the CFO. Linden brought Aaron Harris, CTO Sage to announce the Sage Intacct Intelligent GL. This is the fusion of AI into the Sage Intacct ERP solution.
Harris now has responsibility for the complete Sage technology stack and has a much clearer vision for how Sage will move forward. One component of this is that the AI is just relevant to Sage Intacct but will apply across the whole of the product portfolio that Sage moves forward with in the future. Enterprise Times hopes to catch up with Harris in the coming weeks to get a clearer understanding of that wider vision.
There were four key announcements during the keynote. Codenamed Pacioli, after the father of modern double entry accounting, Sage demonstrated the initial output of its new AI platform capabilities. It is now named Sage Intacct Intelligent GL.
Sage Intacct also now has integration Sage People. This adds another application into the Sage Native cloud stack that also includes Sage Intacct Budgeting and planning. Companies using both products will benefit from the first phase of tighter integration. There are also updates to Sage Intacct Budgeting and Planning and a new data visualisation tool was demonstrated on stage, called Sage Intacct Interactive Visual Explorer. This extends the custom report writer that was released last year. It has also added a library of fifty reports for companies looking to rapidly deploy the reporting solution.
Marc Linden, Sage EVP and GM of Medium Segment Native Cloud Solutions commented: "We're quickly moving from the Age of Information to an Age of Answers. From embedding machine-learning and artificial intelligence capabilities directly into our general ledger to streamlining the process of gaining actionable, real-time insights across the business, we're helping our customers break through the clutter and accelerate their success. To enable our customers to transform the way they think and work, we continue to deliver a steady flow of industry-first products and enhancements to our software, so they are poised for the future of finance."
Intelligent time tracking
With an audience of CFO's, Intacct was careful to demonstrate AI capabilities that it can deliver in the near future. Harris also delivered a honest assessment indicating that while those on show are heading towards production, there may be some AI projects they might get wrong in the first iteration, but better to fail fast and restart than produce something that few can use.
The first demonstrated was a new intelligent time tracking capability. This captures time from users about what documents they are using, emails sent, meetings attended and will complete timesheets to the best of its capability, saving much time for the user. Likely to be available in H2 2020 this may be an additional module, with an associated price. Enterprise Times spoke to Dan Miller, Director, Product Development about this product to clear up a few queries.
The software needs installing on the PC that the individual works on to capture the PowerPoint and other application information. It does this with minimal access to the PC, it reads the active window, the application and document title and populates the timesheet with the information it collects about length of time spent in the document. Importantly Sage has built into the application the ability for the user to switch the time tracker off, so that if the user does personal work it is not captured. The system will also learn what work should be tracked over time on an individual basis.
Delivering accounting, trust and insights
Harris sees embedded AI within impacts in three domains: accounting, trust and insights. For accounting the aim is to reduce the close, a pain point for many CFO's. This is more a potential future capability where Harris is hoping to create an environment where much of the period end work is created during the month in question. It will capture business activity in real time, perform continuous reconciliation and make continuous adjustments such as accruals throughout the months. This will help reduce the burden at the end of the period.
For trust the solution will provide a continuous audit. Irregular activity is detected in real time. Harris highlighted that customers say that 10-20% of journals created require correction. While they may capture some, many are past. While the AI is still in its infancy it will learn over time and improve its detection. The system, demonstrated on stage, will highlight the anomalies identifying them as either high or low risk. A user can drill down into the transaction to see the underlying issue. This enables the user to quickly find the issue and correct it.
Miller later revealed that the high/low visibility could be more granular, but early customer feedback indicated the simpler two light system worked for them. This may become a configuration item so that users can vary how sensitive they are. ET asked Miller whether it would take it a step further and create the journals. Miller indicated not, mainly because journal entries are often unique. It is more likely they will create something that will detect anomalies in a different part of the system.
The third pillar, insights, focuses initially around predictive billing. On stage the example given was that the AI identified that a revised forecast showed revenue dropping below what was planned. It tracks several key components and highlights that it believes this is due to an increase in discounts.
While this was impressive, the AI next identified a suggested action to correct the short fall. On stage he identified that if churn was reduced this could happen. It appeared to indicate the top five customers whose contracts were due alongside a risk of them leaving.  Miller identified that the solution may in the future create actions through chatter to alert relevant account managers of the corrective action, that is not happening currently. Bjoern Herrman, VP Sage AI Labs confirmed later that the AI tracked several potential revenue generating areas and would highlight those that would most impact the shortfall.
While these capabilities are impressive they are not likely to be available until 2020 and in some cases, beyond that.
Sage People integrated to Sage Intacct
This is the first iteration of the integration that Sage has been working towards over the last few months. Recent releases have delivered deeper integration capabilities to Salesforce. This is important, especially as 65% of Sage Intacct customers also use Salesforce.
Kathy Lord, the new SVP of Sage People and formerly of Sage Intacct, revealed the current integration points which will be available this year, more are planned. Finance Teams are now able to get accurate head counts from the HR system from within Intacct and the managerial hierarchy is also mapped across. Sage Intacct is able to separate between financial authorisation and the managerial org chart, thus ensuring that some approval levels are not broken. The integration is likely to extend to time and compensation in 2020, with a real time engine that enables compensation to track across at the appropriate date. For HR and Finance this will mean that there is one source of the truth. While the benefit to Finance is obvious, for HR the benefit is not having to spend time collating information for the finance team.
Budgeting and planning improvements
Where the integration between Sage Intacct and Sage People will also have an impact is with the Sage Budgeting and Planning solution. It will allow Sage Budgeting and Planning to draw accurate HR data from the finance system to improve its accuracy. Miller also announced further enhancements on stage for the solution that was launched last year, following the acquisition of Budgeta. He highlighted the following improvements:
An enhanced budget wizard that features an intuitive, drag-and-drop capability for adding dimensions from Sage Intacct into the budget structure.
Expanded collaboration capabilities that make it easy to work together with business and department leaders to gather data and context around planned revenue and expenses.
Drill down from Sage Intacct dashboards and reports to the drivers of the budget in Sage Intacct Budgeting and Planning to see how the budget or forecast was created – enabling users to see what they are working on in the context of the source of the information with just a few clicks.
Some of these enhancements will be available in 2019, while others will follow next year.
The next generation of Reporting
Sage Intacct Interactive Custom Report has been enhanced with the addition of a library of initially 50 standard reports. This accelerates implementation for customers who will no longer have to build their own reports. Sage Intacct intends to add to these reports in the coming months.
Miller also demonstrated Sage Intacct Visual Explorer, available in 2020 he demonstrated how a user can build different graphical views, capturing important ones using a "narrate" mode. Users can then later select the graphics they wish to use in a presentation saving it as a PDF, or Sage Intacct Dashboard. This allows users to quickly identify insights in a range of graphs, and save them to later present in a simple and efficient way. Annotations can be added to the graphs. The technology is based on a third party product that is embedded within Sage Intacct. It delivers the ability for the user, to interactively drill down into the Sage Intacct transactional data from each graph. This means if the graph highlight an anomaly or trend, its source can be quickly identified. Importantly the solution will also share the same permissions and data security model ensuring that access is given only to those with relevant authority.
Enterprise Times: What does this mean
The one thing that was made clear during the keynote and several conversations, was how critical the acquisition by Sage has been to the accelerated development that Sage Intacct is now able to show. Sage Intacct struggled to employ data scientists it needed to develop AI solutions in California. It now has access to the Sage AI labs and has accelerate its capability ahead of schedule. Internationalisation of the product is also well under way. The product has already launched in Australia and will soon launch in the UK.
The integration into Sage People is also important, both to deliver a similar capability that Workday delivers in the enterprise space for the mid-market. However, it will also mean that other Salesforce AppExchange solutions can better integrate to Sage Intacct. One of the beneficiaries of this maybe Kimble, a PSA solution native to the Salesforce platform.
In committing to delivering many of the AI enhancements next year, Sage is also sticking its neck out a little more than usual. It will need to deliver these enhancements or risk losing trust. It did however make clear this year which solutions would be chargeable and many of the added enhancements are likely to be free of charge, which pleased most of the audience. What pleased most of the customers that Enterprise Times spoke to is that the AI components they demonstrated were ones that they could relate to and see the benefit of. Rather than a vague promise of artificial intelligence automating and providing insights across the application. It was something that they could see was viable and potentially delivered. Importantly, Sage Intacct also made sure the audience understood that these were work in progress, especially the automated close management.
As Harris starts to reveal his vision for Sage technology over the coming weeks, it may become clear how Sage will emerge as a force within the next generation of business management software. Something that has not always been apparent in the last few years.