Brian Green, Head of Commercial Sales & GTM, EMEA at Adobe provided the keynote address at MagentoLive event in Amsterdam. Green praised the collaboration, conversation and open sharing that takes place in the annual event. Green highlighted the changes from Magento Europe's event last year in Barcelona. "The customer conversations have evolved. It not about point solutions, the shopping cart or order management. The conversations are much broader. Coping with the challenges of multi-channel, mobile and multiple geographies. In addition, there has been huge changes in customer expectations and demand. Adobe is increasingly having conversations with businesses about the full customer experience. "
A robust product roadmap
Earlier in the year, Adobe announced a robust product roadmap to augment Magento Commerce with enterprise-grade capabilities. The strategy – to empower companies to deliver superior shopping experiences to compete effectively and, rapidly scale their business. At MagentoLive, Adobe announced that Magento merchants can start benefiting from the new features and functionality. Starting in January of next year, the company will open the Early Access Programme to Magento Commerce customers. Once the program kicks off, participating merchants will be able to embed the feature in their Magento storefront and reap the benefits immediately.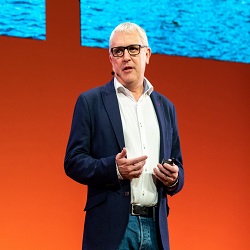 Research has shown that product recommendations alone—when executed correctly— can help increase sales by 30 percent for retailers. For multi-brand marketplaces like Amazon, product recommendations are even more important and drive as much as 35 percent of revenue.
Benefits of Magento eCommerce product recommendations
Adobe's AI-powered product recommendations feature is built into Magento and powered by Sensei. Key benefits include:
Instantaneous gathering and analysing of shopper behaviour
Highly personalised product recommendations
Increased sales by adding product recommendations to relevant store pages like the product details page
Defined global exclusion categories that take into account important business contexts such as inventory or pricing level
Custom product recommendations widgets across your site, built using flexible APIs
According to Jason Woosley, Vice President, Commerce Product & Platform at Adobe, "Magento has always been focused on democratizing robust capabilities. We are determined to help merchants and brands of all sizes compete and grow. We are constantly working on capabilities to leverage data. To give Magento Commerce merchants a direct way to deliver more relevant commerce experiences to their customers." Other enhancements to the Magento commerce platform include:
Amazon Sales Channel Extension
Amazon Sales Channel in Magento is now available for Amazon UK customers, with support for more European countries coming next year. The extension for Magento Commerce and Open Source removes the barriers to entry for retailers. Many of these businesses are trying to gain a strong position with Amazon while also managing their owned channel. It allows brands to integrate their catalogue, establish a bi-directional data flow and start managing listings from their Magento admin.
Magento Commerce on Microsoft Azure
The company has made Magento Commerce available on both Microsoft Azure and Amazon Web Services (AWS). With both Azure and AWS available, Magento merchants will have the flexibility to pick the cloud provider of their choice. This should satisfy customer needs to continuously deploy innovations and not worry about the day-to-day management of their infrastructure. The Early Access Program for Azure support will begin next year.
Adobe Stock Integration with Magento
Adobe's community engineering team is continuing to develop integration with Adobe Stock with Magento Commerce and Open Source. The feature will provide a searchable interface within the Magento admin to discover, preview and embed licensed stock images. The integration will give Magento merchants with an Adobe Stock subscription access to Adobe Stock. More than 130 million assets, including images, templates, 3D assets, over 8 million stock videos, and 750,000 Premium collection images.
Magento's recent 2.3.3 release includes performance improvements and security enhancements, which allow Magento customers to remain compliant with new directives. The company has also bundled Yotpo's customer ratings, reviews, and visual marketing capabilities into Magento core as a vendor-bundled extension.
Retailers can tap technologies directly within the Magento code, without needing to download and install them from the Magento Marketplace. Google Shopping ads Channel, previously announced at Imagine and allows merchants to take advantage of Google's ad network in one end-to-end solution, is also becoming part of the 2.3.3 core code as well.
Enterprise Times: What this means for business
Magento's statistics look really good. More than 100,000 online stores have been created on the platform. The platform code has been downloaded more than 2.5 million times. Analysts have estimated $155 billion worth of goods have been sold through Magento-based systems in 2019. Two years ago, Magento accounted for about 30% of the total market share.
Magento's unique open business model and community engineering programme enables the company to leverage its community of 350+ solution partners. This is on top of the tens of thousands of developers who help accelerate the delivery of its product roadmap.
Magento has one of the most dynamic and enthusiastic developer communities. Talking to Magento Live 2019 delegates in Amsterdam, makes it clear that Magento has a serious community of digital evangelists. They are passionate about improving their platform and generously share knowledge and expertise with each other. Adobe may reap the 'dividends' of its purchase of Magento, sooner rather then later.