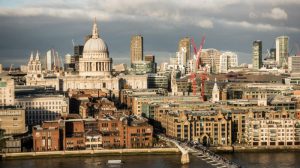 In June, Microsoft and Oracle announced their multicloud collaboration. This enables customers to interconnect the two company's clouds. It also simplifies management for IT environments and individual applications that span both forms of clouds.
Since the announcement, Oracle says, in Vinay Shivagange Chandrashekar's blog: "We've been excited, but not surprised, by the volume of joint Microsoft and Oracle customers who are interested in creating innovative multicloud solutions. To meet customer demand, we're expanding availability to more regions.
"We're excited to announce that today we're extending this alliance to include interconnectivity between Microsoft Azure and Oracle Cloud Infrastructure in London."
Microsoft/Oracle and cloud collaboration and proximity
The initial phase of the alliance enabled customers in the Oracle Cloud Infrastructure Ashburn, Virginia, region to connect with resources in the Microsoft Azure US East region, also in Virginia. Connecting cloud regions which are physically close makes interconnections more useful. Close-by cloud resources:
means less latency, which enables better data transfer and application interaction between clouds
supports a broader spectrum of workloads, using the resources on both sides.
By enabling a similar interconnection in London, the alliance is opening the door for usage of this kind in Europe (that is if the UK remains part of Europe – a big unknown in the light of Brexit uncertainty).
The London connection
For Oracle, London is one of its most active Oracle Cloud regions. Multiple customers deploy solutions which span:
from mission-critical systems of record
to cloud native deployments of new solutions
and a wide selection from everything in between.
By enabling a preconfigured, dedicated interconnection, common controls, integrated identity management, and support capabilities, the Microsoft/Oracle alliance offers customers a roster of new services in Azure they can use with the services that they use in the Oracle Cloud. Similarly, Azure customers in the UK can:
deploy Oracle databases and applications as cloud services
connect those services to applications on Azure that run the Microsoft stack.
Joint customers can, therefore:
create their specific ideal combination of services selected from each cloud model
match each part of their workload inventory to the cloud which seem optimal for them
avoid added complexity or settling for an inferior environment for parts of what they run.
Enterprise Times: What does this mean
Many, if not most, large enterprises possess both Oracle and Microsoft product and service implementations. Arguably, before cloud computing became common, technologies from competing vendors could coexist in customer data centres, albeit with the customer having to perform the interconnections. Systems ran each stack close enough, in a data centre, for 'easy' information exchange.
In many ways, the move to cloud computing weakened this capability. Each vendor's cloud was isolated from other ones. This made interchanges between solutions difficult, or impossible.
What makes the Microsoft/Oracle collaboration different is the ability of customers to interconnect workloads from different vendors. In one sense this is a repeat of what was available before in in-house data centres. Except, that most enterprises will likely find they have greater flexibility and less integration to perform (for example, services today are more sophisticated).
This Microsoft/Oracle multivendor, multicloud model – and there will be alternatives in time – is likely to enable:
decoupled application architectures
common management frameworks
better interconnection of networks.
Prima facie multicloud should be good for customers. Enterprise Times thinks enterprises will see the logic, as it fits their needs so much better than cloud-isolationism. If Vinay Shivagange Chandrashekar is right, that interest is already in evidence in London.