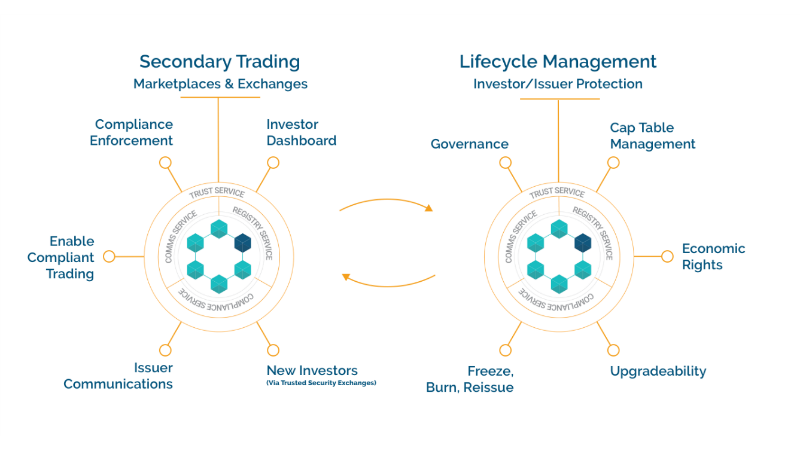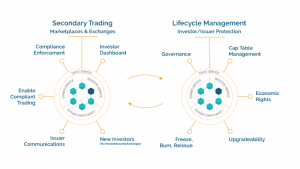 Securitize, which offers a trusted solution for issuing and managing compliant digital securities on a blockchain, has obtained SEC-registered transfer agent status. This registration enables Securitize to act as a transfer agent for digital securities registered with the SEC, as well as for issuers of Reg A+ and Reg CF digital securities who wish to exempt their digital securities from the mandatory registration requirements of Section 12(g) of the Securities Exchange Act of 1934.
"Securitize has consistently led the market through our execution and commitment to delivering on the promise of compliant digital securities on the blockchain. Becoming a registered transfer agent is the natural next step for Securitize as we continue to work toward making all securities digital; it opens up opportunities for issuers of registered securities to tap into the digital securities market in an efficient and trusted way, and also allows issuers of Reg A+ and Reg CF digital securities to use a blockchain-based transfer agent if they wish to exempt their digital securities from the mandatory registration requirements of Section 12(g) of the Exchange Act," said Carlos Domingo, Co-Founder and CEO of Securitize.
Transfer agents, Securitize and blockchain
Securitize says it is the first and only SEC-registered transfer agent with:
a working blockchain protocol
active issuers
integrations which enable digital securities to be traded on SEC-registered alternative trading systems (ATS), including Open Finance Network, tZERO, and Sharespost.
As a transfer agent, Securitize is able to keep a real-time cap table of investors. It can facilitate corporate actions for issuers, including:
the payment of dividends and interest
conducting shareholder votes
undertaking redemptions and/or share buybacks.
The Securitize compliance platform and protocol provide a proven, full-stack solution for issuing and managing digital securities (security tokens). Securitize's DS Protocol, according to the company:
has the highest adoption rate in the industry
enables seamless, fully compliant trading across multiple markets simultaneously.
Securitize tools, protocols and the blockchain
Securitize has created a tool, its transfer verification tool (TVT). This enables investors to pre-check the transfer of any digital security token powered by the DS protocol. The DS Protocol allows for the compliant trading of tokens on secondary marketplaces, like Alternative Trading Systems (ATS) in the US as well as other marketplaces.
Offering these means that Securitize has positioned itself as a one-stop digital securities service provider. The implication is that it reduces the number of intermediaries required to manage the lifecycle for both registered and unregistered digital securities on the blockchain in compliance with SEC and others regulations.
Using blockchain technology and tokens representing ownership:
allows for an immutable, auditable, and traceable source of record of the lifecycle of a security
automates compliance, which allows for instant trades across multiple regulated marketplaces
reduces the time it takes to determine a trade for a security
ensures the compliance of each trade.
Enterprise Times: what does this mean
Obtaining transfer agent status is no mean achievement for Securitize, and for the blockchain industry as a whole. The effect is to to continue the modernisation of capital markets through blockchain. Even if the securities it (Securitize) can handle are primarily digital ones, they have SEC approval.
The issuance platform is a full-stack technology solution for issuers of digital securities. Securitize says it developed the platform features based on customer needs.
On the Securitize web site there is a hypothetical customer case study involving equity-backed tokenisation. For those not familiar with the contortions necessary, this is an 'interesting' insight.