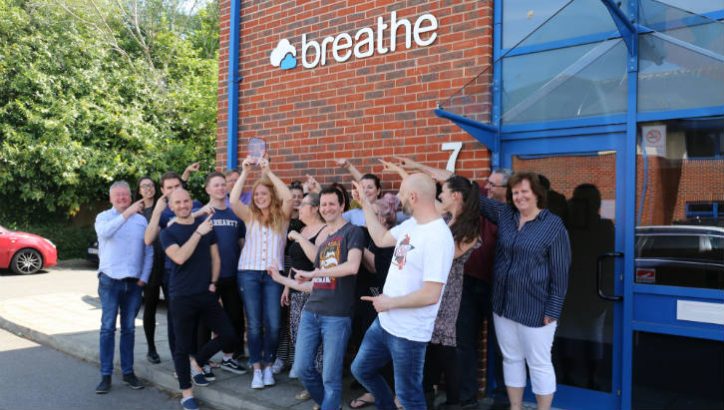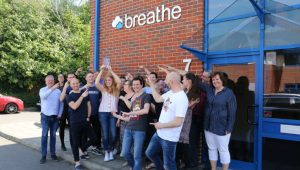 Enterprise Times caught up with Jonathan Richards, co Founder and CEO of Breathe. ET last spoke to Richards in 2017. Back then the company was called BreatheHR and had 2000 customers. Today that number is more than 6,500. The company has moved to larger premises but is still based in Horsham, Sussex. The company now has 39 employees with customers in 20 countries though it remains UK centric. Richards' success was recognised when he was named the Institute of Directors Director of the year in London and South Region. He will compete for the national title later in the year.
While Richards would not be drawn on projected growth he did explain the current impressive growth was through its partner ecosystem. He explained: "We have now over 500 HR consultancies over UK that ranges from small 1-2 people companies to some fairly large organisations. They all wrap Breathe into their product offerings, so that when a new customer comes onboard they are offered the chance of taking Breathe as part of a support package."
There is little doubt that the simple approach Breathe takes to HR would work abroad, but is Richard looking to expand internationally? "No, very deliberately not. We have clients in 20 odd countries but we are not looking for it. We review it every year but are maintaining our focus on the UK. We are growing at quite a lick and the UK market is big enough. I would say we are probably a year away from opening up something overseas. I don't want to spread us too thin."
Approach to funding
Unlike many SaaS organisations Breathe has not yet done a significant funding round. One of the challenges of rapid growth can be funding it. However, Richards has been cautious in his approach. He said: "We had small amount of angel funding,. I decided, as we're scaling, to bring in some expertise and that came in with cash. Those people were highly experienced people in the SaaS world who are acting as advisors"
Richards added that the lack of funding is not for the lack of VC's trying. However, there is beginning to be a hesitancy in some SaaS companies in taking funding at this time. This is in part due to Brexit but also wider concerns about the global economy. In Richards case this seems to be more a strategy that they have decided upon. He added: "The whole premise of the way we run the business is fast but sustainable growth. The management team is set up for that and we are very good at making every pound work for itself."
Another reason may be the economic outlook. Richards later commented : "I am pretty certain that the stats show we are heading into, or are in, a downturn and it has further to go. Whether it goes into recession or not we don't know." This view is also held by Mike Whitmire, CEO and founder of Floqast who is holding off raising funding because of that same outlook.
Product update
Hosted on AWS, Breathe maintains a regular cadence of updates every two weeks for its customers. In recent months it has introduced Applicant Tracking. Breathe also introduced Expense Management a couple of years ago and has seen significant adoption of that functionality. Many of the changes have been iterative improvements, based on customer requests. Richards sees this as a typical SaaS model saying: "We don't change it just for one, we change it for the many."
He also spoke about a second product that the company has just started development on. While he did not share what that is, it will be for a similar target market, companies with  less than 250 employees.
That change of name
The brand used to be BreatheHR, it is now just Breathe. Richards explained how the original name came about and why the change. He commented: "We wanted something that was tied up in clichés. It's a breath of fresh air, its breathing space, its time to breathe, take a breath. We have always felt that business leaders are doing too much admin around their employees. We wanted to give them to take a breath and to manage the people not the paper. "
He then continued to explain the recent change. "We dropped the HR. We found that our typical customers were companies with 20-50 employees. There was a bit of an issue with HR or Human Resources. They felt that they didn't do that. It was big company stuff. If I went somewhere and said we do HR software, they would say "we are too small for that". Then if I said we do software to manage your people they said "What, you mean HR software". We felt that there was a bit of a block around the phrase."
Perhaps surprisingly Richards has never used the phrase: "As easy as it is to Breath". ET proposed that it might be a future strapline.
Integrations
Many SaaS firms live by their integrations, but looking at the Breathe site it names few. ET asked Richards about their approach. "Today, we have been cautious with integrations. We have integration with RotaCloud, they do time and attendance. The two systems are pretty deeply joined with development on both sides. We have integration with (We)Thrive, the employee engagement tool. One or two others where we share employee data. The API is out there and our customers use it.
"The strategy for this year, since April is to build a marketplace of integrations or complimentary products. We are talking to eLearning companies and companies that offer perks. (We have) A very strong strategy to build this out. It will be companies that we like and preferably that we use. It will be heavily SME targeted. We still maintain a strict upper limit of 250 employees"
ET asked Richards about integrations to accounting. Perhaps surprisingly this is not on the roadmap, considering the expenses module. The current expenses system works by exporting journals for later import into an accounting solution. However, he is looking to integrate with a Payroll vendor but has struggled to find a proper API access to a SaaS payroll system.
The wider HR tech market is evolving
ET asked Richards about the competitive market. His answer covered a lot of areas:
"Some of that depends upon what the economy does. There are various reports out at the moment that say that the HR tech space is populated by businesses who are seriously short of cash and rated as being at risk. From that perspective It could get a bit freer but having said that a recession is the perfect time to start a launch. I fully expect new players to come into the marketplace.
"There is a huge amount of interest in enterprise level HR Tech. Which we do not play in. There is a lot of specialisation going on at that level. Particularly to do with AI, recruitment, Employee engagement and management. There are a lot of things going on there that we want to see if we can pull down into the SME space.
"The bigger picture around the world of work. The shortage of workforce will have a bigger effect on our world. Companies need to and already are fighting to keep their people and to hire new people . There is a lot more business that have to spend more time on engagement and making sure that their people are happy and stick around. That will be a big trend."
He also named the two companies that Breathe sees most commonly in competitive tenders, CharlieHR and PeopleHR.
The importance of culture
Richards maintains that culture is critical for success. It is an ethos that is now starting to have proof points. This is by the success of Breathe and also some awards it has recently won as well as his own personal success. Richards commented: "One of bits I am immensely proud of is that we put out a message very strongly about company culture and how businesses need to focus more on their culture and that is the best way to run a business.
"That's the old Branson quote that says "Look after the people and they will look after the rest". As part of that what we set out to do is to make Breathe itself a showcase for that. We have had two fantastic award wins around company culture. The National Technology awards best company to work for and the Lotus award for company culture which is great recognition is great recognition that we are living what we preach."
Breathe also recently co-sponsored with Real Business the Top 25 SME Culture Leaders in 2019. With Birdie  winning the top spot.
Finding insights from other sources
Finally ET asked Richards what the most recent business book he read. "I have just finished "How Google works" by Eric Schmidt and Jonathan Rosenberg. It was a really good deep dive into some of the ethos around Goggle 5-6 years ago. I have already started to put some of the thinking in play."
Enterprise Times: What does this mean
Breathe is a company on the rise. With a route to market tied into HR Consultancies it reduces their cost of sales considerably. This has enabled it to grow without, one suspects a proportionate increase in sales and marketing costs. It is an approach that bodes well for its future. HR consultancies are often small, but will bring several customers to the platform. That this is not a white label approach also gives Breathe a growing brand awareness across the market as well. It is, however, an approach that took time to build. It may need to think differently when and if it attacks foreign markets, especially if it receives funding from VC looking for quick returns.
With a growing need to both attract and retain talent, small companies should consider carefully whether they need a system to improve workforce management. This is not about adding layers of administration but of increasing employee engagement, satisfaction and performance. Breathe is one of the solutions that has delivered that and will continue to do under Richards cautious and successful leadership.