People number their paragraphs in a document for various reasons. In previous tips I explored numbering paragraphs, continuous numbering and starting from 1 again. Do read those in conjunction with this tip to understand fully what numbering can do for you. There are times however that you may need to adjust those settings to include letters or roman numerals or a bullet, of which there are many to choose from.
Here is an example of a set of numbered paragraphs.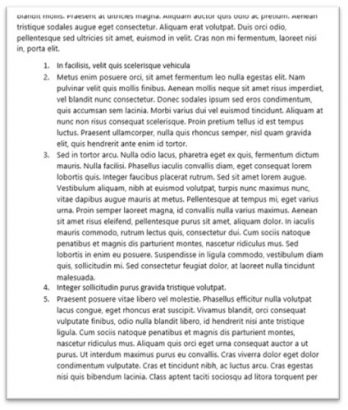 I am going to change the 4th and 5th numbers to letters.
Select both paragraphs.
Right click on the number 4 at the start of these paragraphs to be changed.
Select the drop-down arrow from the numbering tool, in the Home tab.
This dialog box will appear to give you many choices.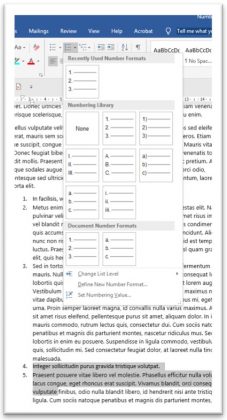 Make your selection and the result will look like this.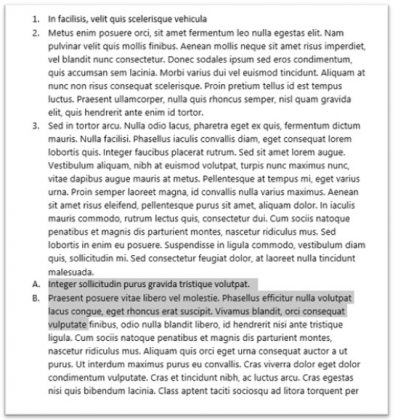 At any point you can change your mind and re-establish the sequence. Once you chose the very same settings the paragraphs are in a seamless chain and will react together to future updates. i.e. inserting new paragraphs or deleting or moving paragraphs.
Changing to bullets.
If you no longer require some of the paragraphs to be numbered. You have the choice of many bullet images. I believe that they should be meaningful and representative of the document subject matter. In other words, don't be boring with a "blob!"
Select the paragraphs you require.
Select the bullet tool on the Home tab.
This list with be appear.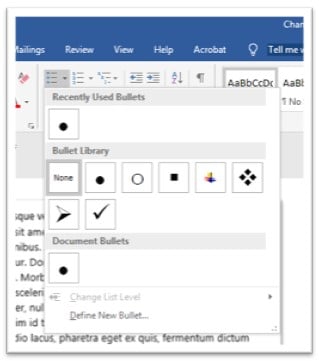 Here you can see that you have a small choice of bullets. The "blob" being the first in line. I would suggest selecting the Define New Bullet …. Found at the bottom of this list.
This dialog box appears.
Select the Symbol button.
This dialog box appears.
Please note that the symbols in this particular list come from the Symbol Font found at the top left of this dialog box.
Select Wingdings from the dropdown list.
Note once more that the scroll bar is set to the bottom of this list of symbols so scroll through to the top to find the right one for your particular document.
When you have created the bullet of your choice you may like to change the size as some images come up a little small.
Select the paragraphs that have the smaller bullet.
Select the drop-down arrow on the bullet tool.
Define Bullet at the bottom of the list.
Select the Font button on the left of the dialog box.
This Dialog box appears.
Your paragraphs now have a much larger bullet that is in keeping with the text or your design taste. It could also have a different colour.
You now have a full arsenal in your knowledge bank of how to create and change numbered paragraphs to bullets or pictures. Enjoy the variety.