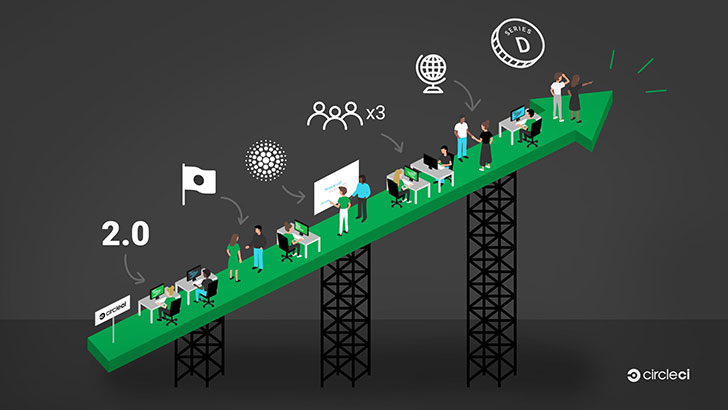 CI/CD platform vendor CircleCI has raised US$56 million in a Series D funding round. This brings the total raised by the company to $115 million and brings in two new lead investors, Owl Rock Capital Partners and Next Equity. Several existing investors also took part in this funding round showing continued faith in the company and its leadership.
According to Jim Rose, Chief Executive Officer, CircleCI: "Our accelerated pace of change over the last 18 months reflects our industry as a whole: software development is increasingly complex, fragmented, and difficult to map.
"We're in a unique position to help engineering organizations write better software faster. Our product strategy combines an agnostic, build anything, anywhere roadmap with a focus on lifting business value delivery of software everywhere."
What is the money for?
In the press release CircleCI said the money would be used: "to further their extensibility and agnosticism capabilities, expand their global presence, and provide deeper insights for users to improve the health of their value delivery."
More details on what this means came from Rose in his blog on the news. He highlighted four areas where the company will invest:
Continue our laser-focus on CI/CD: This will see continued investment in the CI/CD platform to make it the core platform of choice for developers.
Invest heavily in agnosticism and extensibility: The company already has an impressive set of integrations to tools from other vendors and is planning more. It is also investing in its CLI and API to make it easier for customers to integrate CircleCI with their existing tools. There will also be increased investment in its VCS and build environments as part of its goal to be build environment agnostic.
Harness our scale to surface data and insights on value delivery: Metrics gathered from jobs run on the CircleCI platform will be made more readily available to customers. This will enable them to see how effective their developer team is.
Continue our strategy of developer empowerment, with enterprise control: A new UI and a better onboarding process will make it easier for developers to use CircleCI. There will be a new usage-based pricing model but there is little detail on what that will mean in terms of costs. The company will also continue its expansion in both APAC and EMEA.
The company is also in a hiring phase. However, it is also competing in a market that is seeing aggressive growth and that may hamper its ability to expand. That said, the agnostic approach of the platform should allow it to bring in a wider range of developers, especially those with experience of other platforms.
Enterprise Times: What does this mean
All of this is impressive and the focus on how the money will be spent is welcome. Most of the spending areas expand on where the Series C funding went. That is no bad thing. It has seen the company grow from 120 to 250 employees. The hiring phase is expected to at least 50 more. With the rate it is adding customers, this seems to be a sustainable number.
Few companies provide such details soon after achieving funding. As Rose says: "The developer tools space is growing incredibly quickly, and there is a huge opportunity for companies that can meet the needs of both developers and large companies. We plan to do just that."