Enterprise Times spoke to Lauri Klaus, Founder and CEO of KeyedIn. Lauri and George Klaus sold Epicor in 2011 to Apax Partners. KeyedIn is their new company. Enterprise Times asked Klaus about where the new company is now.
"We were founded seven and a half years ago. Epicor sold for a billion dollars and we used many of those funds to found KeyedIn to be a native cloud B2B application provider. We focused on where we thought there were the least amount of competitors prepared for the evolution to cloud. That was in the projects space. Early on we started with both PPM and PSA. We have projects and now we have custom manufacturing.
"The reason for the two is our in depth domain experience in them and our access to experts in both of those markets. We acquired 3 companies initially. Now 70% of our investment has gone into R&D focusing on building great products that work and have to work in this environment. Everyone has to be on the same release and I am happy to report that we are at 108% net retention. Not only are we adding many new name logos but our current customers are happy with us and adding more to their investment. "
Born in the Cloud
KeyedIn is a born in the cloud company. It has grown steadily and has an impressive roster of clients already.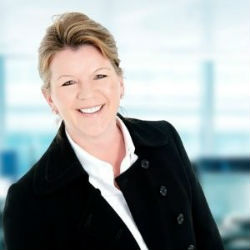 Klaus continued: "We are growing at about a 30-35% rate year over year and hope to get to $15-$17 million by the end of our fiscal 20 which is April 20. The strongest and the most mature market is in the PPM space targeting PMOs. That crosses various industries whether it is financial services or healthcare. We have Bupa, Walgreens, Easyjet, Schroders and Specsavers.
"On the PSA side we target the embedded services. If you are a 50-100 employee consulting company that needs the full SRP (Services Resource Planning) you would not be our target because we do not have our own financials and we don't have our own GL. We do go through to rev rec and billing but we integrate through collection and GL. We do sell to those clients but primarily in an integrated fashion with Intacct or another back office financial solution.
"We are looking to see the partnership with Intacct grow, now that they are part of Sage we think that is a huge opportunity both on the manufacturing and project side. "
What about custom manufacturing?
"In custom manufacturing we have about 132 clients. We have a new product out that is aligned with Microsoft Azure. It is about a year old with 32 clients. We built our custom manufacturing using our own platform. Everything that we host in Manufacturing is using MS Azure as well as using some of the Microsoft Azure development tools. We are looking to sell that on an inside sales basis and as well as looking for significant partners along those lines.
"Those are our three targets, embedded services, PMO and SMB custom manufacturers."
What about further expansion
With offices in the USA and UK is Klaus looking to expand to other countries. As Sage Intacct is launching in Australia and the UK later this year it seems an opportune time?
Klaus answered: "We are prepared to, but the short answer to that question is when we get additional funding. Our  technology is prepared to go into (other countries). We are in US, Canada UK, New Zealand, Australia, Sweden and we even have some sites in China. It is really good to see Intacct working with Sage we think it is a huge opportunity with their footprint. They don't have a PSA solution yet, they don't have a manufacturing solution yet and we think we would be a really good plugin for them."
That may change of course, Sage Enterprise Management is the Sage Manufacturing ERP solution. There are other PSA solutions that integrate with Sage Intacct though, including Kimble Applications.
What about the product roadmap.
With three product streams ET asked Klaus what the approach to product strategy is going forward.
"We have just hired Matt Muldoon. He is our Chief Product Officer, he is putting together our roadmaps for all products. It is more aggressive on the PPM side of things because those are the larger deals. Less aggressive on the manufacturing and PSA. In terms of investment we are seeing currently that we are winning more against Planview, CA and Micro Focus in the $10- 15,000 MRR a month. In the short term we are focusing more heavily on those. With additional investment we will invest more in the other two areas."
Muldoon is ex-Epicor and a serious addition to the team at KeyedIn. His experience should help with the growth that Klaus is looking to achieve. KeyedIn raised 15m last year and sounded like it will soon look to raise further funds.
"Yes that's true, we are winning and growing. We've got a tremendous amount of opportunity in front of us. We would like to enter into a Series D round of funding, and we are talking to potential Investors just about every other day."
What does the competitive landscape look like?
"On the PSA side, it's a lot. NetSuite, Kimble and Changepoint would be competitors, but there is no strong front leader. That's why we see that as a huge opportunity. There is a roadmap for that and some of the areas we need to do better in. We win with PSA but the implementations are not as easy as PPM.
"We have some work to do on things like multiple rate cards, direct line into GL and visibility into the whole SRP, better forecasting. Outside of that, it's a strong tool. We have about 40 clients in the PSA space. Our next step would be to increase investment in that area.
"In ERP it is a wide open space. I do not think that anyone is moving very fast. The competition? There is Plex, it is very deep, they are native cloud. "
If the field is wide open how are you looking to differentiate KeyedIn?
"It is about how fast can we mature this product and get all the features that people are used to into the product. Customers can get the advantage of virtually no performance issues, access anywhere, native cloud, always on the latest upgrade. Ours is configurable which is a differentiator because you can change even though you are in the cloud the application.
"On the other hand we don't have thirty years of what everybody wanted. That can be good because you are not manoeuvring through all that stuff. But some people are stuck in their ways, this is what they want, this is how they make their parts and they are not going to move from there. I think there is room for everyone."
You mention SMB what is your target market?
"Our largest customer has 180 employees. It is a machine shop with three different plants. We are trying to stay away from the real small (companies) because they tend to need more help. We are trying to stay in that 10-30 user systems. At the same time the infrastructure, the data structure and the plan is such that it can scale. When we want to invest in the sales and marketing side of things and grow the product community.
"We also need to increase the maturity of the project in some areas. We have finite scheduling, we have Quote to Cash, we have 90% of what any typical custom manufacturer would use and we are ITAR compliant. There is an awful lot there, but once you get to a plastic injection moulds they need five different things. Getting into those kinds of areas just takes time."
Strategic partnerships
Besides Microsoft and Sage Intacct does KeyedIn have other major partnerships?
"We have. Ingram Micro has a marketplace that we are talking to. They are building this cloud business marketplace.  We have a partnership with AWS, our Projects system works on AWS. We also work with Dimension Data and they are probably 80% of the infrastructure for our projects customers. Outside of that we have smaller partners that we are working with – in our pipeline right now we have about 20 that we are working with who would target the PSA space primarily. "
This is the PartnerUp programme that was launched in April this year and should help KeyedIn accelerate its growth.
What are your challenges for 2019
"It is very much a balancing act between how much we spend and how much we grow. Is 35% fast enough to get to the valuation where we want to raise that series D round of funding? Or is it not enough and do we need to get that investment in sooner so that we can get to 50% and higher? Those are our biggest challenges.
"If I look at the organisation, we have a very loyal and high tenured development team. The products and the support of the products is very stable. The greatest challenge is how fast the competition is going to come up with their solution and what would mean to us.
"I would call it in the next six months that we should be in a position to raise a Series D with a VC, raise $20 million and get really aggressive on the sales and marketing as well as entering into other regions."
Enterprise Times
There is an appetite from VC's for investing both PSA and ERP solutions at the moment. Mavenlink and BigTime have both recently raised new funds. IFS owners EDT recently acquired Acumatica demonstrating that some VC's are willing to invest in the ERP sector too. KeyedIn has an interesting product portfolio and it will be interesting to see whether it raises funds to accelerate its growth and how it approaches that growth.
Is Klaus being conservative about the amount of money that it KeyedIn are looking to raise? Possibly, competitors are investing heavily in R&D and expanding globally across the markets that they operate in. There is an opportunity now for KeyedIn but wait too long and it may be much tougher to gain significant traction in the market. It does have some advantages though. The combination of expertise that the KeyedIn team has and the multi tenant, native cloud solutions put it in a strong position. Hires such as Muldoon will also grow its maturity as a company.
The choice of VC will be critical. As Klaus inferred there appear to be many willing to invest in the market. In the Cloud ERP market there are only a few players in the market. Recently that has shrunk with some consolidation in the last couple of years: IFS/Acumatica and Rootstock/Kenandy. KeyedIn has the potential to become a major player in each of the segments it has focused on, the next two years could be critical.
KeyedIn announces thirteen partners with PartnerUp initiative
KeyedIn's Automated Assistant enhances manufacturing ERP solution for its customers