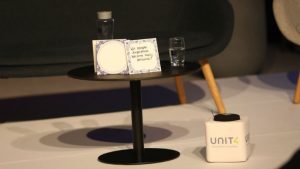 At the Unit4 Connect Ambassadors event in Amsterdam, the company demonstrated the extensibility of its ERP with two sets of functionality. On stage at the event it demonstrated live micro-service applications and Smart Automation Services, one of which it had created in two and half hours the day before.
Micro-services – the modern ERP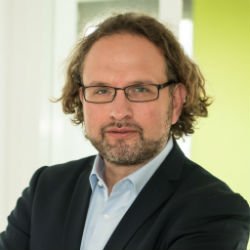 Unit4 prides itself as on being a people centric ERP. This is not the same as the Workday people centric HCM solution where the system puts an employee at the heart of the organisation. The difference was summed by Matthias Thurner, Chief Product Officer at Unit4. He said: "We don't want to deliver functionality to organisations. We want to deliver value to people….We want to put a smile on your faces when you use our product."
Mike Ettling CEO of Unit cited Holger Mueller, VP and Principal Analyst at Constellation as saying "Unit4 has one of the most modern architectures of any ERP" as he introduced him before a conversation with him on stage.
Claus Jepsen, Deputy CTO at Unit4 later described the Unit4 Architecture as more foundation than platform. He meant that it is extensible through micro-services rather than customising the ERP application itself or even extending the platform itself. He argues that this allows Unit4 greater control. It also enables customers and partners to add functionality cleanly without the risk of issues during future upgrades of the core ERP.
Unit4 now provides an Extension Kit, that enables users with a knowledge of data tables to create simple micro-services applications for the ERP. The environment is low-code but a future generation will feature drag and drop functionality and include some business process mapping.
The micro-services that Unit4 created are available on GitHub for customers. They will work with anyone working with Business World version 7 or after. Its intent is to enable customers and partners to create more complex applications that can then be sold through AWS or Microsoft marketplaces, perhaps in conjunction with a power app.
New microservices applications
Some, but not all, of the new micro-services were demonstrated on stage. Unit4 has introduced three integrations with third party content for supplier management using the micro-services extension kit:
Automated reporting if a customer/donor registered in Business World is on the US government Watch list
Reporting of customers credit risk evaluation via Dun and Bradstreet
Populating information on suppliers in Business World using data from the Dutch Chamber of Commerce
Demonstrations on stage showed how the first two returned company information based on a trigger. While useful, that data could also be enhanced. For example, returning the D&B risk score did not in itself trigger any action relating to outstanding invoices. The app also failed to display the results in any colour coded way.
Other micro-service applications include:
Creating a Service Request in Business World using Google Forms
Welcoming new employees using Unit4's Digital Assistant
Calendar event posting in Outlook when an absence is created in Unit4 Business World
Requesting customer feedback using Intuo
The latter triggered a set of actions that initiated a feedback request in Intuo, analysed the results and passed back the information to the requesting manager about a project. Based on the sentiment analysis provided by Intuo, the manager was then able to trigger a message of congratulation to their team. It streamlined a process that might have taken days to complete historically to a matter of minutes.
Jepsen commented: "These are just examples of services that can be created. Our Extension Kit is unique among enterprise software vendors and takes advantage of our modern ERP architecture so partners and customers can easily extend their enterprise systems with differentiating services. Organizations focused on delivering the best experience to their people can build out from the core ERP system to add and connect whatever they need to."
Micro-services are currently available for Unit4 Business World. Matthias Thurner confirmed that no decision has yet been made when microservices applications will be available for student Management, PSA or Financials. However, PSA is at least being looked at.
The next step – Smart Automation Services
Unit4 also demonstrated the integration of its AI engine onto the Unit4 Foundation. This enables the delivery of smart automation services. It announced two use cases:
Smart Resource Planning – automatic scheduling of service orders. For organisations with a high volume of service orders, where time to scheduling and completion is essential for SLAs and margins. Transparent planning and resource management ensures optimal use of people's time and frees time for other tasks. Currently this includes factors such as skills matching and availability. However, it did not appear to be location aware nor have any integration to a spare parts catalogue. A necessity for some service engineers. Will Unit4 extend this app further or wait for a partner to deliver this?
Smart Invoice Processing – an automated invoice service where the system applies accounting information to the invoice before automatically distributing it for payment approval.
The demonstration also included a pre-release integration between Prevero and Wanda. Users request revenue forecast information from Prevero which is delivered in an appropriate graphical format using a conversational UI interface. It will not be available until Q3 2019, and even then only in an early adopter phase.
Jepsen commented: "We're recreating ERP as a collection of proactive services that deliver a completely new and much smoother people experience. Soon, customers will no longer need to log into Unit4 applications to benefit from them. That's our goal, and our Smart Automation Services are a crucial next step in delivering a self-driving user experience."
Enterprise Times: What does this mean
Having built its foundation architecture, Unit4 is now delivering the extensibility tools for its customers to build apps on top of it. It is early days and there may yet be some problems to solve for Thurner and Jepsen as partners and users start to experiment.
However, as Jepsen pointed out to Enterprise Times, this is not his first attempt at such a platform. He was one of the designers of Infor Ion and he believes that he has rectified the shortcomings of that platform at Unit4. He acknowledged that fresh challenges and issues may lay ahead though.
It is now up to Ettling and his new team to take this modern ERP architecture and create a compelling marketing message. Persuading more customers of the value that Unit4 can offer. This includes scalability and flexibility underpinned by what has always been one of the strongest finance solutions in the market.