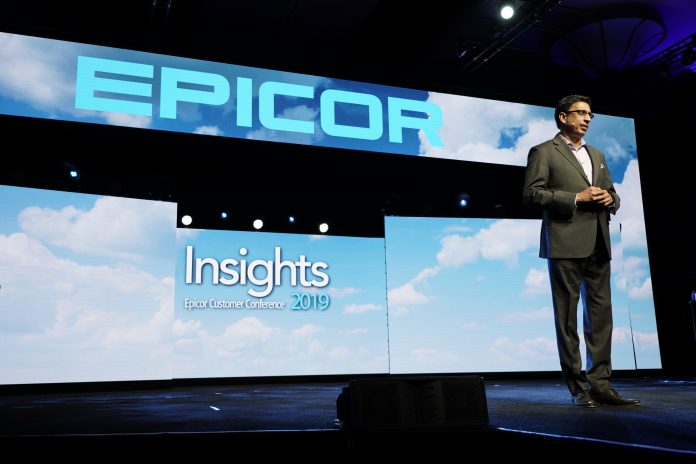 At Epicor Insights, Himanshu Palsule, CTO, Epicor announced the next update to Epicor Prophet 21, 2019.1. Available from May 24th, Prophet 21 is an ERP solution for distributors. It was originally available only in North America and recently launched in Australia and New Zealand. It is likely that the product will be launched in other countries. The company already has customers in other territories but support is not universal.
Epicor is creating application independent additions that enable it to roll out horizontal functionality across its portfolio. One of these is localization. Another, which also features in this release, is its Artificial Intelligence engine, EVA (Epicor Virtual Assistant). EVA is also part of a wider strategy to embrace and take advantage of the Microsoft Azure platform. The intent is to deliver a modern cloud-based platform with functionality that meets the needs of customers.
What are the major changes in this release?
There are four major changes in this release. They are:
Epicor Rentals Management integration: ERM is now fully integrated with Prophet 21. This enables distributors to create new business models around rentals. It will help drive up revenue by allowing distributors to easily manage the scheduling and assignment process, from rental start to rental completion. The integration with Prophet 21 passes relevant data between the two systems. ERM is powered by a Point of Rental solution which also powers Epicor Eagle N rental addon. The solution will integrate with other Epicor software, including Epicor ERP.
Epicor Virtual Agent (EVA)— Prophet 21 is one of two Epicor applications that benefit from the embedded AI functionality that EVA provides. Built using the Microsoft LUIS natural language, EVA is an enterprise wide digital agent. It enables users to interface with it using text or speech. Rachel Clayton, Director of Product Marketing at Epicor demonstrated some of the new functionality on stage during the main keynote. She demonstrated how through a simple text interaction EVA could create, and send a quotation, with appropriate approval in a very short time. In this version, EVA will only automate a limited set of processes but more "skills" will be added over time. The solution also supports voice input.
Epicor Mobile Proof of Delivery: Epicor has redeveloped its mobile companion application for Prophet 21 using Kinetic Design. The last update to this mobile application was 2017 using the Epicor Mobile Framework. The responsive UI enables users to process deliveries and pick ups more efficiently. The application is available on both Android and Apple.
Integration to TrackAbout: TrackAbout is a cloud-based application focused on the tracking, rental and management of portable assets. Designed to allow the gas industry to track cylinders, containers and welding equipment, it is now used across a wide variety of industries. It uses a combination of technologies including RFI, GPS, barcode scanning and a smartphone app to track objects.
Making a difference to distributors
Mark Jensen, senior director of product management, Epicor commented: "Distributors need a proven, comprehensive ERP platform that helps them grow now, and positions them for success in the future. Our solution fits their needs through the combination of deep industry-specific functionality, ease of use, extensibility, and cloud deployment. The latest version of Prophet 21 software enables distributors to innovate with insight, efficiency, and scale, unleashing new power to drive growth in the digital age."
Enterprise Times spoke to a number of attendees at Insights 19. They were impressed by the update and looking forward to actually getting their hands on the functionality in their businesses. Distributors look for two things, increased efficiency and new revenue streams. In those two objectives Epicor has delivered. EVA and the updated Mobile App improve efficiency. The integration with TrackAbout and Epicor Rentals Management will open up new revenue streams
Enterprise Times: What does this mean
While Epicor ERP may be the focus for many attendees at Insights 19, many are there to see the latest update in its distribution vertical. Epicor has not disappointed. It has not yet perfected its strategic approach to delivering horizontal functionality across its application base. Adding new technologies to Prophet 21 that are also in Epicor ERP is a start.
EVA is a first generation AI engine. It will become more complete as "skills" mapped to specific use cases are added. What pleased the audience is that Epicor is not looking to create AI as a completely separate module within its own price point. Instead it is embeded it throughout the applications with no increase in cost. One of the reasons that they are able to do this is that they are leveraging the Microsoft Stack, reducing their cost of development significantly.
This is a good start to the week and attendees will be looking forward to more news as the conference continues.