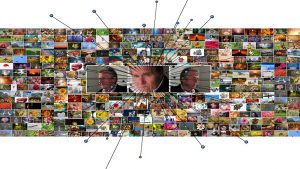 Corey Tollefson is SVP & GM at Infor Retail. Infor is a global provider in business cloud software for Enterprise and SMB companies.  The company has 17,000 employees and over 68,000 customers in more than 170 countries Infor.
Infor builds complete industry suites in the cloud. The company deploys technology that puts the user experience first, leverages data science, and integrates into existing systems. Corey helped create Infor's Retail business unit four years ago.
Enterprise Times had a long-ranging conversation with Corey Tollefson about retail and how Infor is meeting the sector's challenges.
How are Infor 'doing' retail things differently?
Retail business models are changing rapidly to meet the evolving mix of demographics. Tollefson explained that at the heart of the challenge for retailers is demand management. It is this challenge that Infor looks to resolve using science-based technology including machine learning.
According to Tollefson, "Many companies are touting machine learning. However, ours is different. Predictix was the first cloud-built solution on the market.  It was never on a propriety database. It's a solution that has machine learning at its core."
Infor acquired Predictix in 2016.  The company was a ground-breaking provider of cloud-native, predictive, and machine-learning solutions for retailers. Predictix uses next-generation data science and data analytics to solve some of the most complex, challenging problems faced by retailers. Predictix is now fully integrated into Infor CloudSuite Retail.
What is Infor's attitude to the growing trend of retailers adopting microservices?
"The retail eCommerce eco-system is constantly evolving and Infor wants to dominate the micro vertical app layer. Unlike other solution providers, an Infor customer will never say, "We're an Infor shop".  We structure our platform to make it more open. It is more loosely coupled and therefore can take advantage of open APIs in middleware technologies.
Tollefson added, "Infor has no ambitions to be the "Be All" in retail. We are concentrating on our demand management/machine learning solution. That is where we are concentrating our investment dollars."
In saying that Infor can offer a a full ERP solution for retailers. However, what Tollefson understands is that times are tough for retailers. They rarely want to or can afford to rip and replace everything. The Infor platform allows it to implement its demand management system to deliver maximum business value while integrating with other third party solutions.
How do you define machine learning? 
Retailers increasingly need accurate sales forecasting software that can respond to supply chain disruptions with fast, data-driven decisions. Some retailers are powering those decisions with advancements in artificial intelligence. This brings unprecedented precision to the omni-channel supply chain with machine learning-powered retail demand forecasting and management solutions.
According to Tollefson, "Our platform looks at every single item combination, and predicts the right forecast, the right replenishment settings. It suggests the best optimised product for the store at the right time, at the price. Essentially, it's data science.  Our platform examines every single permutation that could possibly happen at the product level and the customer level."
Corey believes that the Infor approach is modern and different. Historically systems have only been able to look back one year. Tollefson explained: "Infor's platform is cloud native. We want as much data as possible from the retailers. A business can give Infor ten years of data."
Infor is then able to leverage the compute power of AWS (Amazon Web Services) to perform the analysis on that data. The elastic compute available from cloud services no longer restricts retailers from the analysis of its data. Trends that it was limited from spotting due to the data restriction because of compute power are now surfaced.
Where are your projects coming from?
Four years ago, most of Infor projects came from North America and Europe – 95% North America, 5% Europe.  Currently, its around 65% North America, 35% Europe. In the next 12-18 months, the shift could be 50:50.
Tollefson continued: "From a product mix perspective, it originally started as development or backoffice ERP projects. That product mix is shifting.  Our product mix has changed from ERP being 90% to being equal 50:50. The 50% is a combination of converged commerce, our POS. Together with demand management, our analytics/data science-based product and machine learning."
Tollefson expects this to rise to 75-80% of new projects, as machine learning gets more widely adopted in the mid-market
Who are Infor's key competitors?
"We see our competition as in a garage somewhere in the world, or as a startup. Our focus is on the technologies that impact on retail investment. For instance, the in-store experience, or improvements in the supply chain.  From our position, a traditional competitor will be a JDA.com around the supply chain."
What are the main challenges retailers face?
Most analysts would agree that retail is seriously under siege. Amazon continues to grow and absorb everything in its path. Competition remains intense, particularly for bricks and mortar operators. Consumers continue to expect high standards, free delivery, superb user engagement at lower prices and therefore lower margins for retailers.
According to Tollefson, "Department stores are hurting. They only want to invest in two areas. Firstly, where stores can pull out excess inventory, which is aligned to our machine learning and forecasting replenishment.
"Secondly the in-store experience lends itself to complement our omni-fulfilment and order orchestration. i.e. Getting the right product at the right time, in the right place. This enables the ability to buy online, ship to a location or pick up in-store. In addition, to having loyalty embedded in the store with the POS.
"Grocery is a completely a different segment. Grocers don't want to touch the in-store experience. Grocery retail is a sub vertical that is ripe for innovation. But grocery retailers don't have the capital to invest. Most grocery retailers are spending on machine learning to ensure they have the right product in the store. 
"However, they are not undertaking wholesale ERP transformations, nor financial transformations, because the margins are so small and tight. It's normally 2% or less in grocery.  The margins on luxury are normally 40-60%."
It is that segment where Infor has recently had significant success with several well known brands already using Infor products.
Infor Retail – the biggest business challenge?
Tollefson wants to leverage the scale of Infor Retail and the internal expertise and knowledge for its customers. We want the company to be unique and service its customers differently.
"Our work with Sociedad Textil Lonia (STL) is a good direction of where the company would like to go.  Machine Learning was the business case catalyst to drive the business transformation for STL," said Tollefson. 
STL designs, produce and retails leather goods and accessories and ready-to-wear collections, through a vertically integrated model. STL selected Infor Retail CloudSuite and Infor GT Nexis (recently relaunched as Infor Nexus) to support its innovation and transformation initiatives. The company manages two leading brands in the fashion and luxury space, Purificación García and CH Carolina Herrera.
With more than 800 stores in over 50 countries, STL plans to further integrate its customer experience across all channels, to help ensure that customer order fulfilment, inventory replenishment and overall experience are fast, efficient, and consistent with the brands.  Furthermore, STL and Infor plan to establish an Innovation Centre in Barcelona focused on the customer experience in the European fashion industry
Enterprise Times: What this means for retailers?
Infor Retail has firmly aligned its business model with predictive planning and machine learning to help retailers face a variety of challenges.  For instance the ability to optimise B2C distribution worldwide. The company's Infor Nexus Supply Chain Network remains one of the world's largest business networks. It has more than 55,000 companies, including six of the top ten logistics service providers. The company is in perfect position to offer the complete back office package for retailers.  This is particularly the case with enterprises approaching the expiry date of ERPs. Medium-sized retailers, will be attracted by the analytics and business intelligence of Infor's solutions which can be integrated into any application. As the company heads for IPO, Infor is suitably gearing itself well in the eCommerce eco-system marketplace.