"This goes way beyond any other CRM you are going to see." These were the words that Vic Pellicano, CEO Verenia used to describe the soon to launch Verenia CRM for NetSuite. At SuiteWorld in a few weeks time Verenia will formally announce a new product that enhances NetSuite's CRM offering. The pre-announcement came during a virtual conference organised by Verenia. The Sales Acceleration conference brought together vendors that enhance the existing NetSuite solution that delivers for sales operations.
Enterprise Times both attended the conference and spoke to Vic Pellicano, Verenia. The advantage of hosting a virtual conference is that it wasn't live and the conversation with Pellicano happened at the same time as his keynote, a first for ET.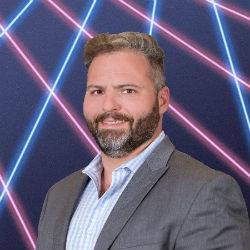 The challenge that Vic Pellicano identified is that the NetSuite is not seen as customer centric. NetSuite themselves market it as transaction centric and they often pitch to the CFO rather than the sales director. This means that companies often look outside NetSuite for their CRM requirements.
Why did Pellicano decide to invest in such a product, he answered: "We noticed there is a fair number of people that go CRM shopping outside of Netsuite. It has a lot of stuff inside the CRM that is wonderful but the challenge they have is getting that adoption. People don't see them as CRM despite the fact that they have a strong CRM tool."
But don't NetSuite already have CRM?
ET challenged Pellicano on this and he explained why he felt that there was a gap in the market. Pellicano answered: "The idea is not to say 'here look at this instead of NetSuite CRM. It is to take what people like about NetSuite and when they say "hey I like everything but I really want to look at these outside CRM providers". To say "Wait here is a middle step before you go outside the ecosystem and you go to Salesforce or Hubspot or Zoho" and give them something else to look at.
"That is the optionality that customers really like in the SaaS World. Give them another option that says here is something I can buy for my sales team that feels more like a CRM. That looks more like a CRM. It is really built for sales people with sales tools. We are going to use the NetSuite CRM and we are not going to dump twice as much money on Salesforce."
It sounds interesting and if Pellicano can gain interest not just from the customer and prospects attending SuiteWorld but also the partners that are there then this could be a very significant announcement. However, without understanding more about the solution it is difficult to gauge how important it will actually be.
What is in Verenia CRM for NetSuite
ET asked Pellicano that very question and he outlined some of the key benefits the new Verenia solution will offer.
Lower cost of ownership
Attractive to many business leaders will be the total cost of implementation. Pellicano stated: "We feel like that any implementation of our NetSuite CRM is about 50% of price of Salesforce. Out of the box you will save a lot of money. There are no outside integrations everything stays in (the platform)."
Re-imagined UI
While ET has not yet seen the new product Pellicano this was a bold statement. In the virtual keynote he described it as having a modern responsive user interface and user experience to rival that of Salesforce Lightning. The application was created from scratch with the power of NetSuite underneath but one assumes designed with the sales organisation in mind. Pellicano added: "You are going to have the complete front office CRM tool set."
Email integration
Initially this is with Gmail and Office 365. The set up is simple according Pellicano. Once connected, users will have the ability to see all emails from within NetSuite. They can track conversations even if initiated within an Outlook or Gmail client. All the email data will be stored in NetSuite. This is important as it will enable sales executives to view a complete transactional history with their clients. Not just the quotes, orders and operational information but also their communication.
Enhanced functionality
The solution will do more than replicate NetSuite CRM functionality. Verenia has leveraged their understanding of the sales order process. Pellicano commented: "The CRM has all the ability to do Order creation, accepting payments, create sales orders creating shippers everything that is outside the purview of a more traditional CRM or a less complete one."
As standard, Verenia has included some CPQ functionality. This includes the ability to drag and drop line items into quotes and change pricing on the fly. It is not as sophisticated as the Vernia CPQ solution and ET asked Pellicano about whether that was included. Verenia CPQ will be available both an an additional App for NetSuite CRM, but there is also a version for Verenia CRM. This will integrate seamlessly and have the same look at feel as the enhanced CRM product.
What Verenia has done is take their knowledge from the manufacturing sector and applied it to the new order creation system. Pellicano explained further: "You will get the Manufacturing tools, dynamic Bill of Materials, Works order generation on the fly. Dynamic routing controls, the ability to create images on the fly for whatever you are configuring, all the rules-based stuff."
Orders can also include groups of nested items. This enables companies to create groups of items that are able to be moved around as well, saving significant time for some use cases. Pellicano indicated that manufacturing is the first of several verticals that Verenia will address with its solution. The others that are likely to follow are wholesale distribution and retail and others that NetSuite focus on.
360° view
Pellicano believes that the combination of NetSuite with a modern CRM enables companies to get a full 360° view. Pellicano stated: "We love idea that what NetSuite has is this complete 360° view. Everybody talks about having the complete 360 view, very few people can honestly say it the way NetSuite can. Because they can see everything from accepting the payment through delivering the product."
Pellicano continued citing an example of the kind of visibility the new solution can offer: "You will get a complete timeline view. If you pull up any contact, customer or quote you pull up our activity feed that is associated with it. What it has is the complete list of what has happened to that customer in a time line view by date. Including all email, notes and anything that happened to the quote or order.
"For example if you open up a customer page in our CRM you will be able to see in a timeline view what quotes were created, what orders were created, what orders shipped, what RGA's, what return authorisations, all that stuff will be immediately apparent.
"For customer service, say, you can get a complete view from 15 different record sets. You can really drive that customer experience in a better way than bouncing around forty pages in some other systems."
Extendible
As with NetSuite, Verenia is also making its new solution extendible. The first add on solution is Solupay. This will enable users to take credit card payments for orders through the system. While Pellicano would not be drawn on the other applications that will integrate with Verenia CRM Pellicano did give some clues. He indicated that other sponsors of the Sales Acceleration were interested. Those included:
Celigo: Integration platform
nFusz: Interactive Video Sales lead generation
Tipalti: Accounts Payable solution
DSI: Digital Supply chain and Inventory solutions
Netlease: A lease accounting solution
Avalara: Tax and compliance platform
Availability
The new product will officially launch at Suiteworld and Enterprise Times hopes to talk to Pellicano at the event about the new product. It will be on display and Verenia may also share some feedback from at least one early adopter.
The solution may be available in countries other than the US. Verenia had two other exhibitors at its event, Concentrus a NetSuite solutions partner based in the US and NoBlue a European NetSuite partner. The indication is that Verenia CRM will be available in both the North American and European markets from its launch if these two companies are reselling it.
Enterprise Times: What does this mean
Verenia has given a taster of what it is delivering. However, until customers provide feedback or one is able to see, use and test the solution it is difficult to comment on how large its impact will be. Pellicano believes that he has a game changing solution though.
Importantly, SuiteWorld will play host not just to NetSuite customers but also to its channel partners. It is from that audience that Pellicano will hope to attract more re-sellers. If he manages to persuade some of them to resell the solution then the work that Verenia has done will be worthwhile. The key advantage of the new solution is that it does offer the sales functionality that customers want from NetSuite.
Those partners may look to Verenia CRM to enhance their NetSuite product when pitching against Salesforce. The advantage for NetSuite is that there are few accounting systems of note on the Salesforce platform. In terms of net new customers, NetSuite plus Verenia has a few competitors on the Salesforce platform. This includes:
 RootStock who provides a manufacturing ERP solution.
Accounting Seed which targets wholesale distribution.
FinancialForce which has the strongest Financial management solution on Salesforce.
Will Verenia introduce a CRM/CPQ system for professional services on NetSuite. If it does it will go head to head with FinancialForce.
NetSuite is expected to announce a raft of new updates at its global event including a new analytics platform. NetSuite, as usual, has held back on product announcements for several months. Expect a lot of news in a few weeks time.