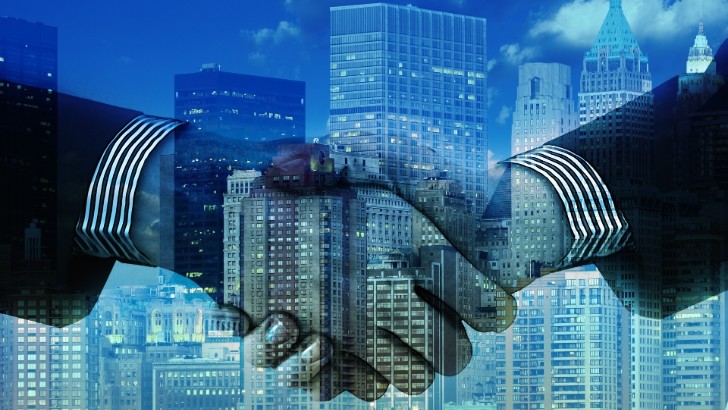 Despite Brexit and some concerns about global trade Angus Grierson, Managing Director, LGB Corporate Finance says the outlook for M&A activity in the UK financial services sector in 2019 and beyond remains positive driven by continuing innovations in fintech.
Financial services M&A in the UK had a solid year in 2018 with 83 deals completed in the first half, totalling £12 billion, according to EY. While the 2018 H1 value had fallen slightly below the previous year's total of £25 billion, we have seen a shift from megadeals to mid-market activity.
Financial firms snapped up fintechs, while the market saw consolidation among mid-sized asset managers responding to growing regulatory and fee pressures. There were also mergers among mid-sized brokers, particularly in the UK and continental Europe, largely as a result of the impact of MiFID II. Meanwhile strong insurance M&A also drove dealflow in the sector.
We expect robust levels of financial services M&A activity to continue in 2019. It is likely this will be driven by deals in key sub-sectors such as smaller investment banks, asset managers, insurance companies and global payments firms.
Economic and other factors continue to support M&A
Although geopolitical events, including Brexit, have resulted in many companies exercising caution with regard to their investment plans, other factors continue to support M&A activity in financial services. Long-term low interest rates means debt remains cheap, while central bank policymakers seem reluctant to fast-track a return to normal monetary policy conditions, suggesting these factors will continue to facilitate robust deal-making this year.
The high levels of cash sitting on both corporate balance sheets and in private equity (PE) funds is driving deal activity. A good example of corporate dealmaking in the past year is PayPal's $2.2 billion acquisition of iZettle.
PE firms are also sitting on record amounts of dry powder – US$1 trillion globally according to McKinsey – and are under pressure to make acquisitions to deliver returns for investors. As a result, we expect both PE driven M&A in financial services to remain strong driven by both PE and corporate activity.
Fintech – providing the solution to operational problems
Last year was transformational for fintech M&A in particular, as financial services fully embraced technology acquisitions to provide solutions to their operational and business challenges and help grow their market share. Total fintech M&A transactions were just shy of $63 billion in value in 2018, comprising 349 transactions, a figure well above that achieved in 2017.
UK Fintech M&A activity has also been robust in the last two years. Aviva made a strategic investment in Wealthify in 2017 . More recently Goldman Sachs took a stake in Nutmeg in January 2019, demonstrating the growing demand for fintech players to help attract and retain clients, particularly in the wealth management sector.
Changing market dynamics drives asset and wealth manager M&A activity
A key driver of consolidation among asset managers, where M&A activity has been strong in recent years, has been the shift from active to passive management. The growth of tracker funds particularly Exchange Traded Funds (ETFs) have had a negative impact on fee income and consolidation has enabled asset managers to steady their cost base and strengthen their balance sheets.
The stabilising of asset managers' cost bases was particularly important ahead of MiFID II, which was introduced in January 2018 as this directive has created significant additional overheads, with asset and wealth managers no longer able to pass the costs of equity research onto investors. Many smaller managers have struggled with the pressures of additional regulation and we expect further M&A activity at this end of the industry in 2019, where boutique managers look particularly likely to combine their expertise to create economies of scale.
Investment banking sector consolidation in response to MiFID 2
Investment banks in Europe are also feeling pressure from MiFID II with the unbundling of research payments resulting in falling income. This has been compounded by weak markets, low interest rates and a drop in IPO activity. Sell-side consolidation in the mid-market has been strong in recent years in the UK.  We note recent transactions involving Panmure Gordon, Zeus and Stockdale, which has just announced its intended tie-up with Shore Capital.
Another strategy deployed by brokers in 2018 was to reduce their exposure to equity capital markets. One of the objectives of finnCap's £47 million merger with Cavendish Corporate Finance was to diversify away from equities and into M&A and debt advisory services to provide a full-service offering to its SME clients. Looking forward, further consolidation among small-mid cap investment banks is expected, with many looking attractive to the large overseas banking groups.
Record deal activity in the payments sector
The payments sector globally performed particularly well last year, with H1 activity totalling US$45 billion globally compared to $32.9bn of activity in the whole of 2017. PayPal was a significant player, making four acquisitions in the space of five weeks. Activity continued into 2019 with Fiserv announcing the purchase of payments processor, First Data, in a paper acquisition worth $22bn.
UK payments firms will continue to represent attractive acquisitions for the financial services sector, given the strong and growing trend towards contactless payments, which in 2018 saw debit card payments overtaking cash payments for the first time in the UK. Global payments network operator Earthport is currently a c.£250 million acquisition target for Visa and Mastercard, both of which have offers on the table – ownership of the payments company would allow both financial services giants to expand their cross-border network service.
Insurance sector M&A driven by disposal of non-core businesses
The insurance industry in Europe, having struggled to get to grips with Solvency II regulations, made a relatively small contribution to financial services M&A activity prior to 2018. Last year, however, many insurers, having re-assessed their strategies and disposed of non-core businesses, had freed up cash, enabling investment in new opportunities. The result was a strong year for insurance sector deal-making. Activity was dominated by large deals, such as the sale of Standard Life Aberdeen's life assurance business to Phoenix Group for £3.24 billion. There was also activity in the mid-market, such as the acquisition of Stackhouse Poland by Gallagher for an undisclosed amount. We anticipate growth will continue in M&A activity in the mid-market both this year and next.
Insurance companies are (finally) increasingly turning to insuretech to make their businesses more efficient and grow their client base. While back office and security technology had been the focus for many years, M&A in AI and smart tech has now taken over, as demonstrated by as Aviva's acquisition of Neos, and is becoming the norm to improve the way in which insurers grow and retain their clients.
Fintech will continue to drive financial services M&A
While geopolitical fears have resulted in some caution being exercised, low interest rates, strong cash balances and record levels of dry powder will ensure that M&A activity in financial services will remain strong in 2019. For fintech firms looking to raise funding or their founders looking for an exit this should therefore be a strong year. The common denominator will continue as financial services firms turn to more nimble tech firms to solve many of their legacy operational issues, reduce their cost base, grow market share and retain their customer base.
---
LGB & Co.'s corporate finance and investment services enable its clients to succeed. Drawing on our expertise and transaction experience advising companies in the industrials, consumer, financial and business services sectors, LGB Corporate Finance provides bespoke capital raising and M&A advisory services enabling our clients to succeed. We provide access to proprietary deal-flow and whole-of-market investment products, identifying exclusive investment opportunities for our clients in both debt and equity in order to meet client requirements for income, capital gains and downside protection.