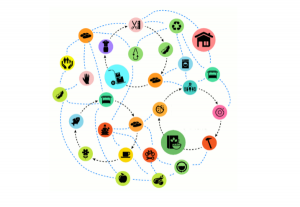 Newsweek has announced the recipients of its first-ever 'Blockchain Impact Awards'. The newly-created award is for innovative entrepreneurs and enterprises that develop blockchain applications which deliver a social good. The winners of this year's awards are SimplyVital Health, Bitlumens, Chronicled, Prescrypto and Grassroots Economics.
"With cryptocurrencies crashing, this special edition may seem like an odd moment to celebrate the promise of blockchain," said Dayan Candappa, Chief Strategy Officer of Newsweek. "But our honorees show that there is a great deal more to blockchain. These awards, unanimously agreed upon by a council of blockchain experts and Newsweek editors, recognize leaders who are helping resettle refugees, improving access to electricity and health care, and creating fairer markets. In their enterprising hands, we see blockchain's enormous potential for good."
SimplyVital Health
SimplyVital Health analytical insights into the patient experience. Its platform:
allows coordination and communication with other health providers
forecasts costs in near-real time via algorithms
exploits blockchain technology to create a secure audit trail for care
uses machine learning to improve accuracy over time.
For private providers, the SimplyVital Health platform:
tracks and achieves MACRA Care Coordination compliance
coordinates care with a patient's entire care team (from physical therapists to specialists)
offers analytically-based insights into patient needs and clinical opportunities.
For hospitals and health systems, the platform will:
track patients through the entire 'Post Acute Care' experience
establish tailored SNF and Home Health protocols
monitor outcomes, such as LOS
involve PCPs and PAC providers so they can work together for planning and coordination.
BitLumens
BitLumens distributes solar power devices in areas without a power-grid. The devices form microgrids in places with no existing infrastructure. Software collects data and sends it to a blockchain where:
people (users) can decide to make this data available to banks for microcredits and other financial services
banks gain access to over one billion people in need of a bank account.
By using the solar power devices, people build up credit scores. Banks can access the data by using BitLumens' own token (BLS) and use this token to issue microcredits to those who need them.
To access and use BitLumens software, BLS tokens are a requirement. These tokens serve several purposes:
villagers need them to pay the installments of their solar power device
banks need them to access the BitLumens SaaS (Software as a Service)
family members use the tokens to send remittances.
Since most villagers do not have internet access to pay for their Solar Home Systems, BitLumens employs agents who will collect the payments in cash and buy a corresponding amount of BLS tokens from the open market. The agents associated the BLS token with a unique solar power device.
The BLS token is an ERC20 token based on the Ethereum blockchain. Since every participant in the BitLumens ecosystem needs to buy BLS in the open market, the idea is that demand for BLS will increase as more and more install microgrids.
Chronicled
Chronicled is seeking to:
deploy decentralised supply chain ecosystems
build protocol-driven solutions to enhance global trade across key industries.
By leveraging its product suite and networks, it hopes some of the world's largest enterprises and industries will create efficient, collaborative and secure (via blockchain) B2B trade. With a secure, trusted supply chain network, enterprises can:
tap into a P2P environment which delivers collaborative RoI to participants and their trade partners
addresses end-to-end supply chain problems, albeit with new tools which complement existing silo legacy applications
leverage enterprise protocols to automate business processes
offer a 'multi-sided marketplace' to provide value at the lowest cost
maintain control of private business data
provide security, audit and compliance.
Prescrypto
Prescrypto is an app (in Spanish) for doctors, clinics and pharmacies. It can create, send and track electronic prescriptions. It provides:
a medicine catalog, with photos
streamlines the process of prescription
provides a prescription history
enables prescribers to review and manage the prescriptions made for each patient
claims to offer simple software, which is fast-to-use
exploits encrypted information based on blockchain technology (which also prevents drug trafficking)
ensures safe prescription policies
analyses medications to reduce patient drug resistance
improve prescribers' processes and medication inventories.
The Prescrypto approach is relevant to:
hospitals and clinics, with monthly analytics about prescription patterns and diagnosis frequency
private medical offices where doctors can create, edit, send, print and administer the electronic prescriptions generated for patients; again monthly analytics of diagnoses and medications is available
pharmacies; it keeps track of prescribed medications, anticipate inventory needs and eliminate mich of the paper traffic associated with medical prescriptions.
Grassroots Economics
Grassroots Economics is a non-profit foundation which seeks to "empower marginalized communities to take charge of their own livelihoods and economic future". It's goal is to improve the lives of those who are most vulnerable. It focuses on community development through economic empowerment and community currency programs. Its programs focus on:
small businesses
people living in informal settlements as well as rural areas.
Community currencies are a regional means of exchange which supplements a national currency. To reach a larger group of people across Kenya, Grassroots Economics enabled feature phones (with no Internet) to have access to, trade and convert blockchain-based tokens (Liquid Community Currencies (LCCs)). This uses Bancor Protocol.
Community currencies came about as an integrative medium of exchange which would promote a revitalisation of local economies and encourage community activities. Through the 1990s to 2000s community currencies emerged across the developing world. To date hundreds of community currencies have listed in the complementary currency Resource Center Worldwide.
"Blockchain is transforming our day-to-day experiences in ways inconceivable just a few years ago," said Nancy Cooper, Global Editor in Chief of Newsweek.
"Through the work of these enterprising visionaries, we see how this emerging technology can be applied to healthcare, electricity, global trade and currency exchanges, improving communities around the globe. We're excited to spotlight the promise of this impressive, disruptive concept – drawing on Newsweek's nearly century-long heritage of covering the forces and movements that shape the world."
Enterprise Times: what does this mean
As Newsweek's Mr Candappa says, the timing of these awards is not of 'the best'. That does not, however, make them any the less significant.
For Enterprise Times the concept of choosing 'social good blockchain winners' is a good one. We look forward to seeing of the interest stimulated in this first set of awards can be sustained into second and subsequent years – or will previous winners 'just keep coming back'?