Can your organisation analyse project performance in real time? This is the challenge that the latest product release from Kimble is aiming to solve. Delivery Analyzer is the second Kimble product based on Salesforce Einstein. It previously launched Resourcing Analyzer just before its Winter 19 release.
Kimble is also promising more analyser products to follow. The solution works on a mirror data set and therefore does not impact performance of normal usage. However, as actions need taking a user will interact with the live data so that changes are immediate.
Both of the Analyzer products assist business leaders in identifying how to run their businesses better. The Delivery Analyzer looks specifically at project performance and project risk. Kimble CEO Sean Hoban said: "We are excited to launch this innovative new product, which puts diagnostic analytics in the hands of our customers, giving them the tools to drill down directly to the projects that are affecting profitability. Our team of developers has created an application that separates the signal from the noise, providing analysts with custom-built dashboards that surface risky and underperforming projects."
Delivery analyzer
The Delivery Analyzer is an add on product to Kimble that delivers two dashboards for professional services leaders. Both dashboards can be configured to include different views. As they are developed in Salesforce Lightning, users are able to add a range of additional widgets to them as required. Both dashboards support the use of relevant filters. They also support a range of views and allow users to drill down into the detail.
The Engagement analysis dashboard provides an overview of project performance at a high level. It compares baseline against forecast for revenue, margin and resource usage. It is easy to identify whether a given project is slipping or over performing. By hovering over an under performing project a hovering pop up window displays more information. The users can then drill down into each project into projects elements and individual assignments to help identify where any challenge exists. The user transitions from the Delivery Analyzer into Kimble as they drill down. This allows them to interact with the data once they have located a concern and initiate a remedial action.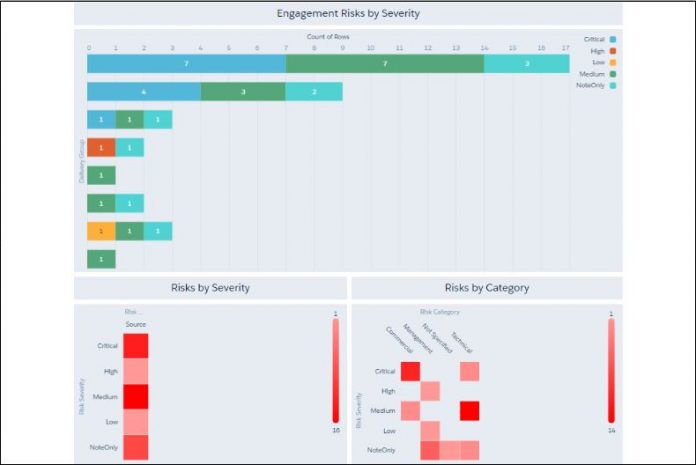 The Risk Analysis Dashboard provides a greater variety of filters. They include displaying the top ten engagements by risks, filter by Program, Account, risk status, risk category and risk impact. There are, however, some that are missing such as risk by project manager. The risk dashboard is colour coded and where a two dimensional grid is used, such as Risk Category and Risk Severity it darkens the colour used on a flexible numeric scale. There does not appear to be a traditional heat map though or an indication that these risks are tied back to a financial element for the business. Though when discussing this with Rob Bruce, VP Marketing at Kimble he commented: "Kimble manages the financial impact of risk. However that data is not exposed in this version (of Delivery Analzer)."
Similar to the Engagement Analysis It is possible to drill down into each specific risk on a project. The user is then able to edit the risk or convert the risk to an issue within the project. This is because the use is seamlessly transitional from delivery analyzer to Kimble as they drill down to look at the details.
Future changes
One criticism of the solution is around the use of colour palette. Apparently, this is fixed within this version of Einstein and Kimble are unable to modify. The problem arises as critical issues are coloured similarly to "medium issues" and "non issues" (blue/green/cyan respectively, see above image). Low risk issues are coloured amber and high risk issues in red. It is something that Salesforce need to consider in future releases to allow greater configuration of the palette.
Kimble will also consider adding a heat map in a future release though there was no commitment to doing so yet. If enough customers consider it worthwhile it would almost certainly be added.
The data sets included within the product are limited to a single data flow. It means that users are able to add a few extra fields to analyse if they add them to the defined Kimble Data sets. To allow wider access would mean that the price point would have to include a full Einstein license. Instead, the pricing starts at $36 per user per month. There are now two analyzer products and Bruce is hoping to add more in the future. The next one is Financial Analzer, due out "sooner than autumn", according to Bruce.
ET asked Bruce whether they would combine the analyzer modules in a single bundled price.  Bruce did not rule this out as some companies may wish to buy multiple analyzer solutions for each individual. However, they are targeted at specific roles. He cited one customer with 10,000 Kimble user licenses that has several hundred resource managers. It is in these larger organisations that each analyzer is targeted at a specific roll. The price point is considerable less than a full Salesforce Einstein license but delivers value without the company having to do much of the work.
Enterprise Times: What does this mean
For this release of its next Analyzer product Kimble has decide to focus on delivering insights for business leaders around their engagements and projects. They are complimentary to the existing reporting functionality that already exists within Kimble and provide an overview for business leaders. With Kimble attracting the interest of larger professional services firms this is a timely release and should meet the needs of some of those larger customers.
Kimble has recently celebrated another year of growth. It announced signed deals with three of the top 50 largest consulting firms in the world. Kimble also placed at #35 in G2 Crowd fastest growing companies. It is winning deals in larger organisations and Bruce acknowledged that more than 60% of its users were in organisations of more than 500 people.
These analyzer packages are a clever way to delivery functionality quickly without holding back major releases. Its next Kimble release is due out in May. The Delivery Analyzer and the Resource Analyzer are likely to attract those larger users, when ET next catches up with Bruce it will be interesting to see how many customers have adopted these new solutions.