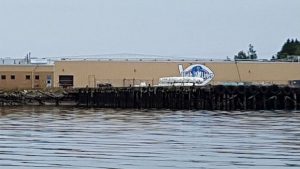 Mainsaver has announced that High Liner Foods is implementing its software at its Luneburg, Nova Scotia site in Canada. The announcement comes four years after it rolled out Mainsaver CMMS to Newport News, VA and New Bedford, MA in 2015. New Bedford later closed in 2016.
The project will see the replacement of a legacy CMMS solution and should be complete by March. The solution will integrate with the High Liner Foods Oracle JD Edwards ERP. It implemented this system in 2011, spending close to $1.5 million on it at the time. The company does not appear to be looking to shift off that solution yet though. In fact it only upgrade the software in the second quarter of 2018.
High Liner Foods is a leading producer of frozen seafood operating three plants in North America. Its headquarters is in Nova Scotia. It manufactures product both for the retail and resraurant industry. The former through brands such as: High Liner, Fisher Boy, Sea Cuisine and C. Wirthy & Co. labels. The latter under the High Liner, Icelandic Seafood, and FPI labels
The project
Once rolled out, Mainsaver will administrate both the corrective and predictive maintenance schedules as well as MRO procurement and transactions. However, the system will not entirely replace the procurement solution used by the corporate office (JD Edwards). Instead Mainsaver will integrate with the ERP solution passing requests for PO for MRO parts and service. Staff using JD Edwards will then raise the purchase orders using a direct integration between the two systems. This removes the need for manual intervention. The integration is already in place where Mainsaver is used elsewhere in the company.
The project also includes the import of legacy data from the old system. It allows the predictive engine within Mainsaver to be optimised from day one. The roll-out is scheduled to complete by March when a second phase will begin. This will see the implementation of Mainsaver Connect.
The High Liner Foods team will use the core Asset Management technology from their mobile devices. It allows them to use mobile devices for functions such as works orders and materials transaction. This will reduce paperwork and may also reduce errors as data is entered at both the location and time of the operation.
Enterprise Times: What does this mean?
While this is the smallest of the three manufacturing locations for High Liner Foods, it is arguably the most important. That Mainsaver is now used in the headquarters location infers that the investment by High Liner is there to stay and secures the corporate business for some time.
Mainsaver has started the new year on a positive foot. This is an expansion of business from an existing customer though. As 2019 unfolds it will hope to see competitive customer wins across new customers. What is disappointing is that while the press release talks about the processes Mainsaver will support, there is no indication on the savings that it will make for High Liner Foods.