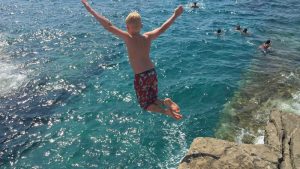 Using Windows 10 you have a jump list from the icon of each application on the task bar. This is a great way to open a file that you have recently used. This also of course opens the application. This list is by default about 12 files long.
In this list you can pin some of the files so that they are there forever until you unpin them. You don't have to search for the files. It's great. The only down side of this is that you might pin so many to this list that the files you have just shut down that are not pined will not appear in the list. You therefore have to search your directories to open the file.
This is what a default length looks like with one pinned file.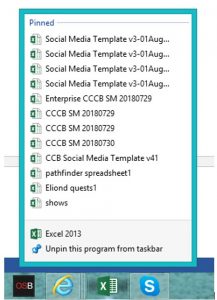 This is what a default length looks like with all the files pinned.
No room left for unpinned listings.
How to extend a jump list.
WARNING
The Windows Registry is what makes your system work properly. Editing this could make your whole system unusable, with you having to re install the operating system. Therefore, I suggest.
Back up your computer.
Back up the Registry.
Read about what is the Registry Editor and how to use it before you even start following this tip.
Opening the Registry Editor
Click in the search bar by the Windows button bottom left of your screen.
Type in "regedit".
Something like this appears. 
Locate
HKEY_CURRENT_USER\SOFTWARE\Microsoft\Windows\CurrentVersion\Explorer\Advanced
We are now going to create a new value inside the Advanced Key.
Right click the Advanced folder.
Select New > DWORD (32-bit) Value.
Name this new value as "JumpListItems_Maximum".
Double click to open the Properties dialog box.
Overtype the Value data. I would suggest somewhere around 20 is plenty. Especially if you have a slow machine as listing more takes more time.
Select OK button and close the Registry Editor Window.
You do not need to restart Windows. The change takes place immediately.
Open a jump list to make sure it worked. 
You can see that there are 15 Recent files listed. My maximum was set to 15.
But there does not seem to be a limit to the number of pinned files you have.


I now have 20 pinned and no recent files listed. Use the allocation wisely.