SAP SE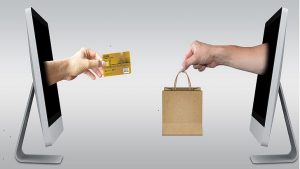 announced that seven out of 10 US consumers continue to embrace eCommerce and purchase fashion products online.  However, they miss some of the experiences traditional brick-and-mortar retailers provide, such as fitting rooms.
This was one of the findings of SAP's recent Consumer Propensity Study that polled 1,000 American consumers about their attitudes toward eCommerce and online shopping experiences. The survey researched how consumers favourite brands close the deal and make them click 'purchase.'
The rise of the digital shopping
Ecommerce in the US has grown rapidly. In 2017 Americans spent a total of $435 billion shopping online, according to the Ecommerce Foundation. With an annual growth rate of over 15%, there is plenty of opportunity for retailers in the digital commerce sector. Even though Amazon is clearly the leading online retailer in the US with a market share of over 50%, followed by Walmart (14%) and Apple (6%). Other competitors are still eager to enter the US e-commerce industry.
What US consumers buy online?
Fashion (clothes, accessories, shoes) 74%
Travel (flight, hotels, tours) 56%
Digital goods 48%
Entertainment experiences (tickets for concerts) 47%
Groceries and consumer packaged goods 47%
Furniture 29%
Financial products (insurance, loans) 22%
According to Chris Hauca, head of Strategy, SAP Commerce Cloud, SAP, "The survey indicates that shoppers like the convenience of online shopping, but higher than expected shipping costs or a clunky return process quickly changes that sentiment."
Hauca advices, "Retailers should consider how they can eliminate unpleasant surprises to the consumer. To ensure experiences are positive and last beyond the purchase. Brands also need to connect customer-facing processes with the back-end supply chain."
Additional ecommerce insights
The survey provides retailers with advice that could help to avoid shopping cart abandonment and drive additional purchases. This includes:
Providing free shipping: US consumers most frequently abandon their online shopping carts due to shipping costs (62 percent).
Providing more options to consumers so they can seamlessly switch between digital and physical channels: One in three consumers believes the online shopping experience would be improved by having a physical store to try or test products before purchasing them.
Offering more information to consumers to help them make informed choices: 47 percent of U.S. consumers surveyed believe online shopping experiences would be improved by comparison tools that analyse price and specification differences between similar products. According to the survey, 40 percent of respondents already use the shopping cart as a way to compare prices with other websites and brands.
1 Contextual offers and recommendations
US consumers like to be informed about deals. 96% of shoppers report seeing recommendations while shopping, but only 17% of them find these suggestions relevant.
Retailers need to apply contextual marketing, leveraging analytics and machine learning algorithms to anticipate behaviours and understand intent, while communicating relevant information to consumers to encourage them to complete purchases.
2 Supply chains and logistics deserve attention
Price isn't the only deciding factor when it comes to making a purchase: availability and shipping costs are crucial. About three-fifths of American consumers abandoned carts due to high shipping costs.
Retailers must be conscious of their supply chain and logistics decisions that impact availability and delivery, and need to integrate these systems into their e-commerce platforms and tools to remove barriers to purchasing.
3 Embrace new technology
Over 20% of American consumers are keen to complete transactions if they receive rapid responses.
Meet customer demands by assuring that you deliver great human support, or invest in AI-powered chatbots. Chatbots can provide the immediate service customers want 24/7. Advanced data management and analytic tools allow retailers to gain insights on consumer behaviours, economic factors, weather patterns, cultural trends, and so on. These components help businesses make in 'the-moment' decisions about pricing, stock determinations, promotional offers, marketing campaigns, and more.
A recent Deloitte Insights survey found that more than 60 percent of shoppers prefer online channels. The annual survey was completed ahead of Black Friday and Cyber Monday – the unofficial start of the holiday shopping season in the US.
According to a new Gartner forecast, "Global retail sector technology spending will grow 3.6 percent to reach almost $203.6 billion in 2019, with similar growth rates for the next two years."
What does this mean for retailers?
Digital channels will continue to remain the preferred method that consumers would prefer to engage with retail brands. This trend is not just restricted to the US or UK, but a global phenomenon.
If retailers want to win rave reviews from customers they need to deliver more than low prices and good value. They must also to make the online shopping process and experience engaging and easy.
The rise of user centric design (UCD) techniques. The integration of social networks into digital real estate. The gradual adoption of AI and the focus on mobile devices, all suggest that retail businesses are looking for solutions that will delight consumers while protecting their data.