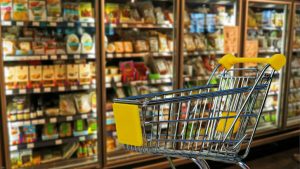 Ecrebo, the point of sale marketing specialist is partnering with Toshiba Global Commerce Solutions, Inc. (Toshiba), a leading provider of integrated in-store retail solutions. Ecrebo will provide enhanced analytics and customer data to retailers around the world with its OnPoint platform. The OnPoint platform is a suite of software products that enable retailers to deliver highly targeted, personalised and relevant marketing messages to customers at the point of sale.
According to industry analysts 84% of transactions still take place in a physical store. As a result, the point of sale presents a significant opportunity for retailers to gather and use data, in real-time, to meaningful effect. Real-time data can be used to personalise offers for shoppers. This is regardless of whether they are members of a loyalty scheme, heavy buyers, or infrequent shoppers.
Consequently, having the right technology at the point of sale can deliver meaningful communications for every shopper that passes through. It is just a question of how that data is analysed and used.
Tracking customers for data
The OnPoint platform tracks every journey of every customer in real-time, generating useful customer data. As a result, retailers know exactly who's buying what and when. They can then decide how to reward them with personalised promotions. According to Ecrebo, this should enable the building of a loyal audience and boost revenues.
David Buckingham, CEO of Ecrebo says, "Working with a dominant technology leader like Toshiba is a tremendous opportunity for Ecrebo. Not only do we benefit from Toshiba's global reach, but also the company's wealth of experience in the retail sector."
Toshiba and Ecrebo have a number of joint customers that are expected to benefit from this collaboration. A number that is expected to grow as a result of this partnership.
According to Kirk Goldman, Vice President, Business Strategy, Toshiba Global Commerce Solutions, "Toshiba is excited to be collaborating with Ecrebo as part of the TCx Elevate™ ecosystem. The company's point of sale marketing software is compelling and has the power to drive results for our retail clients, not just in delivering personalised offers and messages directly into the hands of shoppers, but also in helping them retain and grow their loyal customer base."
The importance of positive customer experience
In the today's highly competitive retail landscape, success depends on a multiple of factors. One of these is the customer experience. Another company which has launched a new platform to support customer data and intelligence is Ascential plc.
Ascential plc, a global specialist information company, announced the launch of Edge by Ascential. It claims it is a the next-generation data, insights and advisory service for brand manufacturers and retailers worldwide.
Edge by Ascential includes foundational components from Brand View, Clavis Insight, One Click Retail and PlanetRetail RNG. It provides its customers—over 500 of the world's leading brands and retailers—with ecommerce-driven customer data, insights and advisory solutions to measure performance and drive sales.
Boren Novakovic, Edge by Ascential's managing director says, "We give our clients a holistic view of their performance compared to the wider ecommerce market. We also provide a clear plan of action to implement their strategies to drive their sales faster and further than ever before."
According to Michael Lisowski, president of Edge by Ascential and chief operating officer of Ascential plc, "Over the past few years, Ascential has methodically acquired the industry's best solutions and then invested to take these solutions to the next level. We are now able to provide our customers, who up until today have had to rely on multiple solutions providers, a complete picture of their online performance.  This includes digital shelf analytics, online sales and share measurement, market optimisation intelligence or product pricing and promotion tracking. The human and technological expertise from these top companies we've acquired will enable us to further innovate services that will take our customers to their next level of success."
What does this all mean?
The use of data in retail is nothing new. Since the emergence of big data, data has been used across the ecosystem, from influencing pricing strategies and guiding stock decisions, to forming customer insights and boosting loyalty.
The retail industry has evolved over the last two decades. Shaped by increased competition, the dominance of e-commerce and more demanding consumers. Data is beginning to play a lead role in helping retail organisations remain relevant.
Loyalty is one of the areas where data has really added value. Critical in today's omnichannel environment where shoppers can interact with a brand across their online, mobile and in-store channels. Even as shopping increases online and via mobile devices, the in-store experience still remains an important channel.
Developing the perfect, seamless shopping journey in order to retain existing customers and attract new ones, is an ongoing endeavour and one to which every retailer aspires. Efforts depend largely on customer data and the right technology. When executed properly, the ability to connect with customers and deliver targeted, personal rewards and offers is a key differentiator for retailers.