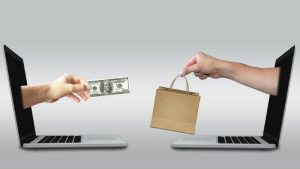 The checkout stage is perhaps the most important part of the customer journey from a business's perspective. It is the stage where money transactions or payment between parties are completed.
Industry data suggests that 70% of carts are abandoned. Of the 30% left, half of them are abandoned at the checkout stage. This means that the majority of users who might be interested in buying, leave without spending one penny.
As a result, payment companies are continuing looking for innovative ways to reduce abandoned baskets. These companies also look to improve checkout conversation rates.
Adding a new mobile digital wallet
Shopify has recently added Venmo as a checkout option for Shopify Merchants using PayPal Checkout.
Venmo, owned by PayPal, is a mobile digital wallet. It offers users a social way to make a purchase, split payments or pay friends on Venmo, bypassing the need for cash. Venmo users can choose to share what they're buying with their network. Members of the network can then view, comment on and like the purchases in their feed. Venmo has quickly gained traction as one of the most popular peer-to-peer (P2P) payment methods especially with millennial's. It's also being used by over two million US retailers as a direct payment option.
Allowing customers to use their Venmo in an online store lets them complete their purchase in just a few clicks. Giving customers a familiar way to pay can lessen abandoned carts and increase sales for your business.
For US-based retailers, supported by PayPal Checkout, Venmo will automatically appear as a payment option for buyers who have chosen to use Venmo as a payment option. Purchases made through Venmo will show as PayPal payments in the orders report.
Currently, 67% of purchases made on Shopify's stores are on mobile. With Venmo's growing user base, impressive network effects and strong mobile adoption, this is a new and innovative way to make it easy for customers to buy.
Adding new European payment processes
Another major eCommerce platform provider has also made changes to its platform. Checkout.com has started to accept Giropay and SEPA Direct Debit on its eCommerce platform.
These preferred local payment methods give European eCommerce businesses an easier way to accept payments via direct bank payments (Giropay) or direct debit (SEPA Direct Debit) from a customer's bank account – ensuring safe, secure, and speedy transactions.
What is Giropay?
Giropay is a real-time bank transfer payment method. It is used by nearly 1,500 German banks. It is one of the most widely accepted method for online payments in the country. Giropay enables online customers in Germany to pay via a direct bank transfer. Bank transfer is one of the most popular ways for online shoppers to pay in the country. By integrating with Giropay, businesses will gain access to millions of German customers who prefer to pay using this local payment method.
Merchants also benefit by receiving guaranteed payments and avoiding chargebacks. Payments are pushed from the customers bank account using a two-step authentication process. This help to minimise fraud.
For consumers, Giropay is a safe and convenient way to pay in Germany. Upon checkout, the customer selects the Giropay payment method. They select their bank, enter their bank's login credentials, confirm payment through a two-step authentication, and the transaction is complete. Processing and settlements currencies are in EUR.
SEPA Direct Debit explained
The Single Euro Payments Area (SEPA) Direct Debit enables one-click payment via direct debit for consumers in the eurozone. It is supported by the European Payments Council. SEPA is a payment initiative by the EU to simplify cashless, cross-border payments within the eurozone. Eurozone bank holders can make and accept payments for goods through credit transfers, direct debit and card payments.
SEPA Direct Debit is one of the most common payment methods for European consumers. It offers payment convenience and standardisation across Europe.
For merchants, integration of SEPA Direct Debit will widen access to millions of customers in the European market. For shoppers who don't have a credit card, this payment method allows them to make purchases on websites and apps as long as they have a bank account. Merchants can also elect to save customers' payment data to enable easy one-click payments for future purchases or payments.
For customers, SEPA Direct Debit offers a convenient way to pay online. They simply indicate their name, IBAN, and BIC and agree to the electronic mandate (debit authorization) provided by the merchant. Customers confirm that their account will be debited, and the transaction is complete. SEPA Direct Debit can be used for one-time payments or recurring payments, such as subscription services.
What does this all mean?
Increasingly businesses, both online and bricks and mortar operations have to provide customers with a seamless checkout process. The average ecommerce conversion rates are 1% – 2%. Even if a business fully optimises its checkout, a business can still expect to win the sale around 2% of the time.
Based on 37 studies, the average US cart abandonment rate is over 69%, according to Baymard.com. It is tremendously important for online merchants to know what made potential customers leave at that point in the process.
To improve checkout rates, retailers and eCommerce platform providers, such as Magento, Salesforce and Checkout.com, are focusing on adding new up-and-coming payment providers.
It's not surprising that Shopify and Checkout.com have embraced new methods for payment. Offering customers alternative payment methods, particularly on mobile, will only help reduce low checkout conversion rates for some retailers and businesses.