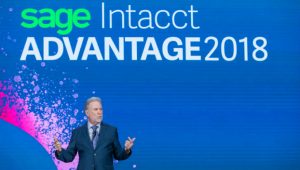 Under the title of "Together We Rock," Rod Reid, EVP, Sage Intacct welcomed the audience to Advantage 18. He touched on the updates that would be talked about later commenting that Sage Intacct is "going deeper into vertical markets".
This was a reference back to the Sage analyst day where he stated that Sage Intacct would be available in fiscal year 2019. He added it was: "Going into the international markets." This was later clarified with Aaron Harris.
Harris said that it would be available in a: "Select set of English speaking countries", but not until 2019 calendar year. He denied this had been pushed back. However, Sage will want to see the product enter the market in the UK and elsewhere as quickly as possible.
Sage cares about Sage Intacct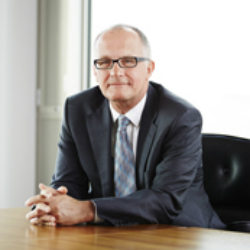 Reid first welcomed Steve Hare, COO and CFO of Sage Group Plc on stage. He then hosted a interview around the investment in Sage Intacct by Sage. Hare commented that Sage are on a: "mission to create a great SaaS business, Sage Intacct is already a great SaaS business". He acknowledged and thanked Reid for joining the Sage executive team adding that he has become the "voice of SaaS" and the "voice of cloud" on the Sage journey.
Hare was happy to talk about the investment that Sage continues to make. However, little was said to substantiate how much investment there was. Sage Intacct is one of, if not the fastest growing SaaS ERP solutions. It has a history of delivering innovation and new functionality. In the last few months that appears to have accelerated due in part to the funding that Sage has provided
What was clear as the keynote continued is that Sage can provide Sage Intacct with expertise in several key areas, banking, internationalisation and artificial intelligence. This is critical to Sage's long term success.
Hare added that the North American market is the largest providing 25% of its revenues. The UK is its second biggest market. With Sage Intacct growing far faster than many other Sage offerings, that gap is likely to grow until it launches abroad. It is, however, already sold in Canada.
Sage needs Sage Intacct, but what is clear is that Sage Intacct also needs Sage if it is to grow internationally.
The Evolving role of Finance
Reid talked about the evolving role of finance. In the past he argued accountants were historians, looking after the past. This is Financial Leadership 1.0 according to Reid. Sage Intacct makes life easy for those that support this view.
Financial Leadership 2.0 is where the leader is a business analyst. Sage Intacct will continue to deliver insights through interactive analytics and dashboards.
He argued that the Financial Leader of the future will become a data scientist. They will use machine learning and artificial intelligence to predict the future. The vision of Sage Intacct is to provide the tool that will deliver those insights about the future, including the augmented intelligence to suggest corrections.
An example of that vision was explained by Reid. He said: "We imagine a world where AI and ML can give you a continuous close that is accurate and with precision."
The approach that Sage Intacct has is: "Simplifying the complex, drives progress". That progress is a journey that many customers are on. The room was full of Sage Intacct advocates and while the future might be scary, it is one that it is gently drawing its audience into.
Reid did not ignore the challenges of AI and challenged people to embrace it. He argued that it would not lead to massive layoffs. Instead, it allows accountants to do more value added and strategic tasks. Reid added: "Our future is bright with AI, we should be embracing it not fearing it."
He did issue a warning that technology has always been a doubled edged sword. Using the analogy of fire, he talked about using fire to cook food but warned it could also burn down our houses. Reid did not go any further to explain what the dangers were.
What does this mean
Control of the keynote was then handed to Aaron Harris and Dan Miller. They delivered news on the updates, both horizontal and vertical to Sage Intacct. It was a whirlwind and comprehensive demonstration of how Sage Intacct has listened to its customers, delivering the updates and changes they actually needed most.
One cannot help think that Sage should have invested more into Sage Intacct. This would have allowed it to drive development even further and internationalise the product faster. Despite this, what they have delivered is impressive.
It is likely going to be another year before they launch the Sage Intacct product in another country. By that time other ERP vendors will have a stronger presence in those markets. While the opportunity will not have disappeared, it will have diminished.
This was the largest Sage Intacct Advantage ever and it is a company that knows who it is and where it is going. More importantly, it is bringing its customer base along with it. Reid is a firm believer in delivering customer satisfaction. It may not, as a solution, have all the bells and whistles that some organisations will look for, but it plans to develop those that customers will actually use.