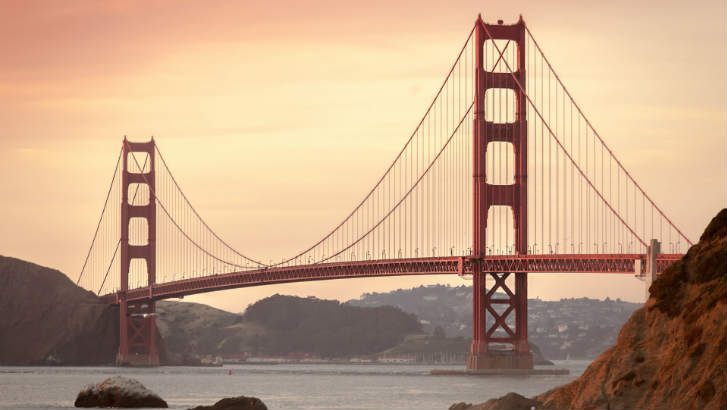 If you work in Tech, you'll know it's one of the fastest growing industries. Digital jobs are fast becoming a necessity for strong growth and the professionals that work within this field are becoming highly sought after.  As these opportunities continue to grow – so do the cities that house them. To understand the cities we've looked at the companies that are already home amongst their tech district, the opportunities for start ups and the growth and employment opportunities within them.
So if you are looking to relocate, take a look at this list highlighting the 10 best cities offering tech career opportunities right now.
1. San Francisco – Silicon Valley
It goes without saying that 'Silicon Valley' is one of the best places for tech career opportunities. Not only does it house headquarters for 39 businesses in the fortune 100 but it's also home to thousands of start-ups. It also accounts for one-third of all of the venture capital investment in the United States. The higher salaries come with a higher cost of living and some big competition but it's the price you pay to work in the tech capital of the world.
2. New York – Silicon Alley
The city that never sleeps has been nicknamed 'Silicon Alley' – not only because it's in the centre of the finance world but also because venture capital is booming. Good news if you are a developer with skills in Java, Agile or Javascript according to a recent study by Indeed.com. These are the top three skills that employers look for in NYC. The thriving cultural scene makes NYC a top choice for expats around the world.
3. Austin – 'Silicon Hills'
Cisco, eBay, Facebook, Google, IBM, Indeed and Intel are just a few of tech giants who have offices here. Dell's worldwide headquarters is located in a suburb of Austin and unsurprisingly there are a whole host of start up incubators. The tech companies brought in an impressive $950 million in collective funding last year alone. Home to South by Southwest (SXSW) Austin is fast becoming a city for work and for play.
4. Yerevan – Silicon Mountains
Research shows that by 2025, the need for programmers in Armenia will have tripled to 30,000. This is largely due to the ever-increasing innovation in their tech sector. A sector that is growing at an annual rate of 20% and shows no signs of slowing down. If you haven't previous considered a move to the country previously, it's worth considering. Cost of living is very low, crime rates are low and culture is in abundance. Currently the main speaking languages are Armenian & Russian but the English language is becoming more and more popular.
5. Singapore – Asian city state tech hub
If you are looking to launch a start up, Singapore's tech hub could a good choice. With the tax rates being comparatively low and immigration so common it's a great place to get educated and attract skilled workers. Singapore's government is also providing policies and grants to help start-up development. But it's not just about start-ups. 80 of the top 100 tech firms in the world have a presence in Singapore. It is renowned for world-class innovation, fast modern IT Infrastructure and rigorous IP protection.
6. Melbourne – Australia's tech city
Watch out Sydney, Melbourne's tech scene is on the rise. The underdog has fast proven itself as a city to watch in the past few years. Melbourne is now full of central resource hubs designed to be all-inclusive to push the local tech scene forward. Good news if you are a founder of a start-up or a software engineer looking to relocate. Melbourne has the highest number of founders & software engineers who are expats.
7. London – Silicon Roundabout
London is the UK's largest and fastest growing tech city. Programmers and Software developers are by far the most popular roles but the Silicon Roundabout is fast becoming a playground for innovators of all types. London is excelling in tech research and development and big data. Meanwhile hybrid sectors such as AdTech, CyberTech, FinTech, MedTech and RetailTech offer huge opportunities for global professionals to relocate.
8. Stockholm – Growing North European Tech centre
If you are a programmer and are looking to move, Stockholm could be your city. Programmer is the most common job title in Stockholm. The tech capital of Northern Europe, Stockholm is home to Skype, Spotify, King (Candy Crush) and Minecraft. Over $1.4 billion was invested in Stockholm tech companies in 2016 and with the work/life balance and the family benefits in Sweden it's enough to make anyone consider a move.
9. Bangalore – Growing Asian Hub
There are a huge population of programmers in Bangalore, largely because of the influx of IT companies who've set up camp in the city. It's home to several disruptive companies such as Flipkart, BigBasket, Mu Sigma, and Ola Cabs. It also has a whole host of Accelerator and Incubator programmes. The downsides? The living conditions can be challenging and the traffic is notoriously a nightmare.
10. Toronto – growing tech scene
The growing tech scene in Toronto has received a lot of acclaim recently for its AI research and development, and its talents are continuing to grow within the tech field. Not only is Toronto now a breeding ground for innovation but it's also one of the best cities in the world for female entrepreneurs. Over half of its inhabitants are immigrants, multiculturalism is celebrated and quality of live is good. It's no wonder that their motto is "Diversity Our Strength".
Thinking of picking one?
We've highlighted that these 10 cities are at the forefront of global tech but there are many more cities all around the world with a booming tech scene. Moving abroad for your career is an exciting prospect. But, the logistics of planning, financials, moving and settling in to a new way of life can be challenging.
However, there is help at hand. Expatland has E-Teams all around the world offering expats assistance with every aspect of moving. From the planning to the actual move and finding a new job to settling in to your new life, the city-based E-teams bring together local vetted professionals to help you every step of the way.
---
Expatland Global Network provides a community of E-Teams in popular city destinations to help with every aspect of the expat journey. There are now E-Teams in Singapore, London, Sydney, Melbourne, Auckland and LA, with many more planned. These teams bring together vetted professionals across a range of sectors, including visas, tax, relocation, insurance, real-estate and much more. Giving clients access to many expat services through one point of contact, Expatland's mission is to make life easier for expats on the move.