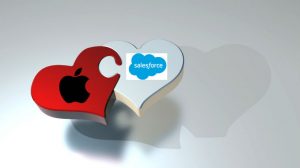 Apple and Salesforce have announced a new strategic partnership in the first press release from the CRM giant. I wrote about the possibility of this announcement when Apple was notably absent from the Einstein Voice announcement last week.
The partnership will include three elements joint app development, a new mobile SDK and a new trailhead course.
New improved apps
Salesforce is redesigning its app so that it delivers a full iOS experience, leveraging the new features of the latest version of iOS. This will include features such as:
Siri Shortcuts
Face ID
Business Chat
Both companies will also work together to develop new apps dedicated to different business sectors. No further information was available on these. The new app will be available in early 2019 and the first trailhead mobile app will be available later 2019.
Making its easier for the ecosystem to develop iOS apps
Salesforce and Apple will also make the Salesforce Mobile SDK available to developers. They have also developed a new trailhead course to enable developers to learn how to use the SDK and create their own Apple apps. There are now two relevant trails for developers:
Develop with Mobile SDK: This is a trail that enables developers to learnhow to use the SDK to develop apps for Android and Apple.
Get started with iOS App development: Teaches developers how to build iOS apps using the Swift programming language and the iOS Software Development Kit (SDK). This is a new trail designed and created in conjunction with Apple. This is available now.
While developers will no doubt be eager to get started on the trails they should note that the Salesforce Mobile SDK for iOS isn't available until the end of 2018.
Tim Cook, Apple's CEO commented: "We're excited to work with Salesforce and that their industry-leading CRM will embrace native iOS and deliver exclusive new features on iPhone and iPad. With the powerful combination of iPhone, iPad and iOS — the best hardware and software for business — together with native Salesforce apps and the new Salesforce SDK, we can deliver great customer experiences for businesses around the world."
What does this mean?
First, this announcement came as no surprise. However, there was always a possibility that the two companies had fallen out and there would be no announcement. What it does mean is that Salesforce and Apple will become closer. Unlike Google, where the recently announced Quip Slides does compete with GSuite, there is little competition between Apple and Salesforce.
Marc Benioff, Chairman and co-CEO, Salesforce commented: "With this partnership, we're bringing together the world's #1 CRM platform with iPhone and iPad, the world's best devices for business. Together, Salesforce and Apple are defining a new era of mobile innovation with native apps on iOS, and empowering millions of people with access to Trailhead and the skills they need for the jobs of the future."
What this will do is boost Apple in the business to business sector. It comes at a time when other manufacturers using Android are an increasing threat. For Salesforce it is another good example of a partnership that delivers benefits that its customers will want to take advantage of, without any increased cost to them.