Mavenlink has formally announced the appointment of two new executives to its leadership team. Pam Demond joined the company in April as Senior Vice President of Human Resources. Piero Broccardo joined in June as Chief Financial Officer (CFO). Enterprise Times spoke to Ray Grainger, Co-Founder and CEO of Mavenlink about his leadership team and the future.
The missing piece of jigsaw in Finance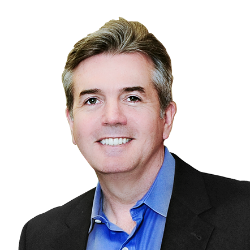 The previous CFO, Michael Lin left Mavenlink in November 2016. This seemed a huge time to be without a CFO and we asked Grainger why such a big gap.
Grainger replied: "We had just come off of the Goldman capital raise. If you looked at the needs of the business, we were fully capitalised and it was a deployment of that capital in terms of hiring in both engineering and sales. I had strong operations folks already in the business. Frankly I took my time in what I thought would be one of my most important hires for the long haul. To get somebody who was both a very strong business operator as we were expanding internationally that could also look to future capitalisations of the business.
"We took our time to find someone who was local but had the strength to take us all the way to the finish line."
I asked Grainger what that finish line looked like.
"For us we have always run this company with the anticipation of being a public company. That is the charge to 100+ in ARR (US Dollars in Annual Recurring Revenue). It is probably more than a year (away)."  
Why Broccardo ?
One of the reasons Grainger chose Broccardo is that he is local, while they undertook a national search they wanted someone with roots in Irvine. Prior to Mavenlink, Broccardo spent six years as CFO at Accurate Background and was CFO at Alchemy. He has experience in implementing strategies and processes in organisations that are scaling up. He has not, according to his profile, led a funding round previously. It is something we asked Grainger about.
Grainger replied: "We thought about that long and hard. I have raised nearly 100 million dollars for Mavenlink and before that I have been doing it for a long time. I have about 20 years experience of raising 100's of millions of dollars. I have other people around one of whom came from the Goldman (Sachs) investment team…. Any time we looked to do a public offering we would have a team of investment team around us.
"What I was looking to do with Piero is to have somebody who is just a really strong business operator who knows how to protect the asset which is the company and our financials and how to put processes and systems in place to make sure we scale the business efficiently.
"That individual is Lauren Grzybowski now VP Business operations at Mavenlink who joined in 2017 after six years at Goldman Sachs. Grainger added: "With the addition of Lauren Grzybowski I have a really strong bizops and FPNA function in her that has a strong understanding of every SaaS metric."
Why did Broccardo join? Broccardo commented: "Mavenlink attracted me with its innovative and differentiated product, exceptional growth trajectory and national recognition as a great place to work. I'm looking forward to digging in and developing the processes, procedures and systems to enable continued rapid growth."
Rapid growth to continue
Mavenlink has experienced rapid growth over the last year adding 200 people. Grainger explained the reason for hiring Demond saying: "Pam was a hire that we should have made a year before we actually did. She has brought focus around the employee and really understand employee engagement."
Demond is already transforming the HR function processes, changing it from processes that might work in a start up to those of a much larger organisation. She has already carried out some employee research on employee engagement. Early initiatives include improvements compensation and training, especially middle management training. This is something that wasn't required with the flat organisational structure that Mavenlink had. Now, with the additional hire, that training and performance management across the entire company has become more important.
On her new role Demond commented: "My passion for software and Mavenlink's innovative culture drew me in. I could relate to the challenges the Mavenlink team is solving for the modern, distributed workforce. I am particularly looking forward to working within a fun, ambitious, and hard-working culture that I can help foster and scale."
Over the next year Mavenlink will continue to grow. Grainger added: "We will add about 150 net new (employees) over the next 12 months. Most of that growth will come in our international offices as well as Boston. That is without the Philippines expansion. We have just quadrupled the size of our office Philippines in terms of space with the intent of getting that team from about 25 to 100.
What does this mean?
The key question is whether the leadership team is now complete. Grainger answered: "I am so pleased, with the leadership team that we have. It is now complete. We feel strongly that this is a team that can manage a company many, many times our size, certainly the $100 million company that we will be burning towards pretty quickly."
Even during the summer months Mavenlink has continued to do well. Grainger was keen to share recent successes adding: "We are really enthusiastic about our growth into the mid market and enterprise. Our average deal size has quadrupled over the last year and that is really really exciting for us. Mid-market for us is anything going from 500- 5,000 licenses. We have also had wins in enterprise 5000 plus."
Those wins are often in conjunction with NetSuite ERP. However, Mavenlink has also started to work with Workday. Grainger continued: "We have recent wins with Workday in the 1,000 user range. We did three in the last month with Workday."
Mavenlink markets itself as the operational system of record. This fits nicely with Workday cloud of clouds vision. Combining the Finance/HR administration cloud (Workday) with a Sales cloud (Salesforce) and an operational cloud (in this case Mavenlink). With Workday still growing this could be an important relationship for Mavenlink as it heads towards an IPO.